The proportion of trainee teachers taking the school-led route has dropped for the first time in four years, new figures released on Thursday reveal.
Initial teacher training statistics for 2017-18 show that 53 per cent of final year trainees went via the school-led route, rather than through a higher education institution (HEI).
In last year's statistics 55 per cent took the government's favoured school-led route. In 2015-16 it was 51 per cent – a huge leap from the 42 per cent in 2014-15.
Today's figures show that the overall number of trainees gaining their QTS has remained at a steady 91 per cent – the same for the last three years.
Trainees who go via a school-led route also continue to outperform those who go through a HEI.
Data shows that 93 per cent of postgraduate trainees on a school-led route were awarded QTS, compared to 90 per cent on a HEI route.
The proportion of postgraduate trainees awarded QTS was similar for primary and secondary – 91 per cent and 92 per cent respectively.
However, there were differences by subject, with physics again seeing the lowest proportion of trainees being awarded QTS – just 85 per cent.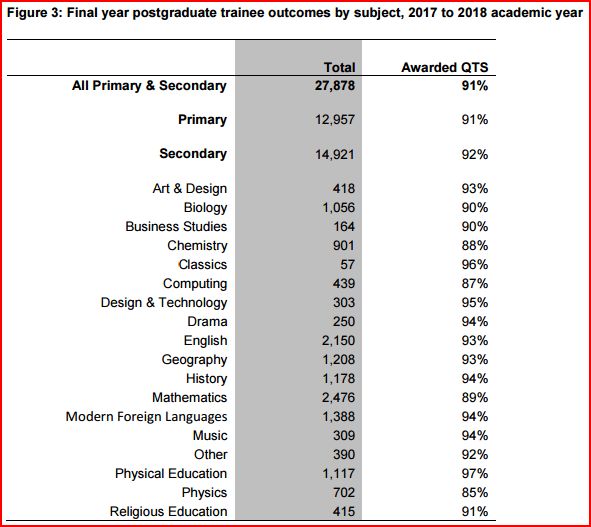 This is a slight increase from last year, which saw 83 per cent of trainee physics teachers being awarded QTS.
Data released last year revealed that the government had missed its own teacher training targets in most EBacc subjects. In physics, the government recruited just 47 per cent of its target number of trainees.
The highest pass rate was PE, with 97 per cent of trainee teachers awarded QTS, closely followed by classics at 96 per cent.
The east of England saw the highest proportion of final year postgraduate trainees awarded QTS for 2017-18, with 94 per cent obtaining the qualification. This is the same as last year.
The lowest was south west England and Yorkshire and the Humber, both on 90 per cent.