The government has missed its own teacher training targets in most EBacc subjects this year, new data shows.
Initial teacher training census data released today shows the government only met its postgraduate trainee recruitment targets in biology, English and history. The target for primary teachers was also reached, but only just.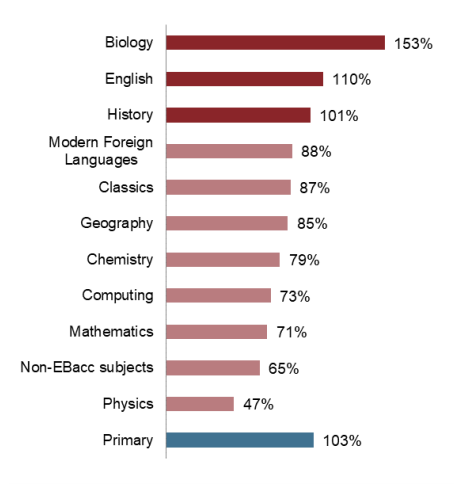 The government missed its targets in modern foreign languages, classics, geography, chemistry, computing, maths, physics and other non-EBacc subjects.
In physics, the government recruited just 47 per cent of its target number of trainees, while in maths, just 65 per cent of the target was met.
At the other end of the scale, the DfE recruited 153 per cent of the biology teachers needed and 110 per cent of the English teachers required.
The situation is a slight improvement on last year, when targets were missed in all EBacc subjects bar history.
Overall, 29,255 new postgraduate trainees were recruited this year, against a target of 32,226.
Angela Rayner, the shadow education secretary, criticised the government for missing its teacher training targets "six years in a row".
"Years of real terms pay cuts have made it impossible for schools to recruit the staff they need, and there will be a generation of children paying the price for Tory failure.
"These results are a great cause for concern," said James Noble-Rogers from the Universities Council for the Education of Teachers.
"The government has yet again missed its training targets, which will mean that schools will continue to struggle to recruit the teachers they need.
"The DFE must as a matter of urgency develop a coherent recruitment and retention strategy, rather than continue with a series of piecemeal and ad-hoc initiatives."
He said the DfE should remove tuition fees for postgraduate initial teacher education students, replace the "badly-administered" pre-entry skills test with on-programme assessments of literacy and numeracy, and "rationalise the way in which the different routes into teaching are marketed to potential teachers".
The government has yet again missed its training targets, which will mean that schools will continue to struggle to recruit the teachers they need
The government should also invest more in teacher retention and give all new teachers "an entitlement to fully funded structured early professional development (ideally at master's degree level) that builds on and complements their initial training", he said.
The number of new postgraduate trainees starting this academic year was 29,255, up from 27,145 last year, a rise of 8 per cent.
There were also 5,335 entrants to undergraduate initial teacher training this year, up from 4,765 last year.
Nick Gibb, the schools minister, said: "The fact that more than 34,500 new trainee teachers started teacher training courses this year – over 2,600 more than in 2017 – despite a competitive labour market shows that teaching continues to be an attractive career for able graduates.
"This includes the highest number of new postgraduates since 2011-12, and the quality of entrants remains high with 19 per cent holding a first-class degree."
More to follow.