The education disadvantage gap has stopped narrowing for the first time since 2011, presenting a "major setback for social mobility", a new report has found.
Children from poorer backgrounds are finishing a year and a half behind their peers by the end of GCSEs, according to the Education Policy Institute's (EPI) annual state of education report, produced in partnership with the Fair Education Alliance (FEA).
There are also vast discrepancies based on where children live, their ethnicity and special educational needs and disabilities (SEND).
The authors of the report said their findings suggest that the new prime minister faces a "considerable challenge" in order to close the disadvantage gap, which measures the academic progress between poor pupils and their more privileged peers.
Schools Week pulled out the most interesting findings from the report.
1. Poor children in England are 18 months behind
Between 2017 and 2018, only primary schools continued to narrow the disadvantage gap – by 0.3 months.
There was no substantial change to the gap in the early years, widening slightly by 0.1 months to 4.5 months.
However, most strikingly, in secondary schools the gap widened by 0.2 months to 18.1 months.
The EPI used the headline measure of attainment in English language and maths to reach its findings.
"The reversal of the trend direction by the end of secondary school is noteworthy because the gap had been closing, albeit increasingly slowly, in recent years," the report said.
"The change in direction in 2018 means it may have reached a turning point, and if this continues in future years it could lead to the progress of recent years being undone."
2. It will now take more than 500 years to close the gap
Using projections, based on a five-year rolling average, experts predict the gap in attainment in GCSE English and maths has widened to such an extent that it would not be closed until 2581. Last year, it was predicted that the gap would close by 2154.
However, there may come a time in the future when it will "no longer make sense" to measure trends based on when the disadvantage gap will close, the report said.
This is because of the "rapidly increasing number of years until gap closure", and the fact the gap "may widen in future years".

3. Persistently disadvantaged pupils fall further behind at secondary
Persistently disadvantaged pupils are those who have been eligible for free school meals for at least 80 per cent of their time at school.
In 2018, the gap between pupils and their peers narrowed by 0.4 months at primary level. Between 2017 and 2018 the gap narrowed twice as much as it did between 2011 and 2017 – 2.9 per cent compared to 1.4 per cent.
However, the gap for persistently disadvantaged secondary pupils in English and maths widened by 0.3 months between 2017 and 2018. Since 2011, the gap has widened by 0.4 months in total.
Research found that the most persistently disadvantaged pupils end up 22.6 months behind at the end of their GCSEs in 2018. That gap has increased from 22.2 in 2011.
Speculating about the differences between primary and secondary school, the report stated: "One possible explanation could be that secondary pupils are, generally, more exposed to austerity measures than primary pupils."
4. Black Caribbean pupils now almost 10 months behind
Researchers measured the ethnicity gap by comparing the performance of white British pupils to those from other ethnic groups.
Since 2011, black Caribbean secondary school pupils have fallen behind white British pupils by an additional 2.2 months, to 9.3 months in total.
Gypsy and Roma children had the largest gap – 34.1 months. This was an improvement of 0.7 months compared to 2011.
Attainment among Chinese and Indian pupils continues to be much higher than that of their white British peers. Chinese pupils are 24.8 months ahead by the end of secondary school, while Indian pupils are 14.2 months ahead.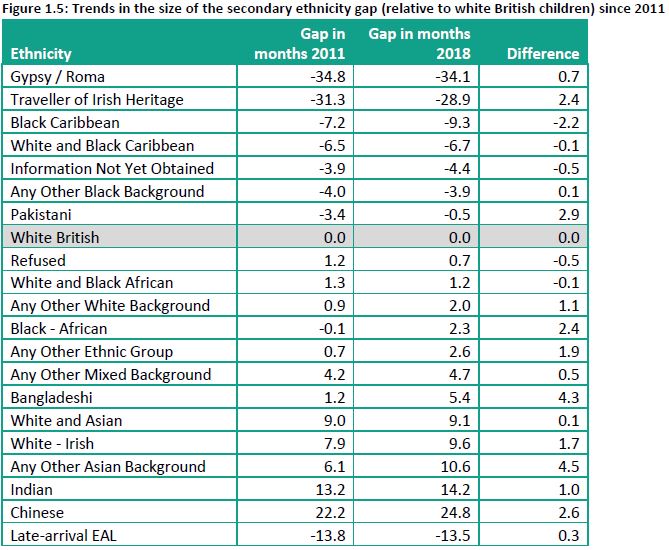 5. Pupils with EHCPs end up 40 months behind their peers
Pupils with special educational needs and disabilities are "significantly behind their peers at every stage", the report found.
Pupils with a statement or education, health and care plan had the largest gap – ending up 40 months behind their peers by the end of secondary school.
6. Disadvantage gap particularly acute in the north of England
A pattern also emerges when it comes to where disadvantaged children live.
Poorer children in areas with the largest disadvantage gaps at the age of 16, which are concentrated in the north of England, were more than two years behind their peers.
This was the case in areas such as Rotherham and Blackpool.
Areas in the north west, including Bury, Halton and Wigan, saw the largest increases in disadvantage gap at secondary level. In those areas, the gap has widened by around five months since 2012.
The local authorities with the largest reductions in the secondary gap were in London.