The government will fund councils to find alternative venues for polling stations to ensure school nativities and Christmas concerts aren't axed because of the election.
Schools Week revealed last week that hundreds of schools faced festive disruption because they will be used as makeshift polling booths for the snap election on December 12.
Now the government has stepped in to ensure Christmas isn't cancelled.
Education secretary Gavin Williamson said central government will "reimburse necessary costs" to support councils find other polling station venues and "avoid disrupting long planned and important events" during the run-up to Christmas.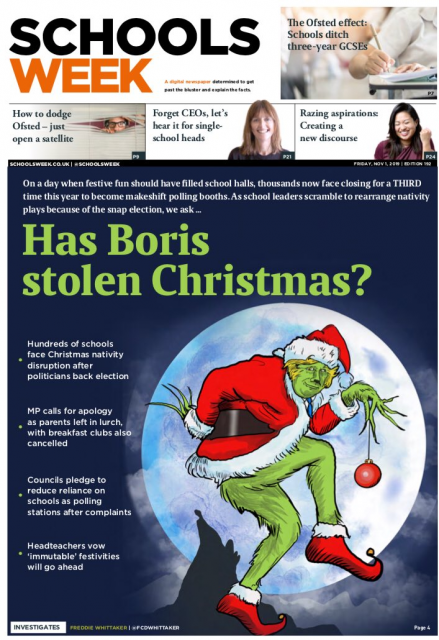 In a letter to councils today, Williamson said he would be "grateful for anything you can do" to keep disruption to an "absolute minimum and that you work closely with local schools to this end".
"In every community there will be alternatives and I would ask that, whenever possible, these are used instead."
But Peter Stanyon, chief executive of the Association of Electoral Administrators, said that was not the case, with areas in cities, towns and especially rural regions lacking any alternatives.
In a letter to the education secretary, he said the intervention was an "extreme disappointment" and shows a "complete lack of knowledge and understanding" of how elections work.
Most polling stations have already been booked with poll cards even being sent out to voters this week, Stanyon added.
Schools Week has previously revealed around one in six schools were closed or partially closed because they were used as polling stations.
One in 12 primary school teachers said a December 12 election would disrupt a festive activity, according to a poll by Teacher Tapp published by Schools Week last week.
Helen Williamson, the head of Billingshurst Primary School, in Horsham, West Sussex, tweeted she now has to "deal with" an election "in the middle of our Christmas productions and nativity performances", adding: "Brexit screws up Christmas. Cheers."
Polling venues are chosen independently by returning officers, meaning the government cannot compel them to avoid schools. There also may be particular issues with a lack of suitable venues in rural areas.
But cabinet office minister Oliver Dowden said he knows returning officers will be "thinking creatively about venues in their areas that can be utilised to minimise disruption and I hope this provides some assurance that the government will support you".
The education secretary added Christmas events are "important highlights in the school calendar and the result of a huge amount of hard work and dedication from staff, parents and children".
Howevwer Stanyon said the "simple truth … is that when parliament decided to hold the poll in December, at short notice, significant and unintended consequences followed".
Some councils – including Wolverhampton and Northampton – are proposing to reduce the number of schools used as polling stations to minimise the impact on children's education.
However, it's unlikely the changes will be in place in time for December 12.
🎄Christmas is such a special time for our children🎅

There's no reason that nativity plays or carol concerts shouldn't be going ahead as planned this year.

I've written to returning officers asking them to ensure that there is no impact on the festivities in our schools. pic.twitter.com/cD5UWMoEzd

— Gavin Williamson (@GavinWilliamson) November 5, 2019