Shireland Collegiate Academy has been signposted by the DfE as an example of EdTech best practice. Schools Week went to observe the teaching in their immersive room and chat to the leadership team about what they're doing, and why
If you ask the Department for Education which schools are doing EdTech well, Shireland Collegiate Academy is their go-to answer. In fact, when Damian Hinds called for an EdTech revolution in schools in August, it was this school they singled out as an example of good practice.
And in 2016, the DfE approved funding for four new "technology primaries" to be built from scratch in the Birmingham region, all to be run by Shireland Collegiate Academy Trust.
So what is this Smethwick secondary school doing differently?
What's particularly interesting about Shireland, is that it was one of the first wave of five research schools – selected by the DfE and the Education Endowment Foundation in 2015 because they were already using evidence-based practice.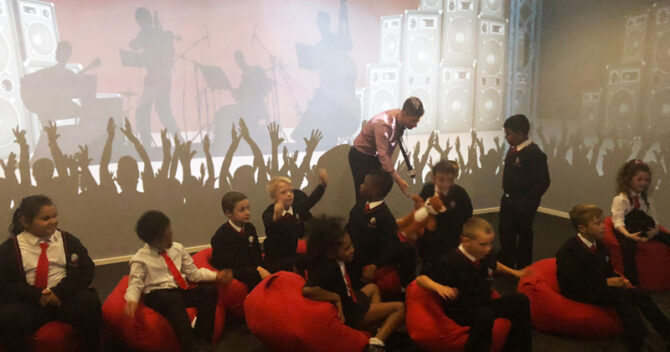 "I have a problem with people doing things when there's no science behind it," says trust CEO Sir Mark Grundy, who started his career teaching science and design. "I like some empirical base to things. So I don't like us giving people resource, and not knowing what difference it made."
They've been evaluating their EdTech use for over 10 years, and in 2014 they "persuaded" assessment organisation OCR to fund 18 EdTech action research projects, which include immersive technology, video feedback and flipped learning.
EdTech implementation – like everything else – must be "systemic", not "heroic", says Grundy. "People do the odd thing that's spectacular, but if it's really spectacular every kid should experience it, if it's relevant".
The immersive room is used for every year 7 and 8 class, once per "theme" – which means once every half-term. With the exception of subjects that need specialist equipment, like DT or practical science, the key stage 3 curriculum is organised into cross-curricular themes, "almost like a primary model," explains Kirsty Tonks, the trust's primary director.
Some of the theme titles indicate clear curricular links, such as Little-big planet or World War II. With others, such as Ship Ahoy! or Scream if you want to go faster, the educational element is less obvious.
It's all about creating the "wow" factor to get kids excited about learning, says Tonks. "Scream if you want to go faster is a design theme, and it's looking at pulleys and levers. The end outcome is to produce their own working model of a fairground ride. But to start it off the year 5s come here from Holyhead primary, and are in a theme park.
"Now ideally what you'd want is to take them to the theme park. But the cost of hiring a coach is astronomical. If you wanted to go and take them to see Da Vinci's work you'd probably have to fly a few hundred miles to get to anywhere. Whereas we can create a museum and use it year in, year out.
"It is about the 'excite' element of learning that we try to use that immersive room for."
Entering the immersive room certainly elicits a "wow" feeling. The room is about the size of two standard secondary classrooms and seems to stretch on forever. The lights are low and a projected blue display wraps around three of the four walls. Year 3 pupils bounce contentedly on beanbags. When the music comes on, the space feels warm, enveloping.
Today we're in the introductory lesson for the Pause and rewind theme, where students from Holyhead primary – a special measures school the trust has recently taken over – are quizzed on what they already know (very little, it turns out!) about the history of music. Recorded clips are interspersed with real instruments, as the music teacher takes the class on a journey through classical, jazz, rock'n'roll, electronic and modern – fitting each into the timeline and drawing links between the evolution of instruments and the sounds of each genre.
There's a smell option, with about 500 available scents but not "sweaty armpits" – hence their absence in this experience, jokes Tonks.
"When we did the Viking Ship, we had salt spray so they could get a sense of being out at sea," she enthuses. "This morning the year 8s did Pompeii, so we had an ash sulphur kind of smell. You can't take them to Pompeii and relive what was happening, but what you can do is at least try to recreate."
Their decision to install the immersive room in 2015 was inspired by a visit to Ironbridge Gorge Museum. "It was a "wow" experience – you could actually see, hear and smell the Black Country during the industrial revolution," says Tonks.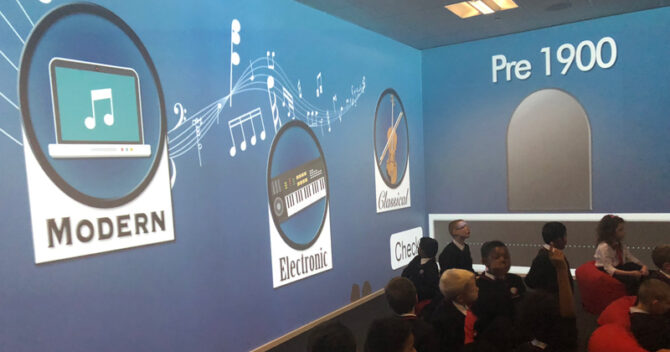 There's a lot of debate around whether it's a school's duty to get kids excited, or whether teachers should simply deliver content and pupils should lap it up. The reality of most schools is, of course, something in between. But surely there's a danger with the requirement to include an experience in every topic, that it becomes a gimmicky part of the curriculum?
"The lessons are crafted to go through a quality assurance process," says Tonks. "So at the end of the day, it's as much a tool as using a video or any other piece of content. You will be judged the same." The teachers are also organised into "research groups", to assess the impact of various interventions throughout the year.Topic teaching is "about making the links smart but not tenuous," she adds. "I always use the example of when I was teaching year 2 many years ago and the topic was animals and I ended up having to teach the history of horses. Now the history of horses in Smethwick is meaningless. So what we've done is we've mapped it so we've got coverage of the curriculum. It's broad, it's balanced, it's not tenuous in any way."
How do they make sure pupils understand the chronology of history? "That's where a room like that comes into its own completely," insists Tonks, explaining that they project a timeline to show where the history component of each topic sits, in relation to the other units.
The immersive room cost £40,000 to build, and the school employs a technical support team of five – so how do they afford it? "Quite simply, it's how we've chosen to staff the school," explains Tonks. Of the further four EdTech staff who support the embedding of technology across the trust, three cover their own salary by also providing support services to schools outside the trust.
"We have a leaner support staff than most schools have," adds Tonks. "We see technology as a way of supporting students rather than being person-dependent."
One of those tools is Little Bridge, "a surrogate solution for supporting students who are weaker in literacy – when in another school you may have used teaching assistants," explains Grundy. "Our pupils have never been disadvantaged by having fewer TAs, but they have been advantaged by having the right TA support alongside the right technology."
The school has used the software to provide literacy support not only to struggling students, but also local families, through weekend and after-school classes.
Shunning technology is simply not an option. Parents and carers are offered training sessions, and for staff "there's an expectation of use. Because we saw it had such an impact – so why wouldn't you expect it of all staff?".
In short, concludes Tonks, the key is not to consider EdTech as its own entity, but as a delivery tool for "all the areas that schools are looking at" – feedback and marking, questioning, spacing, retrieval practice.
"You could look at it that we're quite lazy," she jokes. "You could say that's our motivation, that we want to make things as easy as possible and we want technology, as we use the phrase, to do the heavy lifting."