There are now 22 research schools across the UK, and 11 are in government-identified social-mobility "cold spots". Samantha King takes a look at why they were created, how they function and how your school can get involved
What are research schools?
The Research Schools Network is a partnership between the Education Endowment Foundation (EEF) and the Institute for Effective Education (IEE).
Despite their name, research schools are not separate institutions, so much as hubs based within existing schools or academy chains.
Their job is to build and strengthen networks of schools and help them access decent education research and implement it in everyday classroom practice.
What research do they do?
The "research" part of their names can be a little misleading, as these hubs are not primarily dedicated to conducting research.
Research schools have three key aims: communication, training and innovation.
Communication – They keep in regular contact with schools in their network, for example by sending out monthly newsletters – supported by content provided by IEE and EEF – detailing interventions that have been proven to work.
Training – They run conferences and provide training and professional development to teachers and senior leaders in their local areas.
Innovation – They support schools in developing new ways of improving teaching and learning, in evaluating the impact of these innovations – and in applying for research grants, such as the IEE innovation evaluation grants, which are awarded three times a year.
This year, the EEF introduced a small team of developers whose job it is to guide schools and facilitators in formulating plans to expand and develop their networks. They each have different areas of expertise, some with university research backgrounds and others from the National College for Teaching and Leadership.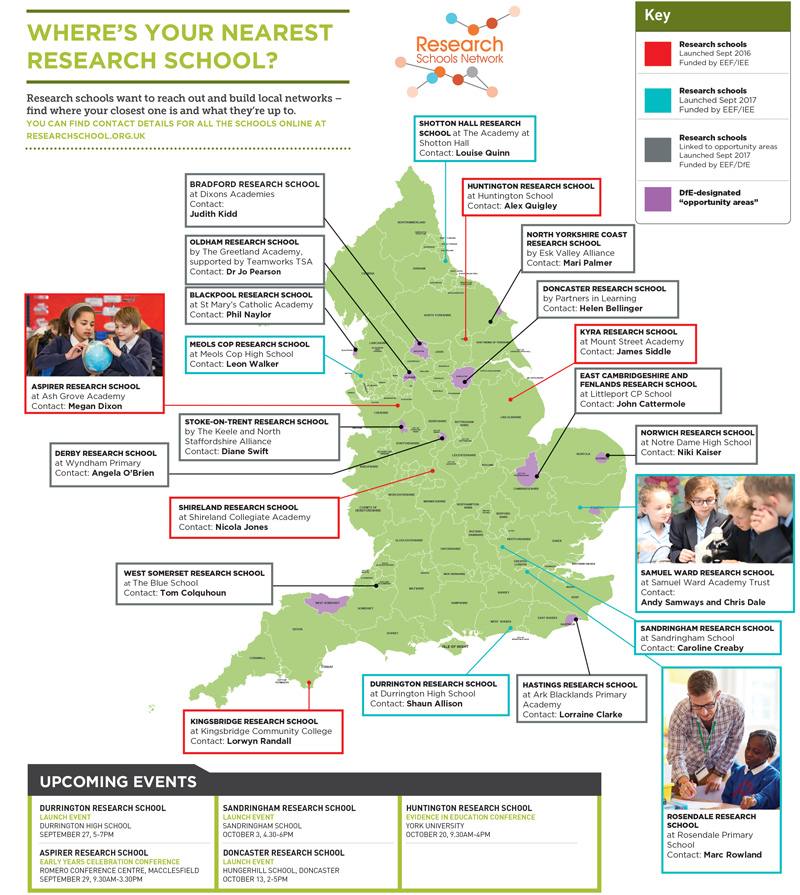 How were the research schools set up?
They were first conceived by the EEF in 2015 after a number of discussions with schools that were already at the forefront of driving evidence-based school improvement.
The leader of the RSN is James Richardson, a senior analyst at the EEF.
"In that respect, the model for research schools already existed," he explains, "but the EEF's role was to formalise it into a network of schools to ensure that all schools have the external support to understand and make use of evidence to improve attainment."
The EEF didn't know quite what to do; they were floundering
Originally a project jointly funded by the EEF and the DfE, the IEE got involved after the government withdrew its part of the funding.
"They put out a call, schools applied, they shortlisted the schools – and then the DfE withdrew the money – so the EEF didn't know quite what to do; they were floundering a little bit," says IEE director Bette Chambers.
At that time, the IEE was in the process of separating from the University of York but its funder, the Bowland Charitable Trust, stepped in to provide money for the project to continue.
The first five research hubs in England – based in schools with prior research experience – launched in September 2016. The second wave of six was announced in April 2017, and the third wave, all located in opportunity areas, of 11 schools was confirmed in July. Waves two and three launched this September (see map).
How are research schools funded now?
Each research school is funded for three years by EEF and IEE, receiving approximately £200,000 in total. The 11 research schools opening in opportunity areas are to be cofunded by the EEF and the Department for Education.
It is hoped the research schools will become "self-sufficient" after three years, according to IEE director Bette Chambers.
Who can become a research school?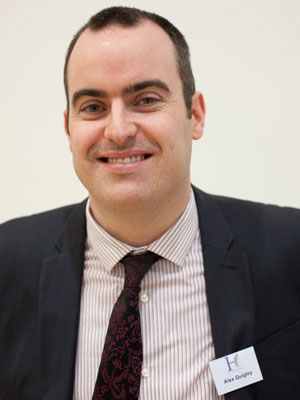 Schools have to apply to become a research school, with successful applicants shortlisted and interviewed. Applicants need to have the capacity and reach to connect with up to 200 schools in their respective regions.
Research schools are constantly looking to grow their networks through conferences and events, and actively encourage schools in their area to get in touch (see above map).
"If we're going to reach all corners and not just preach to the converted, we're going to need to amplify more," says Alex Quigley, director of Huntington Research School.
Are there research schools anywhere else in the world?
While the RSN did not model itself on any specific initiative, similar evidence-based education projects exist in the US, and the English project is now being watched with interest from abroad.
The EEF has been sharing information with educators in Australia, and in September a group of Swedish headteachers will visit Huntington Research School.
"Our focus is local – Yorkshire – but there is an interest far wider," says Quigley.
International research school initiatives
Research Schools International
The Research Schools International (RSI) project partners researchers from the Harvard Graduate School of Education with schools around the world.
It is currently linked with 20 schools across the globe, six of which are in England and comprise four secondary independent schools, one comprehensive and a free school.
RSI provides them with research-based innovation, which they also share online to reach schools outside their network, as well as running CPD events.
RSI was founded by Christina Hinton, from the Harvard Graduate School of Education, who developed the model around 10 years ago and launched it officially in 2012.
She says the group is currently looking at reaching out to the Research Schools Network.
Evidence for ESSA, Maryland, USA
John Slavin, the former director of the IEE who now directs the Center for Research and Reform in Education at Johns Hopkins University, set up Evidence for ESSA for US schools.
The Every Student Succeeds Act (ESSA) requires schools to examine the evidence if they want federal funding to support their work.
The resource provides information for schools on programmes that meet the ESSA evidence standards, and draws on previous work carried out by the IEE in the UK on their Evidence 4 Impact database.
Society for Research on Educational Effectiveness (SREE), Washington DC, USA
Made up mostly of academics, SREE looks at how to get evidence-based research used in schools, through connecting with the research community, policymakers and educational professionals.
One of its main aims is to disseminate and consolidate research findings on educational causes and effects, and to this end, sponsors the peer-reviewed Journal of Research on Educational Effectiveness.
Reflecting on year one
The directors of Aspirer, Shireland and Huntington research school chatted to Schools Week about their motivations for being involved
Megan Dixon from Aspirer Research School on the power of research…
"In 2009 Ashgrove Academy [where Aspirer is based] was on the point of closure. The local authority was going to shut it down because it was not in a good place. In a last-ditch effort, we got a new head and a new team to run the school. In 2013 it was 'outstanding' in all areas.
"Every decision that was made, and every process we went through, was informed by looking at the research. Back then it wasn't as easy either, because we didn't have a nice guidance report written up by the EEF.
"The research is a mirror on your practice. It gives you a lens through which to go 'Really? Do we do that?'"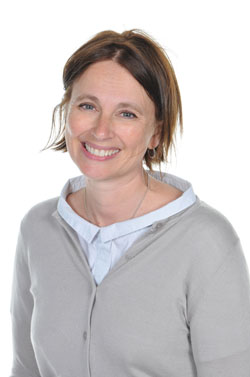 Nicola Jones from Shireland Research School on the best thing about becoming a research school…
"The best thing is the communication with other teachers and schools, and the support we can give. As a research school we share the evidence for what actually has an impact, and support schools to then make best use of this evidence to support their improvement.
"I don't think anyone enters the teaching profession not wanting to make a difference, and as a research school we can support schools to really make a difference in the classroom."
Alex Quigley from Huntington Research School on peer-to-peer support…
"Schools listen to other schools. If the DfE or Ofsted say something, people listen. When it comes to Ofsted, people will make significant changes, but they're often superficial or short-term. With research schools, what we're trying to give is support for teaching schools and schools to make good, longer-term choices based on the best available evidence, and where there isn't evidence, we're trying to generate it.
"As a system we are good at understanding Ofsted and we're savvy about data, but I don't think we are very knowledgeable about the very broad complexity of evaluation."
* On January 19, 2018, a new research school at Highfield Nursery School was announced for the Ipswich opportunity area