The government has published the evidence behind its recommendation that pay for most teachers and leaders rise by 3 per cent next year.
Here's what you need to know…
1. The recommendations
Although the school teachers' review body is free to make its own recommendations, in reality the body is heavily curtailed by the "remit" provided by the government and its wishes set out in evidence.
In its latest evidence, the DfE has recommended rises worth 3.5 per cent across the board, consisting of:
A 3 per cent rise for those on the upper and leadership pay ranges (this is most teachers and leaders)
A 7.1 per cent increase in point 1 of the main pay range, taking starting salaries to £30,000 outside London
'Commensurate tapered uplifts' to remaining pay points in the main pay range
The STRB included the following illustration of the effect these rises would have on the pay scales in its last report…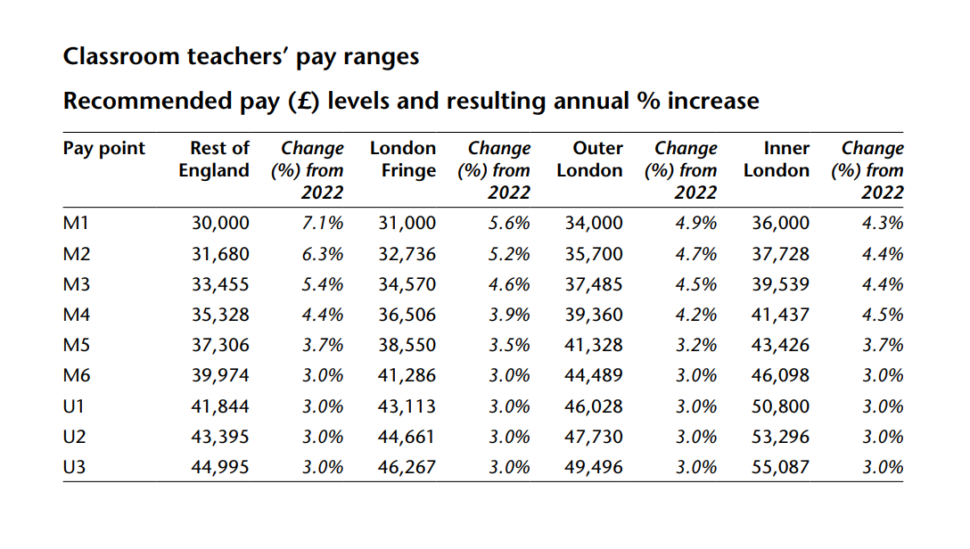 2. Extra funding 'strengthens' case for higher rise
A 3 per cent rise was actually the STRB's recommendation for 2023 in its last report, but the DfE chose to only accept its recommendation for 2022 at the time.
However, the department said it now "recognises the merits of a 3 per cent uplift and that the case for this award has strengthened in light of additional schools funding provided since the autumn statement". School funding was increased by £2 billion.
3. No extra funding coming…
DfE said the proposed 3.5 per cent rise overall would be "affordable" for schools from their current budgets given the recent extra funding.
However, "significant change" in coming months "may support delivering a higher award for experienced teachers". For example, if more "headroom" becomes available because of changes to energy cost pressures.
A higher award for experienced teachers and leaders "would of course have recruitment and retention benefits", DfE added.
4. …and it could force schools to make 'efficiencies'
However, the benefits of a higher award would need to be "considered carefully alongside the impact that a higher award could have on schools' budgets which could require schools to make savings, with more significant trade-offs", the DfE said.
A pay award above what is affordable "could require reductions in other areas of school spending and the need for schools to make efficiencies".
A higher pay award "would also risk the fight against inflation, as it could require further government borrowing during a time when sustainable public finances are vital".
5. Teacher leaving rates rising again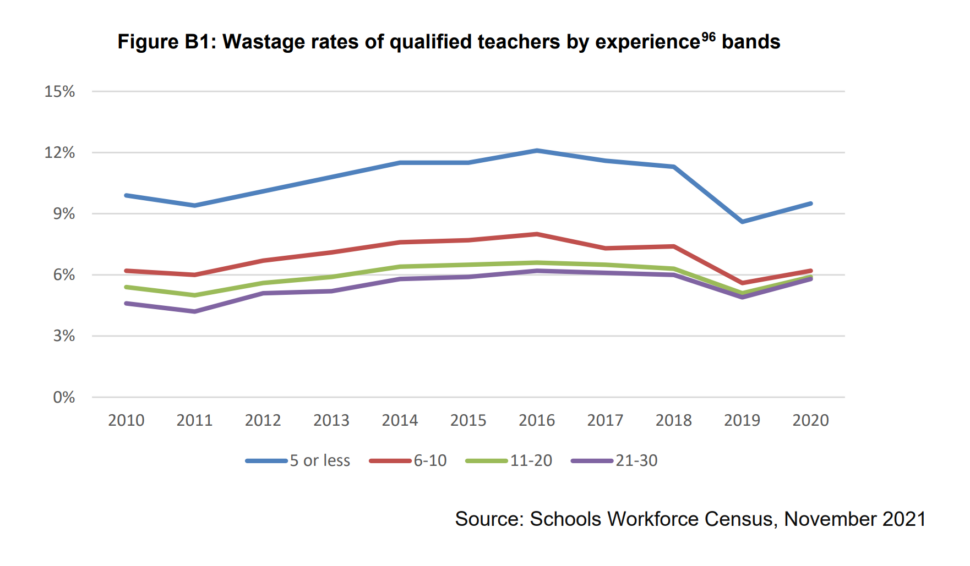 So-called teacher "wastage" rates – the proportion of teachers leaving the profession for reasons other than retirement or death – had generally been falling since a peak in 2016.
However, the latest data shows a slight uptick in leaving rates between 2020 and 2021.
According to the school workforce census, the number of teachers becoming "out of service" rose to just over 32,000 in 2020-21, up from just over 27,000 in the previous year.
6. Generosity of £30k starting salary will 'diminish'
The DfE has recommended a 7.1 per cent increase in starting salaries next year, to take them to £30,000 outside London "without further delay".
This means the government will meet its manifesto pledge made in 2019, albeit later than promised.
However, in its evidence, the department acknowledged that "as time lapses, the perception of £30,000 as a financially rewarding figure is likely to diminish, as other graduate professions match or begin to exceed this figure".
7. No sign of key teacher survey data
Unions had been pressing the government to include the outcome of the government's new "working lives of teachers and leaders" survey in its evidence to the STRB.
The survey was carried out by IFF Research and the Institute of Education for the first time last spring, but the findings are still not out, and are not included in the evidence.
The DfE said that when the report is published, the STRB "may wish to consider the evidence presented there."
Government hopes to "conduct more detailed analysis" of the data "in future years".
8. Falling pupil numbers may 'alleviate pressure'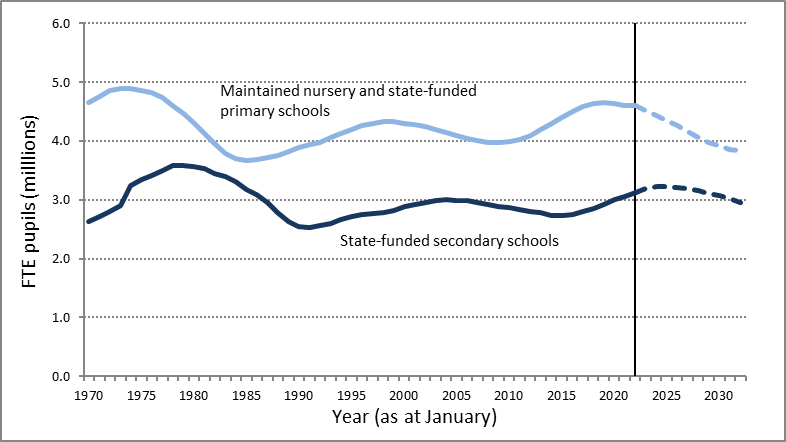 In recent years, schools have grappled with increasing pupil numbers, caused by a baby boom in 2000s.
However, according to DfE estimates, pupil numbers are due to fall by 9.4 per cent between 2022 and 2030.
The DfE said this "reduction in demand over the coming years could serve to alleviate some of the pressures on classroom teacher numbers".
However, the graduate-age population is also due to shrink, offering a smaller pool from which to recruit teachers.
9. £2.1bn 'headroom', but don't blow it all on pay rises
Alongside its evidence to the STRB, the DfE has published a technical note on predicted schools' costs.
This estimates that schools, on average, could afford £2.1 billion in "new spending" before facing a "net pressure on their budgets" (though the DfE is keen to point out this won't apply to all schools).
But this does not take account of pay awards for staff, or likely increases to energy bills, so they would need to be met within this amount.
The DfE also said the headroom figure "does not represent a sum that could be directed in full to teachers' pay without very significantly impacting on other areas of schools' spending".
10. Great uncertainty over energy bills
The DfE has asked the STRB to "particularly consider" the impact of energy costs, but acknowledged these were "currently particularly difficult to forecast with confidence at both a national and school level".
School-level costs will vary based on usage and contracts, while "market volatility" means costs are "likely to vary over the course of the year", particularly after government support ends in March.
The DfE predicted that every 100 per cent increase in energy costs in 2023 would cost the sector around £600 million, and stakeholders have cited increases of up to 300 per cent.
11. Keep 'parity' with private sector
The government has said public sector earnings growth should "retain broad parity with the private sector and continue to be affordable".
The Office for Budget Responsibility has forecast average earnings growth will fall to 3.5 per cent in the next financial year.
"A 3.5 per cent overall award thereby maintains competitiveness within the wider labour market, supporting recruitment and retention," DfE claimed. "This is even more notable given the context of the forecast recession."