Only around one in ten pupils in years eight to ten went to school last Wednesday, new analysis of strike day attendance shows.
Data published by FFT Education Datalab also shows that poorer pupils were less likely to be in school on the day of the walk-out, and local authority-maintained schools were more likely than academies to close.
Using attendance data from more than 9,000 schools, Datalab broke down attendance by year group, phase, school type and disadvantage.
The Department for Education last week published data showing 54 per cent of schools nationally shut or restricted attendance when members of the National Education Union walked out in a dispute over pay and school funding.
Government data had already shown that secondary schools were more likely to be closed than primary.
But Datalab's analysis shows a huge variation by year group at secondary level.
Year 11s had the highest attendance, at 54 per cent, close to the attendance seen in primary year groups. The DfE had urged schools to prioritise exam year groups.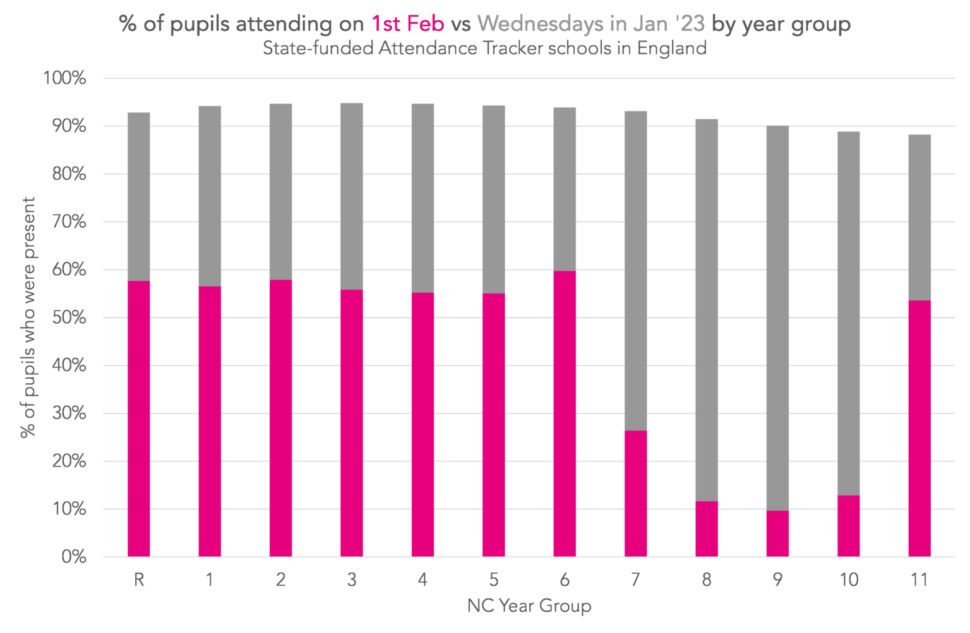 However, only twenty-six per cent of year seven pupils were in school. And attendance in years eight, nine and ten was much lower, at 12, 10 and 13 per cent respectively.
Overall, 57 per cent of primary pupils attended on Wednesday, compared to just 23 per cent of secondary pupils.
Poorer pupils less likely to go in
The analysis also shows that disadvantaged pupils in every year group were less likely to attend school than their non-disadvantaged counterparts.
At primary level, attendance among non-disadvantaged pupils was around 5 percentage points higher than among disadvantaged pupils, whereas the difference was 7 percentage points at secondary.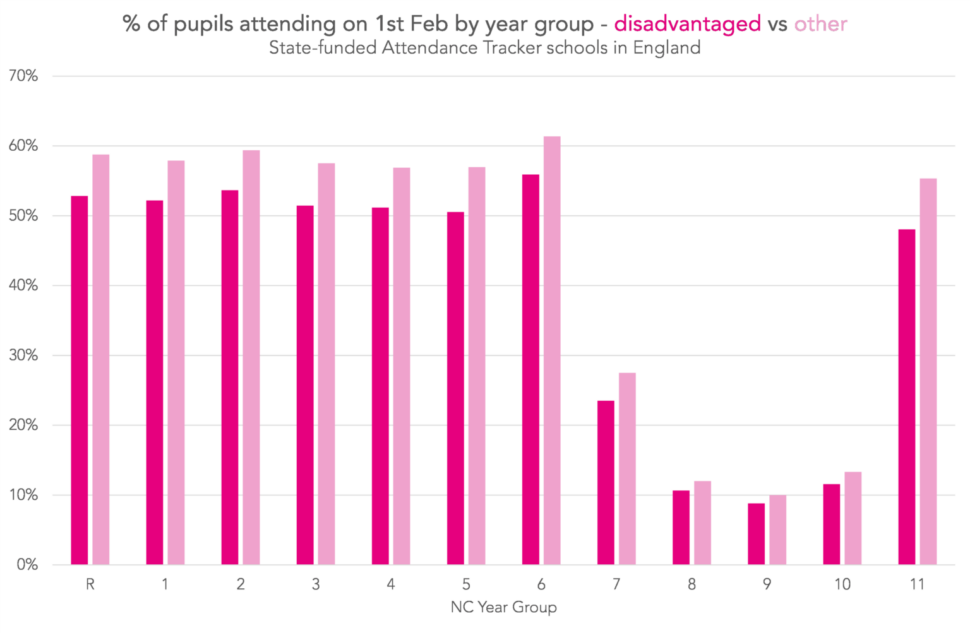 Datalab said "one possible explanation for this is that disadvantaged pupils were more likely than peers to be on roll at schools with low attendance overall on strike day (e.g. due to closure)".
The analysis also found that academies were far more likely to remain open than maintained schools.
For example, 25 per cent of community and foundation primary schools were fully closed, compared to 14 per cent of converter academies and 16 per cent of sponsored academies and free schools.
And 45 per cent of community and foundation secondaries were fully closed, compared to 31 per cent of converter secondaries and 26 per cent of sponsored academies.