The number of pupils in state-funded schools is expected to drop by 5.2 per cent over the next decade, new statistics show.
Pupil projection data published by the Department for Education today states the overall population of state schools is expected to decrease by 408,000 to about 7.3 million by 2030.
The figures show that the next two years will see an increase in pupils overall, but this will begin to drop in the following years.
The secondary school population is due to continue to rise until 2024, driven by a population bulge caused by an increase in the birth rate in the early 2000s.
However, the number of pupils in secondary schools will then begin to drop off from 2025, because of a lower birth rate seen in 2013 and beyond.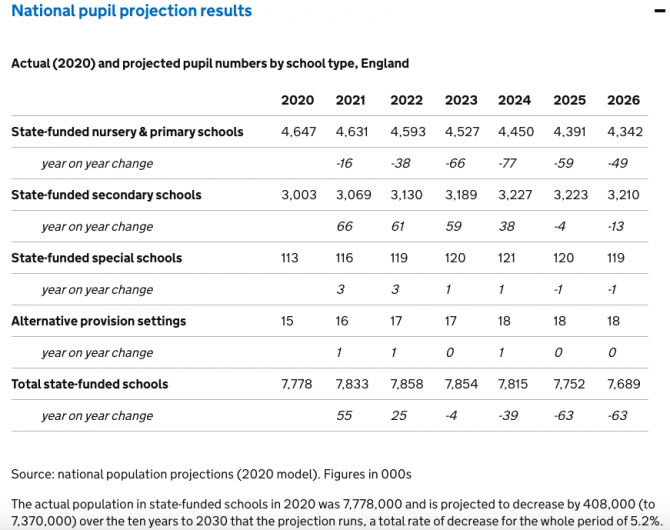 The population of primary and nursery schools had been rising since 2009 as a result of the early 2000s baby boom, but has now plateaued and is projected to fall every year until 2030.
The analysis says the drop is now steeper than previously projected due to lower births recorded since the end of 2016.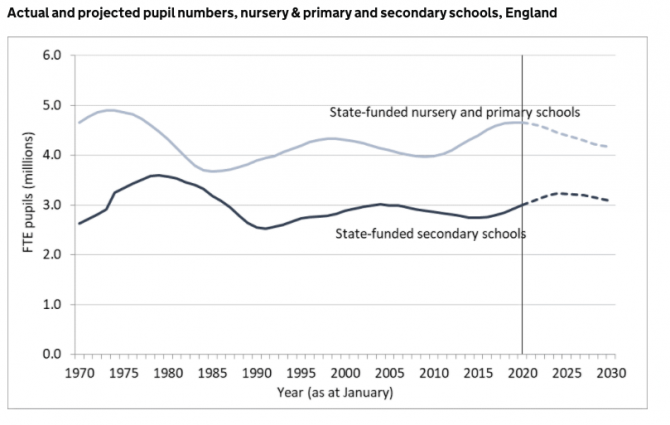 However, the actual primary population this year was up 7,000 on what was projected last year, whereas the figure for secondary pupils is 10,000 lower.
The number of pupils in special schools has been increasing for a number of years, driven in part by an increase in the overall population. This is projected to continue until 2024 before also gradually dropping.
The alternative provision pupil population is projected to increase slowly before stabilising.