Teacher recruitment shortfalls in most subjects look set to be eradicated because of the Covid-19 pandemic, a new report has predicted.
But headteachers have warned that any boost to recruitment could be shortlived.
Research by the National Foundation for Educational Research predicted that increased recruitment, coupled with higher retention rates, could close gaps in shortage subjects such as maths, modern foreign languages and chemistry, which have all seen a "substantial increase" in offers.
When the boost to retention rates is taken into account, the organisation estimates that recruitment in some subjects could be as much as 240 per cent of what is needed.
The government has so far missed its secondary teacher recruitment targets for seven years in a row.
The coronavirus pandemic and ensuing recession appear to have made teachers more likely to stay in the profession, and made others more likely to consider a teaching career.
Analysis by the NFER of UCAS data found that overall, teacher training applications are up 16 per cent on last year, and there was a 35 per cent increase in applications between mid-March and mid-August.
It follows an NFER survey of over 1,700 teachers in July, which showed that the proportion of teachers considering leaving was 15 percentage points lower than in 2019.
But the NAHT school leaders' union has urged ministers to be "wary that this could be a false dawn".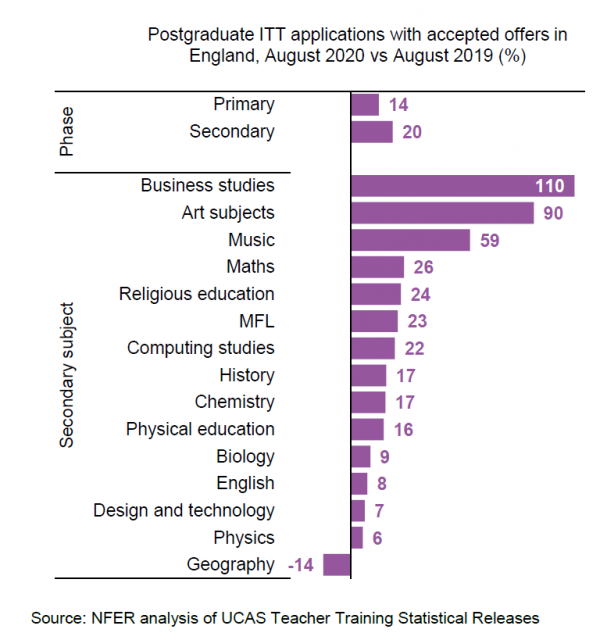 Nick Brook, the organisation's deputy general secretary, said: "We should remember that the new entrants who joined the profession as a result of the 2008 financial crisis melted away as economic conditions improved, while attrition and wastage rates grew over the following decade.
"Additionally, this year's improved figures will not make up the shortfall resulting from eight consecutive years of missed recruitment targets."
NFER analysed data from UCAS, the ITT Census and DfE's teacher supply model, and found a mixed picture across the subject spectrum.
In maths, applications for postgraduate ITT courses are up 26 per cent compared to last year, while applications for modern foreign languages are up 23 per cent.
At the other end of the scale, physics applications are only up by 6 per cent, and geography applications have actually fallen by 14 per cent. The NFER said this is most likely due to the reduction in the bursary value for geography, from £26,000 in 2019 to £15,000 this year.
Based on recruitment data and the DfE's current predicted leaving rate, researchers predicted that recruitment in 2020-21 would still fall short of government targets in physics, D&T, MFL, maths, chemistry an computing.
However, NFER also believes the DfE's predicted leaving rate may be overestimated by as much as 25 per cent. Once likely new retention rates are factored in, they predict the recruitment gap would close in all subjects except physics and D&T, and that at the other end of the scale, recruitment in some subjects could be "substantially higher" than the system needs.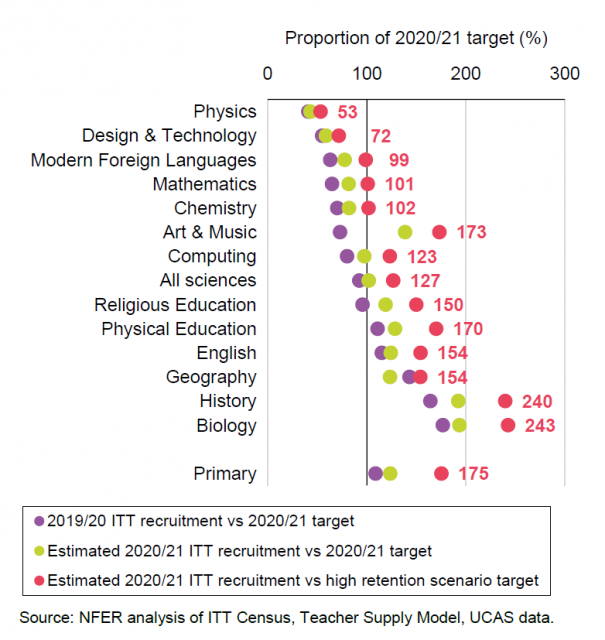 "Accounting for increased recruitment and an increase in teacher retention rates, it is likely that trainee numbers in almost all subjects will meet the school system's need for teachers in September 2021, as estimated by the Department for Education's (DfE) Teacher Supply Model (TSM)," the report said.
However, it warned its analysis "should be treated as indicative of the possible effects, not as an accurate prediction of likely outcomes".
The NFER also recommends the government continues its work to tackle "placement bottlenecks" for trainees, after capacity dropped by 20 per cent in primary schools and seven per cent in secondary.
This work includes DfE relaxing the requirements that trainees spend 120 days physically in schools, train in at least two schools and cover the full age and ability range of training.
Schools with the most disadvantaged pupils reported a larger average reduction in capacity due to Covid-19, compared to other schools.
Jack Worth, report author and lead economist at NFER, said: "The squeeze on placement capacity has highlighted a vulnerability that could continue to impact the ITT sector and the number of trainees the system is able to accept, with applications to teacher training likely to be high again next year".
A DfE spokesperson said that teaching has always been an attractive career but that it is "good" to see a "continued surge in the number of people looking to enter the classroom".
They added: "To further attract the most talented to the profession, we're introducing the biggest pay rise the since 2005, with above-inflation rises to the pay ranges for every single teacher in the country, bringing us one step closer to a £30,000 starting salary by 2022.
"We are also continuing to work with schools and ITT providers to address the challenges they are facing as a result of COVID-19, including working with the sector to support schools to host trainees."