The national leaders of education advisory group has published its review on reforming the system. The group wants the "full cadre" of newly-designated NLEs in place by the start of 2021-22.
The Department for Education is yet to confirm which recommendations it will take forward. But here's Schools Week round-up of the proposals.
1. Focus on DfE deployments over other gigs
The group found the role of an NLE as a driver of school improvement in struggling schools has been "diluted".
The report stated there's a need to "define a clear remit" for NLEs around their core role of delivering the government's school improvement support offer (supporting schools moving from 'requires improvement' to 'good').
They also say NLEs should be expected to prioritise DfE-funded deployments over other external activities.
2. New criteria opens up role to MAT CEOs

The group recommends NLEs must meet one of three eligibility routes (we've got the full story on this here). They are:
'Turnaround head': a headteacher with recent experience of leading a school up by at least one Ofsted grade (excluding from 'inadequate' to 'RI')
'Beacon of excellence': headteacher of an 'outstanding' schools, with "strong performance and progress data'
'Transformative MAT CEO': an academy trust leader with strong performance and progress data, and experience of moving at least one sponsored academy out of 'RI'. This also includes centrally-employed trust leaders, such as regional directors
This varies somewhat to the current eligibility criteria – where candidates have to meet all three criteria.
3. Three-year reviews to stop 'weak performance'
To cut out "weak performance" or under-deployment, the group wants NLE designation to last for three years before a "light touch" review.
Re-accreditation will be granted based on performance across the three years and based on self-assessment, "360 feedback" from teaching schools and supported schools, Ofsted reports and numerical key performance indicators such as attendance figures.
Feedback will assess whether the NLE provided "sufficient support" under DfE deployments and they achieved results in those areas. De-designation should only be recommended as a result of "clear failure" to comply with NLE standards, the report stated.
At present, NLEs can lose their designation if their school's Ofsted grade drops.
4. 'Attractive' training offer needed for NLEs
A curriculum framework should be developed by the department for compulsory training that provides an "attractive offer" to NLEs after they've been designated.
The training should be done by a national delivery body, the report stated.
5. Accreditation should follow example of 'successful' cost-cutter scheme
The group states that to ensure a "robust application process", NLE selection should follow the model and rigour of the government's school resource management adviser accreditation process.
They say this could be done with three stages, a check that the applicant meets eligibility criteria; a "paper exercise" to test prospective NLEs have the right knowledge and skills*, before an interview or assessment.
Under the SRMA system, accreditation is done by an outside body (the Institute of School Business Leaders). However the group said they "envisage" the Department for Education will continue to make the final decision on NLEs.
*Areas of requisite knowledge are described as standards of whole-school excellence, including governance and financial management, understanding of integrated curriculum financial planning, teacher expertise, and professional development.
6. New standards include 'professional credibility' and 'problem-solving'
The group found there was confusion in the system over the attributes of effective NLEs.
So they've drawn up three standards that "align closely" with the teacher standards, early career framework and headteacher standards (to be published in the next few months).
The standards are: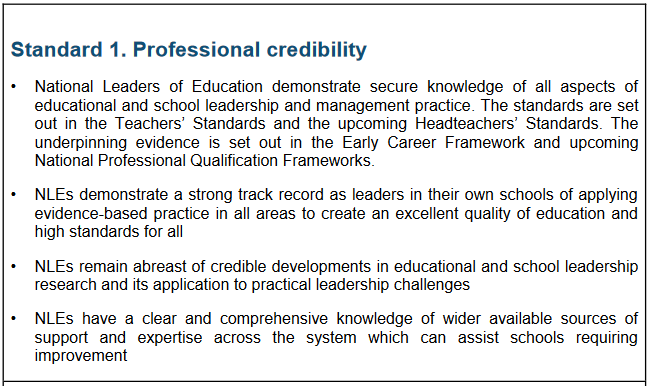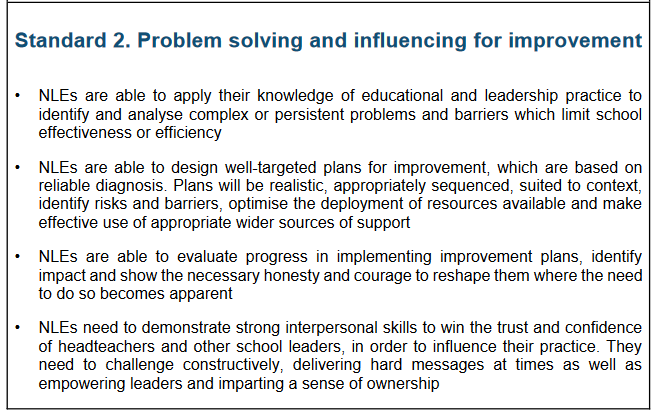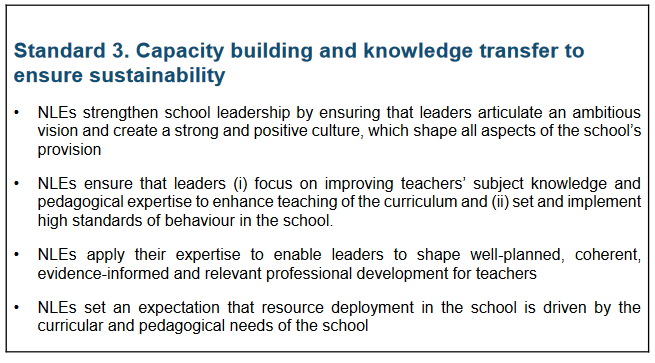 PS… So what happens next?
The group states the new NLE programme would take up to one year to implement fully. They want the government to have in place a "full cadre" of newly-designated NLEs by the start of 2021-22.
The government said it will be "taking forward recommendations so that all National Leaders of Education are clear on their roles as system leaders". However, when pushed on this, they would not commit to agreeing to all the recommendations.
The department is also considering reforms to the national leaders of governance system, an advisory group is expected to publish its findings in the summer. Talks are also now ongoing with schools over plans to roll out the new teaching school hubs later this year.