Fourteen sector leaders will make up a workload reduction taskforce charged with slashing five hours from the working week of teachers and school leaders.
A flexible working toolkit for schools will also be launched later this month, with ministers promising to update their 2019 recruitment and retention strategy.
The workload taskforce (see full list of names below) was promised alongside the government's pay deal with unions to end teacher strikes.
It comes amid forecasts of abysmal teacher recruitment worsening, with government predicted to recruit just over half of the required secondary teachers this year – despite a big increase in bursaries for trainees.
'Ambition to cut five hours from working week'
In a press release sent yesterday, the Department for Education said the taskforce's "ambition over the next three years to reduce working hours by five hours per week for teachers and school leaders".
The first meeting will take place later this week.
A new toolkit with "practical resources" launching later this month will also give school leaders "support to embed flexible working" in their schools. This includes job shares, part-time working and personal days.
Five more flexible working ambassador trusts have also been named, adding to the seven announced in June and delivering the 12 promised by government. They are:
Lapal Primary School, Hales Valley Trust
Newport Girls' High School Academy Trust,
Aspire Alternative Provision School,
The Halifax Academy, Impact Education Multi-Academy Trust
The Reach Academy Feltham, The Reach Academy Trust.
The department will also this winter "publish a strategy update" on its 2019 recruitment and retention strategy.
That will include an update on delivery of previous commitments, and set out priorities for the coming years.
The government's 2014 Workload Challenge attempted to improve the working hours of school staff. Around five hours were shaved off teachers and middle leaders' average working week, which stood at 49.5 hours in 2019.
But the long-awaited workload survey, published this year, shows progress has stalled somewhat.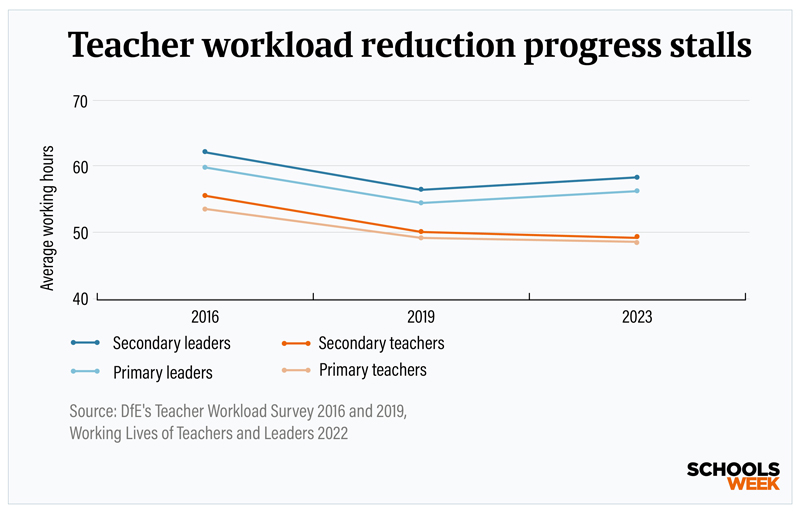 A classroom teachers' working week has reduced by less than an hour in three years, while leaders now work longer on average than in 2019.
Senior leaders' average week dropped from 60.5 hours in 2016, to 55.1 in 2019, but has now risen slightly again to 56.8.
At the current rate, it would take more than 18 years to realise the government's pledge to reduce teachers' workload by five hours a week.
'Sceptical whether there is the will in government'
While welcoming the taskforce, ASCL union general secretary Geoff Barton said they "remain sceptical about whether there is the will in government to take some of the steps that are required to produce systemic change".
"High levels of workload are driven by the underfunding of the education system, which leaves teachers and leaders doing more work with fewer resources, and an accountability system of inspections and performance tables which is excessive and punitive."
A government- commissioned study found that the costs of implementing flexible working continue to "hinder" progress in schools.
Another report found that more support staff were needed to help teachers with admin tasks and ease teacher workload.
Another government-commissioned study stated leaders and teachers estimated that, on average, they worked more than seven "unnecessary hours" a week. This was down from 8.75 hours five years ago.
Three-quarters of secondary school teachers say more than half of their working time is spent on tasks other than teaching.
Schools minister Nick Gibb said they want to "build on the past successes in reducing workloads and continue to remove additional burdens, so that teachers can focus on what they do best: teach.
"This builds on the generous pay rise agreed earlier this year, as part of the Government's continued commitment to building a highly skilled, well supported teaching profession."
Workload reduction taskforce – the full list: 
James Bowen, assistant general secretary, National Association of Head Teachers (NAHT) 
Cassie Buchanan, CEO, Charter Schools Education Trust  
Jon Hutchinson, director of training and development, Reach Foundation 
Emma Knights and Emma Balchin, co-chief executives, National Governance Association (NGA) 
Selena Lansley, senior advisor for workforce and negotiations, Local Government Association (LGA) 
Stuart Lock, CEO, Advantage Schools 
Sinéad Mc Brearty, CEO, Education Support 
Darren Northcott, national official, National Association of Schoolmasters and Union of Women Teachers (NASUWT) 
Adrian Prandle, director of government relations and workforce policy, National Education Union (NEU) 
Steve Rollett, deputy chief executive, Confederation of School Trusts (CST)   
Janet Sheriff, CEO, Collaborative Learning Trust  
Dr Sam Sims, lecturer, UCL Institute of Education – Centre for Education Policy and Equalising Opportunities 
Sara Tanton, deputy director of policy, Association of School and College Leaders (ASCL) 
Kate Treacy, English teacher, Parliament Hill School