The government will refurbish or rebuild schools "that need it", the education secretary pledged today as the 'crumbly' concrete school building crisis continues.
But Gillian Keegan revealed 1,500 schools are yet to complete checks to see if they have RAAC – a 'crumbly' concrete now liable to collapse. And another 450 schools with suspected RAAC are still waiting for an official assessment from a government engineer.
However Keegan, speaking to the BBC this morning, said a full list of affected schools would be published this week.
She was speaking after an explosive intervention from the former permanent secretary of the Department for Education, Jonathan Slater. He accused Keegan's government of prioritising free schools over political safety and slashing school rebuilding funds.
The DfE ordered 104 schools with RAAC to partially or fully close just days before the start of the new academic year.
"We will make sure that we completely refurbish or rebuild the schools that need it," Keegan told BBC Radio 4's Today programme this morning.
Chancellor Jeremy Hunt told BBC's Sunday with Laura Kuenssberg that the government would "spend what it takes to make sure children can go to school safely".
But hours later, the Treasury confirmed funding would have to come from within the DfE's existing budget, meaning other funding schemes could be impacted.
'Hundreds more' schools could have RAAC
However Keegan insisted today: "We've got a grip of RAAC…we know exactly where the RAAC is and where we don't, we will find it very soon."
Of around 15,000 schools that were asked to complete surveys indicating whether buildings might contain the material, she said just over 90 per cent had returned them.
This means that around 1,500 schools are yet to respond, despite the questionnaire being available since last year.
Keegan pointed out that only 1 per cent of the schools that had responded had been identified as containing RAAC.
Where schools have suspected RAAC, the DfE then sends an engineer for an official assessment. But 450 with suspected RAAC have yet to be visited.
"They'll all be inspected in the next two weeks," Keegan said, adding that the number of DfE-commissioned building surveyors had been increased to eight from three.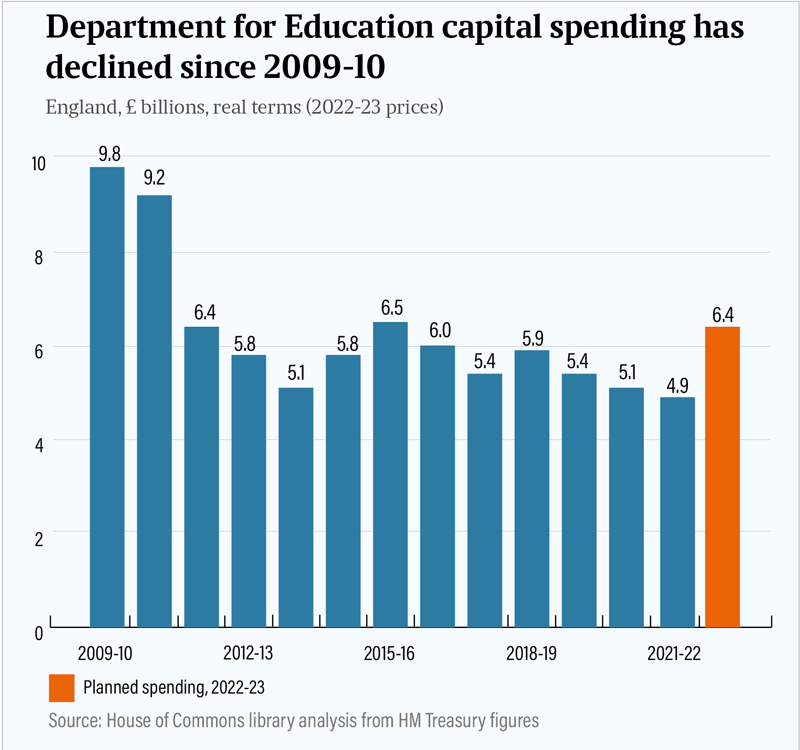 "Most of them won't have RAAC," Keegan said, although she admitted that there could be "hundreds more" impacted schools.
A list of the 104 schools already known to be impacted by closures due to the presence of the concrete will be published his week.
The education secretary said this was to ensure all parents had been informed by the school.
"It's right that schools should inform parents, not the BBC or anybody else."
Earlier on the programme, Slater said the department's own estimates was that 300 to 400 schools a year needed to be rebuilt.
However the school rebuilding programme was slashed from 100 a year to 50 in the 2021 spending review by then chancellor Rishi Sunak.
Parliamentary research shows that under the Conservatives, DfE capital spending fell by 50 per cent in real terms between 2009-10 and 2021-22.
Schools will be helped with revenue costs, 'where needed'
But Keegan defended the government's track record, saying that whenever RAAC had been identified in a school "they come straight to the department and we fix it straight away".
"There's always a challenge in putting forward your case for funding and how much you get. Every department will always put forward a case to get more than they actually get that's just the way…government works."
"You can spend money. It's not about that it's delivering value for money, making sure you have a very good programme that you can roll out quickly that's also energy efficient."
Under DfE guidance, schools affected by the current crisis will be able to access funding for capital expenditure, such as refurbishing or rebuilding sites, but have been told to fund revenue costs.
Keegan reiterated that if schools are unable to foot such bills, they should approach the DfE.
"We will support every single one of those where needed," she said.
The crisis unfolded after three instances over the summer where RAAC that was previously thought to be low-risk failed, Keegan told the programme.
She revealed that two instances took place education settings in England, with structural engineers sent in by the DfE to make assessments.