A quarter of teachers have witnessed off-rolling in schools, with two thirds of these believing the practice is on the rise, according to a survey published by Ofsted.
Just a third of those teachers who experienced off-rolling believed the pupils went on to other mainstream schools, and just a fifth said there was any follow-up check on what had happened to the pupils.
A poll, of more than 1,000 teachers across England, also found concerns that parents with less understanding of the education system and their rights are the most likely to be pressured to take their children out of school, and vulnerable pupils or those with special needs are the most likely to be affected.
The survey also revealed that teachers believe academic achievement and a desire to manipulate league table positions are behind the desire to off-roll in schools.
Amanda Spielman, Ofsted's chief inspector, described the findings as "troubling" as teachers are reporting schools "clearly pushing vulnerable pupils out through the backdoor with little thought to their next steps and best interests".
The Timpson review, published this week, described off-rolling and informal exclusion as "quite simply wrong" but warned that tackling it could result in a rise in formal exclusion "as they would no longer be hidden from scrutiny and due process".
Ofsted has promised to crack down on any schools found to be off-rolling pupils and warned they will be likely to rated 'inadequate' for leadership and management under its new framework. The inspectorate has begun rapping schools for potentially using the practice including Harrop Fold in Salford, E-Act's Shenley Academy in Birmingham and Discovery Academy in Stoke-on-Trent.
A total of 24 per cent of teachers said they have experienced off-rolling, either involved in it themselves (one per cent), know of it happening in their current school (eight per cent), or know of it happening in previous schools they worked in (15 per cent).
The survey results showed that 61 per cent of those who had experienced off-rolling were secondary school teachers, and almost half (48 per cent) experienced it at an academy. Of those who had experienced it, 64 per cent said it happens either a lot or a fair amount, and two thirds (66 per cent) said it had increased in the past five years.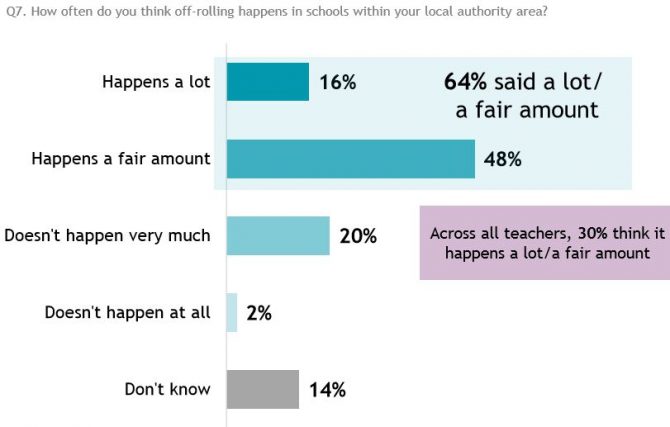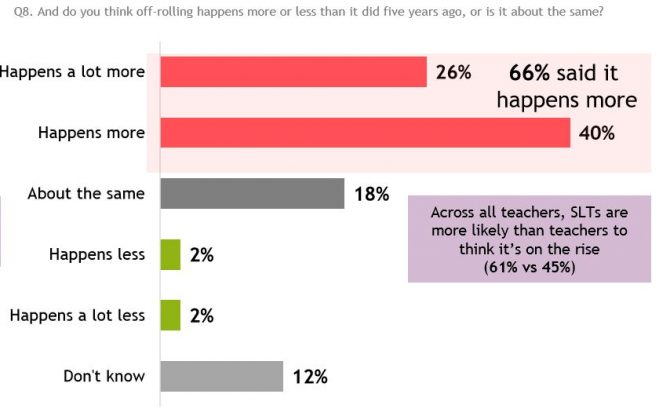 Pupils with behavioural issues were deemed most at risk of being off-rolled, followed by those with low academic attainment, special needs and a disruptive home life. However, 44 per cent of teachers said off-rolling was understandable if schools "cannot address underlying problems".
More than half of secondary teachers (54 per cent) and 46 per cent of primary teachers said that pupils with parents who do not understand their rights, have a low education level or do not speak English as their first language were more likely to be at risk of off-rolling. Sixty-two per cent believe schools pressure parents to accept their children being off-rolled.
We have also committed to holding schools accountable for the pupils they exclude to prevent any falling through the cracks
However a third of teachers couldn't identify the correct definition for what constituted off-rolling, with Ofsted concluding there was a "mixed understanding" in the sector.
The respondents to the survey also said they would like parents to have more access to resources to explain their rights and options, and would feel more reassured if they knew pupils leaving the school "would have access to ongoing support".
However, they also said schools needed more support to address special needs and other behaviours linked to off-rolling.
A Department for Education spokesperson: "Edward Timpson's review of exclusions practice, published just this week, highlights widespread good practice in the use of exclusions and confirms that only a small minority of schools 'off-roll' pupils. We have also committed to holding schools accountable for the pupils they exclude to prevent any falling through the cracks."