An award-winning trust chief executive and two senior colleagues are accused of complicity in a "culture of cheating" and off-rolling to keep its flagship school's 'outstanding' rating.
The former leaders at the Samuel Ward Academy in Suffolk appeared before a disciplinary panel this week over allegations of "dishonest" behaviour, which could see them banned or face other sanctions if found guilty.
Ex-head Howard Lay (pictured right), who then became chief executive of the eponymous trust, denies encouraging or previously knowing about "dodgy census data" or "coursework malpractice" in either role, according to his barrister.
Yet Lay, head of school Andrew Prestoe (pictured left) and assistant head Pat Stalker all accept off-rolling and exam malpractice did take place in 2015 and 2016. A Teaching Regulation Agency probe was launched after the practice was exposed by whistleblowers.
All three staff members had left the trust by 2018, after which it was rebranded Unity Schools Partnership. Former regional schools commissioner Tim Coulson was appointed CEO, and it now has 30 schools, mainly in Suffolk.
'Do whatever it takes'
Lucy Coulson, presenting the TRA's case, argued leaders including Lay were "well aware" of off-rolling, urging the panel hearing the case to consider whether Lay was "actively involved".
The academy had a "culture of cheating and pressure to succeed", she added, with witness statements including the claim Lay set "ridiculously high performance standards".
"People interpreted [Lay's alleged] instructions to 'do whatever it takes' as an instruction to cheat."
Pat Stalker admitted she was "actively involved" in discussions over which key stage four pupils to off-roll based on behaviour and attainment between 2013 and 2016, according to her lawyer Andrew Faux.
Faux said that after some pupils performed badly in science coursework, Stalker also admitted giving pupils "data on an experiment they had not actually done" rather than students doing experiments themselves.
AQA subsequently banned her from high-level coursework control for three years.
Kids off-rolled to 'keep the school outstanding'
Meanwhile Prestoe's solicitor Tim Glover said he admitted dishonestly instructing others to off-roll pupils for the 2016 census "to keep the school 'outstanding'".
Prestoe further admitted failing to notify the exam board after being made aware grades were potentially "over-inflated" in French. Pupils had received "too much help" in controlled assessments, though Prestoe was uninvolved, denied dishonesty and removed the grades, Glover added.
But the TRA's Coulson urged the panel to consider whether Stalker and Prestoe were "under so much pressure they had no choice" over off-rolling.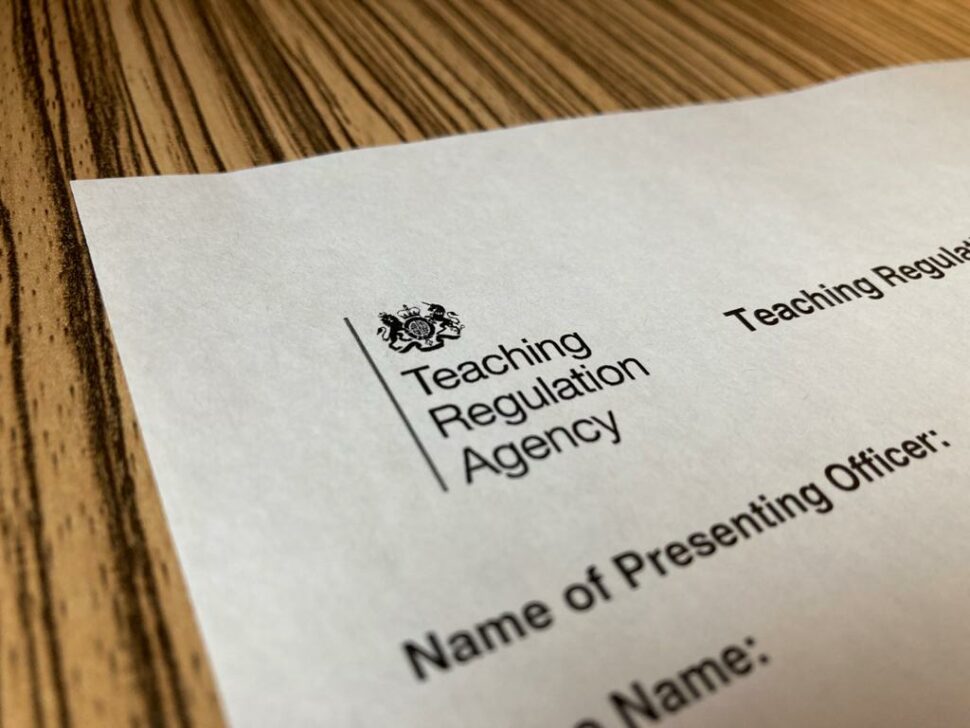 Both staff members said they were aware of but not involved in off-rolling as early as 2010-11, when Lay was headteacher. Prestoe's lawyer claimed Lay was "directly involved".
According to Coulson, Prestoe said he twice queried the practice, but Lay allegedly responded first that he would sort it out, and the second time he would "take the rap".
While Stalker accepted her conduct was dishonest and could bring the profession into disrepute, her lawyer alleged "extreme pressure" – particularly from Lay – to keep the trust's only 'outstanding' rating.
'Not worst kind of off-rolling'
Lay accepted now he "should have known" about off-rolling and done something to stop it. But his defence hit out at alleged "blame-shifting" by others accused and by witnesses.
His barrister Jonathan Storey said his client, who won a 2014 educational leader of the year award after securing two "outstanding" Ofsted ratings, was a "visionary school leader" who demanded high standards.
But he "wasn't one who found detail very engaging", and "didn't personally understand a lot of it" in areas like data, Storey added. His involvement at the secondary in Haverhill was also "limited" after he became trust CEO, and he denies unprofessional conduct.
Meanwhile Stalker's lawyer said children off-rolled at annual census time were not told to find education elsewhere, but "kept in school, educated, sat exams and got results" as external candidates, according to Faux. "It's bad, but not awful – not the worst kind of off-rolling."
Samuel Ward Academy was downgraded to "requires improvement" in early 2019. Ofsted inspectors reported that frequent headship changes and 30 teachers' departures the previous year had left the school in a "fragile state".
Inspectors claimed that the trust itself was "failing to check the performance of the school or hold leaders accountable for the achievement of pupils" until September 2017 – shortly after Coulson joined. But they praised its new leadership under current head Andrew Hunter.
Failings over 'creepy' employee
The first day of the hearing also saw Prestoe admitted to a separate TRA allegation over "Individual C", which involved multiple complaints he received about a colleague he promoted.
The employee was accused of inappropriate sexualised comments, drawings and games with pupils, being "creepy", and grabbing and hitting a student with a roll of wrapping paper. Police were informed over alleged "sexting" and flirting with one pupil, Prestoe's lawyer Glover said.
Glover acknowledged his client exposed pupils to "ongoing risk and potential harm" by failing to adequately investigate, discipline or make safeguarding referrals over the colleague.
A Unity Schools Partnership spokesperson said ahead of the hearing it was unable to comment until it had concluded.
The case continues.