More than 90 per cent of headteachers expect their schools to rack up an unmanageable budget deficit in the near future, a poll has revealed.
Twenty-one per cent of the 589 heads who responded to a survey by the school leaders' union NAHT said their school was already in deficit this year, an increase of 162 per cent on 2015.
Seventy-one per cent expect to set a deficit budget in the next financial year and 79 per cent expect a deficit budget in 2019-20. Ninety-two per cent say they expect to face a deficit in the near future.
Paul Whiteman, NAHT's general secretary, said the outcome confirmed that school budgets are at "absolute breaking point".
"No school is immune. Primary and secondary, academy and local authority, mainstream and specialist; the entire state-funded school system is rapidly heading towards insolvency," he said.
The government's argument that schools are "sitting on surpluses" has also been disproved by NAHT's data, he added.
"While 76 per cent of schools were able to dip into reserves in 2015, this year it is only 41 per cent," he continued. "Any rainy-day money schools might have had has already been spent. The government's only option now is to find more money for schools."
Heads are responding to funding pressures by cutting back on their use of teaching assistants or, in the most extreme cases, teachers, the research found.
86 per cent of respondents had reduced the hours or numbers of teaching assistants in order to balance their budget for 2017-18, while 37 per cent reduced the number or hours of teaching staff.
Sixty-five per cent said that they strongly agreed that the reductions they have had to make have had a negative impact on the performance of the school.
James Bowen, director of NAHT Edge, which represents middle leaders, said that with more staff being made redundant it is becoming "a struggle just to teach the curriculum", let alone manage other factors, such as supporting pupils with mental health needs or special educational needs and disabilities.
"Without the vital support that teaching assistants provide, teachers are forced to juggle increased responsibilities for more children, splitting their time between teaching and learning, pastoral care, and leadership duties. All while seeing their own numbers reduced by more than a third," he said.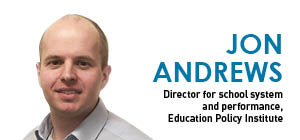 "There simply aren't enough hours in the day for teachers to do everything – as the latest figures on workload and retention rates show."
A recent study by the National Foundation for Educational Research revealed that teachers are working an average of 50 hours per week during term time, while the Department for Education found that some teachers are being forced to go part-time in order to manage their heavy workload.
NAHT's findings also follow a report from the Education Policy Institute last week, which showed that the proportion of maintained secondary schools in deficit has trebled in the last four years – from 8.8 per cent in 2013-14 to 26.1 per cent in 2016-17.
The proportion of maintained primary schools in debt also rose sharply from around four per cent in 2015-16 to 7.1 per cent last year.
The think-tank warned that nearly half of all schools, including academies, won't have enough money within two years.