Local authority-maintained schools are increasingly slipping into deficit as funding pressures continue to bite, new research has found.
A report by the Education Policy Institute reveals the proportion of maintained secondary schools in deficit has trebled in the last four years – from 8.8 per cent in 2013-14 to 26.1 per cent in 2016-17.
The proportion of maintained primary schools in deficit also rose sharply from around four per cent in 2015-16 to 7.1 per cent last year.
The think-tank has also warned that nearly half of all schools, including academies, won't have enough money within two years.
The trebling of the proportion of maintained secondary schools over recent years is particularly striking
Last weekend, the education secretary Damian Hinds acknowledged to a room full of headteachers that school funding is "tight". He was later told off by the UK Statistics Authority for prior comments in which he incorrectly claimed school funding is rising in "real terms".
David Laws (pictured), a former schools minister who now chairs the EPI, said it is now important for schools to work with the government to ensure reduced staff numbers does not impact on education standards.
"Fifteen years in which school funding has either been growing healthily or has at least been protected from inflationary pressures, school budgets are clearly now being squeezed," he said.
"This is evident from the sharp rise in the number and proportion of local authority schools which are in budget deficit. The trebling of the proportion of maintained secondary schools over recent years is particularly striking."
The EPI's research shows that LA-maintained schools are faring much worse than their academy counterparts. The average deficit among secondary schools under council oversight last year was £375,000. The average deficit among secondary academies has dropped from £350,000 since 2011.
At primary level, the average deficit was £108,000 for LA-maintained schools, and £48,000 among academies. The report also reveals that academies spend on average two percentage points less on teaching staff than schools under council oversight.
The report also found that schools are running deficits for several years in a row. Forty per cent of LA-maintained secondary schools and a quarter of primaries saw their balances fall over two or more years.
Two in five mainstream schools will not be able to afford to pay their staff more, the research warned.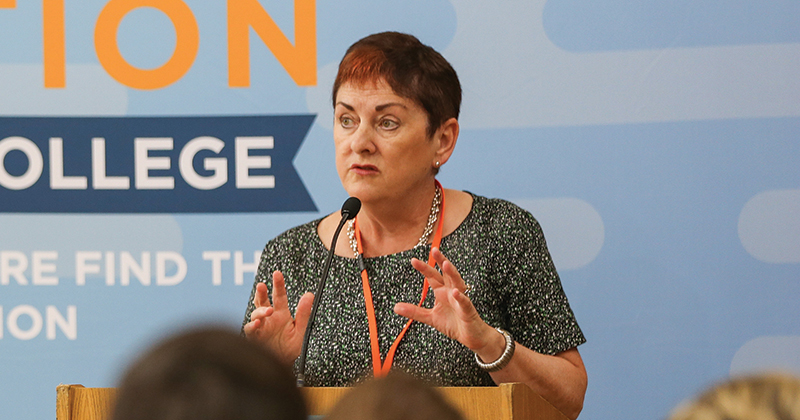 The government has given the body that sets teacher pay the flexibility to recommend a rise higher than the one-per-cent cap that has been in place since 2011. However, the EPI warned that of the country's LA-maintained schools, 42 per cent will not even be able to fund that modest a rise in 2018-19, let alone anything higher.
Academies are not much better off in this regard, with 40 per cent unable to afford a one-per-cent rise.
Overall, 47 per cent of all schools will see costs exceed their funding by 2019-20 if the rises go ahead.
"Expecting schools to meet the cost of annual pay increases from core government funding and their reserves does not look feasible for many schools in the short-term," said the report. "Schools are unlikely to be able to achieve the scale of savings necessary without cutting staff."
Dr Mary Bousted, the joint general secretary of the National Education Union, said the report made it clear that "schools' needs are not being met by the government".
"Instead of ignoring the evidence, the government must respond to the concerns of parents and those working to deliver the high-quality education service we need," she said.