MPs will write to ministers to demand answers over a controversial SEND contract which "appears to contradict evidence" from the children's minister.
The Department for Education has signed a £19.5 million contract with Newton Europe, which includes "targeting at least 20 per cent reduction in new education, health and care plans issued".
The consultancy has developed the government's "delivering better value in SEND" project, which works with 55 councils to bring down their SEND budget deficits.
Within the contract, signed last year, it says "the intention" of budget management plans will help achieve the "following impacts", including "reduced cost pressure on the high needs budgets of selected local authorities as a result of reduced growth in the number of EHCPs".
It adds it is "targeting at least a 20 per cent reduction in new EHCPs issued".
The education committee had challenged government about its SEND cost-cutting measures in May.
When asked about concerns government is looking to "effectively ration EHCPs, can you categorically say it is not?", ex-children's minister Claire Coutinho responded: "That is absolutely not what we are trying to do".
DfE official Alison Ismail also told MPs they were "not projecting to a particular target as such".
Education committee chair Robin Walker has now told Schools Week he will be "seeking further explanation" from the DfE after the issue was reported in The Observer this weekend.
"We are concerned that this appears to contradict evidence given to the committee earlier this year when the minister said no targets had been set for reducing EHCPs."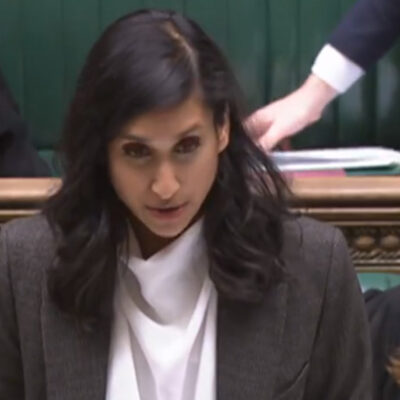 Walker was schools minister when the contract began. A committee spokesperson said there was no "policy" of capping or reducing EHCPs when he was in post. Walker was also not involved in the Newton Europe contract discussions.
There have been seven children's ministers – who have SEND in their portfolio – since 2019.
Will Quince, now a health minister, was children's minister when the contract was signed. Coutinho joined in October 2022. Schools Week has approached Quince and Coutinho for comment.
'Not targeting reduction,' Coutinho claimed
At the hearing in May, Walker said: "I think that there is certainly a concern and a suspicion out there in the sector that part of the motivation behind the plan is to effectively ration EHCPs".
Coutinho, who was promoted to energy secretary last month, replied: "That is absolutely not what we are trying to do. Inasmuch as I want to prevent children from needing EHCPs because their situation has escalated, at the same time, there may well be children who are not accessing EHCPs who really should have them, and we can improve access there.
"This is not about targeting a particular reduction; it is just about improving the system so that you can get better outcomes for SEND people."
Other targets in the contract include a drop in permanent exclusion rates and increased inclusion by targeting "at least a 20 per cent reduction in placements into independent schools and a two per cent reduction in placements in special schools".
But the DfE claimed "indicators" around EHCP numbers "were not formalised or agreed". As they are not formal key performance indicators in the contract, they are not legally binding, they added.
A spokesperson said: "It is completely wrong to suggest that the department is withdrawing support for children and young people with SEND. Local authorities have not received any targets relating to EHCP reduction through the delivering better value programme.
"The department's improvement plan sets out how we will reform the support system for children with SEND, creating consistent high standards across the country, and making sure parents do not have to battle for support."