Pupils in schools with the poorest intakes are further behind in reading than their counterparts in schools with more affluent rolls, a study into lost learning caused by Covid-19 has found.
The Department for Education has released the first report from a research project run by Renaissance Learning and the Education Policy Institute, which was commissioned to assess the learning loss experienced by pupils as a result of the pandemic.
The interim findings are based on more than 400,000 reading and maths assessments taken in the first half of the autumn term, compared with results in previous years. The figures for this year were then adjusted to take into account historic differences in progress to better measure the impact of the pandemic.
1. Pupils in poorer-intake schools further behind in reading
After adjusting for historic differences in progress, the study found that pupils in primary schools with high free school meals (FSM) eligibility rates were two months behind in reading, compared to 1.7 months for those in schools with low FSM rates.
For the purposes of the study, schools were deemed to have high FSM rates if more than 25 per cent of pupils were eligible, while schools were said to have low rates if less than 10 per cent were eligible.
At secondary level, pupils in high-FSM schools were 2.2 months behind, compared to 1.5 months in low-FSM schools.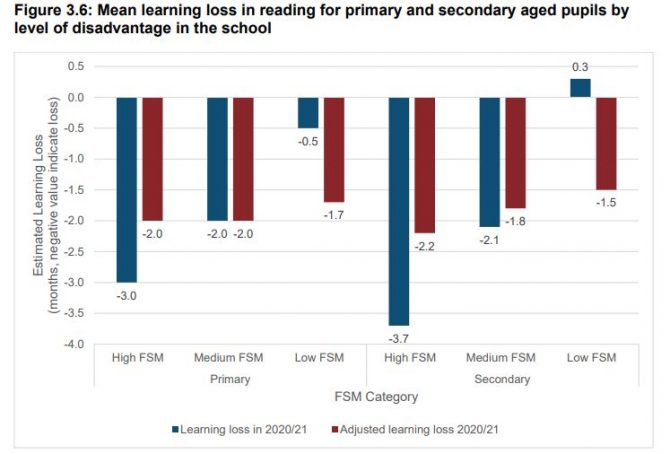 2. Reading in all year groups has suffered
The research found that all years groups combined appeared to have lost around two months of learning when it comes to reading.
But the figures different slightly between year groups.
Between year 3 and 6, estimated learning loss ranged between 1.8 and two months. For year 8 and 9 pupils, the losses were between 1.6 and two months.
"Pupils who have just started in year 6 and pupils who have just started year 9 experienced the largest losses (2  months) but this is not materially greater than those in years 3, 4, 5, and 8," the report warned.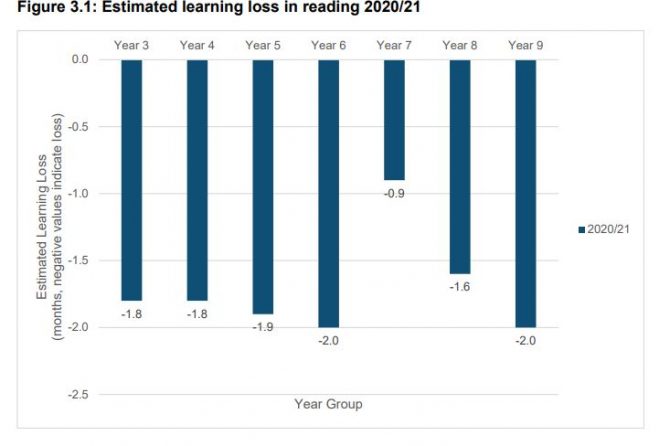 3. Year 7 pupils experienced smallest learning loss in reading
Estimated learning loss in reading was substantially lower among year 7 pupils, at just 0.9 months, the study found.
One possible explanation for this disparity, the report states, is that the cohort was out of school for less time than others, because primary schools reopened to year 6 pupils earlier last summer.
However, the report also notes that year 7 is the smallest group for which it is presenting results and the number of pupils is "significantly lower" than in last year's data.
It is therefore possible there is a "systematic bias in the schools that have participated in Star Reading assessments to this point", it said.
4. Learning loss in maths is greater
It is estimated that primary-aged pupils have lost around 3.2 months of learning in maths.
However,  it was not possible to derive "robust" estimates" for maths learning lost by pupils in secondary schools.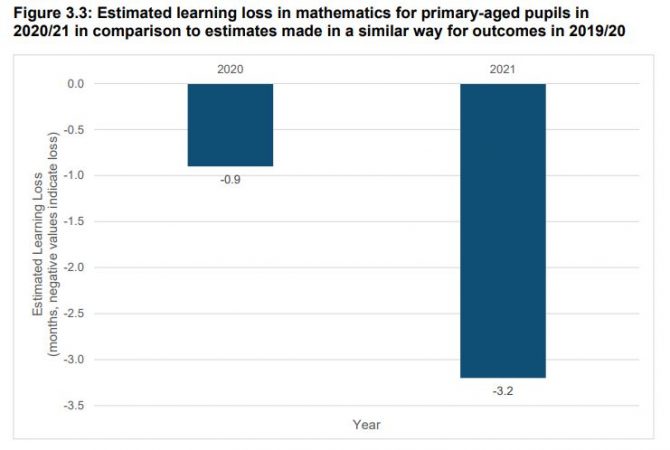 5. Evidence of regional disparity in reading losses
Pupils in the north east and Yorkshire and the Humber experienced the highest rates of lost learning in reading across both primary and secondary age groups.
At primary level, the majority of pupils were typically behind by between 1.7 and two months. However, primary pupils in the north east lost an average of 2.4 months, while those in Yorkshire and the Humber lost 2.2 months.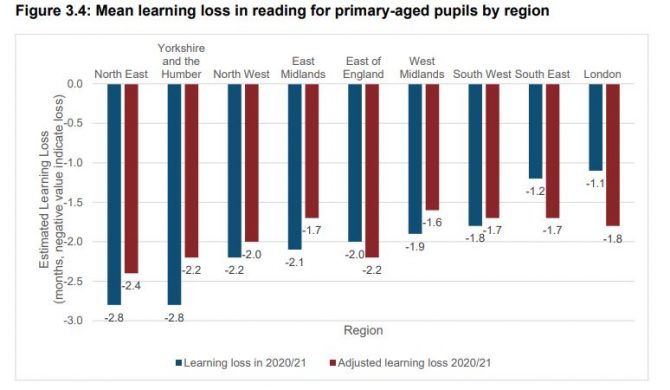 This pattern is repeated at secondary level where the north east's adjusted learning loss was found to be 2.3 months and Yorkshire and the Humber 2.4 months.
Learning loss in reading at secondary level was between 1.3 and 2.2 months in other regions.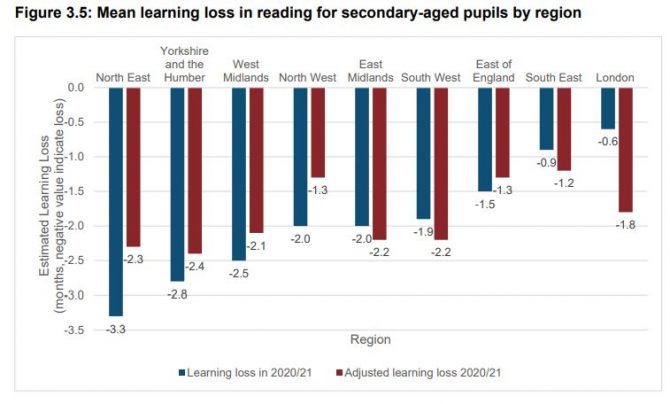 Nerd note
In their report, the researchers presented two sets of figures. The first were simple mean figures for all individual pupil learning losses based on results in 2020-21 compared to 2019-20.
However, because these figures would reflect both the impact of the pandemic and different rates of progress that pupils typically make in a normal year.
The report states: "To control for this, we calculate the mean progress pupils made in each region in 2019/20 and subtract this from our estimate of learning loss (in other words, we assume that in the absence of coronavirus, pupils in the region would have made the same progress as pupils in the region last year).
"This provides a better estimate of the effect of the pandemic on pupil outcomes."