Around 3,000 positive Covid test results have been recorded by secondary schools since the beginning of the year, with pupils slightly more likely to test positive than staff.
NHS Test and Trace statistics show that just 0.14 per cent of all lateral flow tests (LFTs) results reported by secondary schools so far this term have been positive.
Secondary schools have been testing their staff and those vulnerable pupils and children of key workers who are still attending school during partial closures. Staff make up the majority of those tested.
In total, 2,097,267 LFT results were reported by secondary schools and colleges between January 1 and February 24. Of those, just 3,017 were positive, while 3,727 were recorded as 'unknown/void'.
When broken down further the data shows secondary pupils are slightly more likely to receive a positive test result than staff, with a positivity rate of 0.19 per cent compared to 0.13 per cent among staff.
Biostatistician professor Jon Deeks, of the Institute of Applied Health Research at the University of Birmingham told Schools Week little could be read into the differences between the rates as they were so slight, but he warned both were extremely low.
In comparison, test and trace data for the nearly 14.5 million LFT tests logged on the National Testing Programme database since October shows an overall positivity rate of 0.6 per cent.
Fears testing will be a 'waste of money and effort'
Deeks said he was "surprised by how low the number of detected cases were" and feared continued testing in school was a "waste of money and effort".
"The issue when you're not detecting many cases is you have to think very carefully 'are you detecting more than we would get false-positives?'", he explained.
The Department of Health and Social Care (DHSC) says the Innova SARA-CoV-2 Antigen Rapid Tests used in schools have a false-positive rate of 0.32 per cent.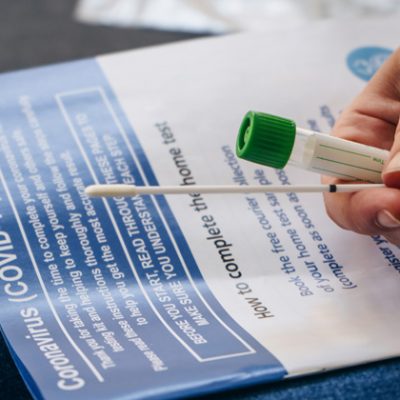 From next week, secondary schools will be expected to test returning pupils three times on site within a fortnight, before switching to twice-weekly home-testing.
Staff will also be given test kits to test themselves twice weekly at home.
Pupils will be allowed to attend lessons as normal after their first negative result, but will need to isolate for at least 10 days if they test positive.
Positive test results from LFTs taken at home must be confirmed by a PCR test.
Deeks said he feared false-positives could mean pupils and staff having to self-isolate unnecessarily, leading to even more missed learning.
However there have also been concerns raised about the potential for false-negatives.
The government says LFTs only detect around 60 per cent of cases when performed by non-experts – although the chances of catching a case may improve with repeated tests.
While there are concerns this could mean the tests provide false assurance to those who receive a negative result, Dr Alexander Edwards, associate professor in biomedical technology at the University of Reading, told Channel 4 FactCheck "the messages from public health officials continue to be clear (I hope) that even if you test negative with a Covid-19 test, it still doesn't 'prove' that you are safe and not infected."
The Department of Health and Social Care has been contacted for comment.
Secondary schools have been closed to the majority of pupils since the beginning of the year, but most had set up testing sites over the Christmas break in anticipation for testing in January.
Last month the Department for Education released the first set of data of the mass asymptotic Covid testing programme within schools.
It stated that as of February 10, 97 per cent of eligible schools in England were ready to conduct testing.
Positivity rate higher among primary staff
The NHS data also shows that primary schools, school-based nurseries and maintained nursery schools recorded a slightly higher rate of positivity among their staff than secondary schools.
Primary staff have been conducting tests twice a week at home this term, but there has been no testing of primary pupils.
Between January 14 and February 24, 2,627,199 LFT results were recorded by primary and nursery settings. Of those, 4,953 were positive and 5,595 were void or unknown.
This means 0.19 per cent of tests taken across these settings resulted in positive results.