Schools and colleges in England have reported the results of over three million tests since the start of the mass asymptomatic Covid testing programme.
The Department for Education has today released the first set of data on the programme which has been rolled out to schools since the beginning of the year.
However, although it shows the number of test results reported by different phases of education establishment, the data does not show how many were positive and how many came back negative.
The regime was introduced to "protect the health of the teaching workforce" and keep as many staff and pupils in schools as possible by identifying asymptomatic Covid cases through lateral flow testing.
These are the key findings.
1. Schools have reported more than 3 million tests
The data shows that 3.4 million tests have been reported by schools and colleges since the testing programme began.
This accounts for 85 per cent of the roughly 4 million tests which have been conducted across all educational settings, the rest being from the higher education sector.
When asked about why the actual figures aren't presented, the DfE said the statistics presented are to an "appropriate degree of accuracy" given considerations such as the different methods primary schools and secondary schools report testing.
2. Almost all schools equipped to deliver testing
The figures show that 97 per cent of eligible schools in England are now ready to conduct asymptomatic testing. Schools are expected to offer tests for staff, but it's optional to actually take a test.
At primary school level, where teachers are offered lateral flow device kits for twice-weekly testing at home, only 198 out of 17,952 settings are not ready to deliver tests ( just over one per cent).
In contrast, just one in 12 secondaries and colleges do not yet have testing set up. Of the 6,855 secondaries and colleges, 560 settings are not ready to deliver tests – eight per cent.
Secondaries pupils are offered two tests on their return to face to face learning while secondary staff are offered on site tests twice-weekly.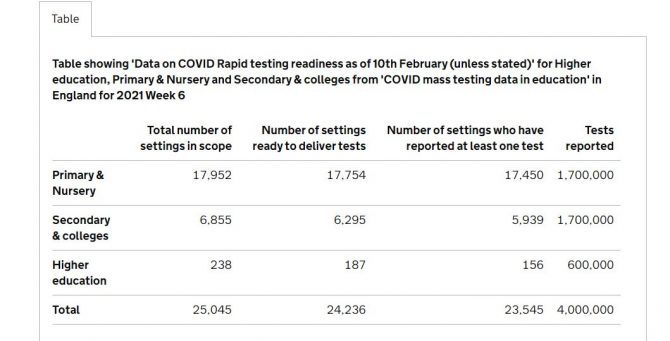 3. Secondary testing rate is higher, but primaries expected to overtake
According to the DfE, 1.7 million tests have been reported by primary and nursery schools and a further 1.7 million have been reported by secondary schools and colleges.
Secondary schools and colleges started testing in the first week of term, and 5,939 schools had reported at least one test as of February 10. That works out at an average of 57 tests per school per week (although some schools may not have started in the first week).
Primary schools began in the week-beginning January 18, and so far 17,450 have reported at least one test, working out at an average of 32 tests per school per week.
However, the DfE said it "currently expect[s] weekly testing to be at a higher rate in primary schools as there are greater number of staff on site compared to secondary schools".
According to the latest attendance data, 49 per cent of teachers and leaders were on-site in primary schools on February 4, compared to just 23 per cent in secondary schools.
4. Some tests reported through wrong system
Primary staff doing their own tests at home have to report results through an NHS portal, whereas other settings report their results through the asymptomatic testing site (ATS) system.
The DfE said it is aware of a small number of instances – less than 5 per cent of reported tests – where results "may have been reported through the wrong system".
For example a secondary school test may have been reported through the self-report system meant for primary staff.
5. Figures for number of positive tests to be published
The Department for Health and Social Care (DHSC) releases weekly statistics for rapid asymptomatic testing across England.
This currently includes the number of LFD tests conducted broken down by test result and by region.
However Schools Week understands data from rapid testing in schools will start being published alongside this from either late February or early March.
While a positivity rate won't be published, the number of positive and negative tests will be.