School leaders have accused the education secretary of making "logistically impossible" promises when writing for a national newspaper after claiming staff would be offered Covid-19 tests before returning to work – despite the tests only arriving today.
While writing in The Mail on Sunday, Gavin Williamson urged teachers and parents to get their children back in the classroom and stated: "All secondary school students and staff will be offered tests before they go back to school – whether their school is open to all pupils or to some".
Matthew Clements-Wheeler, chair of Kenilworth Multi-Academy Trust (KMAT) and former chair of the Institute of School Business Leadership (ISBL), warned Williamson's comments were "economical with the truth at best and at worst an outright lie".
The government appears to have confused itself about its unrealistic plans to deliver mass Covid testing in schools
Furthermore, according to the Department for Education's Covid-19 testing delivery schedule, a number of schools won't receive all the equipment needed to conduct testing until Friday.
Secondary schools in England are due to open this week for vulnerable and key worker children, with exam year groups scheduled to return from January 11 and everybody else back on January 18.
The rollout of rapid testing at secondary schools also officially began today with schools receiving swab collection kits and necessary PPE.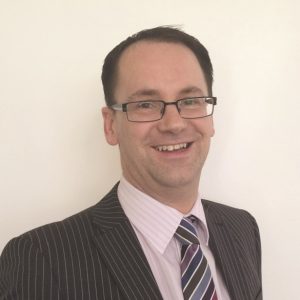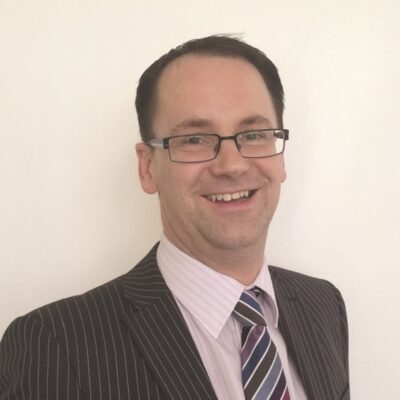 But Clements-Wheeler explained Williamson's promises were "logistically impossible" and, while the delivery of tests arrived at around 10.30am this morning for his schools, this was still two hours after staff, who are still undergoing training on how to run the testing.
"If he is capable of being that glib with staff testing, what assurance do parents and the education community as a whole have that what he says in connection with student testing can be relied upon?"
Williamson's comments also contradict advice sent to leaders from the NHS as part of the Covid-19 testing programme schools and colleges handbook It states that schools will receive a "Get started amount of PPE and test kits" on Monday, January 4 with further equipment arriving throughout the week but makes no mention of staff and pupils having already been tested in its suggested timeline.
The Mail on Sunday article, which has been retweeted by both Williamson and the DfE, also promises that pupils will be offered Covid-19 tests before returning to school.
But the formal ISBL chair warned in many schools this will not be possible as they are not scheduled to receive all necessary equipment until Friday, January 8.
In an online spreadsheet sent to schools and colleges, and seen by Schools Week, the DfE sets out when schools can expect to receive their tests and PPE equipment.
The deliveries are split into two batches. The first, which includes swab collection kits, test registration cards and surgical masks and gloves, was scheduled to be delivered today.
However the delivery of the second batch, which also includes clinical waste bags to safely dispose of the tests and emesis bowls, varies from school to school with some not scheduled for deliver until the end of the week.
"The waste bags are critical because the whole process results in clinical waste – throwing the waste away is the end stage of the clinical testing process", explained Clements-Wheeler.
"We're not going to start accruing waste until we have a means to bag it up and throw it away."
The waste disposal bags are also listed as a material needed to "carry out testing safely" in the 'How to Guide' sent to schools and colleges which states the equipment will be provided by NHS Test and Trace.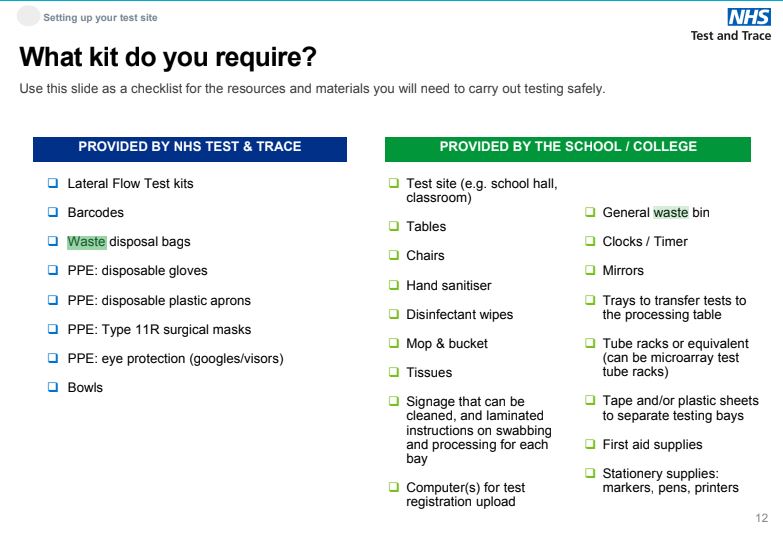 Clements-Wheeler said schools hoping to start testing pupils this week may have to look into making their own arrangements for provision of clinical waste bags but warned that schools storing clinical waste in "make-shift areas" would likely result in a "loss of confidence" in the programme.
Julie McCulloch, director of policy at the Association of School and College Leaders (ASCL) said the article was "disingenuous and dangerous" and that the government has "confused itself about its unrealistic plans to deliver mass Covid testing in schools".
"The government needs to be clearer in what it says about this programme, stop over-promising, and instead support schools and colleges properly," she added.
The DfE has been contacted for comment.