Last month, when the Standards and Testing Agency sent its exam papers for 11-year-olds to Little London primary school in Leeds, they went into a cupboard and stayed there. The pupils did not sit them.
Instead they went on learning trips to Whitby and Ingleton Waterfalls.
Now, their headteacher Jill Wood is facing investigation for maladministration and a possible referral to a disciplinary hearing in which her 26 years in teaching will hang in the balance. But quietly, in the sort of hushed tones of a woman who has clearly spent many years reading stories to tiny children, she politely explains how she is refusing to be cowed.
She has just spoken on the panel at the Northern Rocks conference, the first time she has ever spoken at such an event. She almost didn't come.
"When it was all in the newspapers last month," she says, "I was asked to go and join Holly Willoughby on the This Morning sofa, but I said no, I don't do things like that."
As a headteacher for 13 years, Wood took a Little London that was so unpopular it only had eight children in reception, to one that takes 90 children per year. She eschews social media ("I am glad I don't have Facebook") and she's not interested in "executive headships, or running 53 schools or something like that".
I was asked to go and join Holly Willoughby on the This Morning sofa, but I said no, I don't do things like that
But last year, something in the calm 56-year-old snapped. Surrounded by distraught children, told they would "fail" the new "rigorous" primary tests, she couldn't see the sense anymore.
"Last year, in the key stage 2 SATs, the whole country's outcomes dropped by 30 per cent because of this 'new way'. That's impossible. Most schools have got the same teachers, roughly the same sorts of children – how can it drop by 30 per cent unless the tests and curriculum are wrong?
"What they should have done was either give us a new curriculum and leave us on the old assessment until we got to grips with the new curriculum; or give us the new assessment but leave the curriculum alone. But what we had to do, in one year, was a new curriculum and a new way of assessing and the outcome was ridiculous.
"Outcomes for the most vulnerable groups were dropping by 50 per cent. That was appalling. Children who under the old system would have been successful actually failed. How do you explain that to a 10-year-old?
"Then, with the wonderful diversity of parents that we have – we have a lot of refugee children, parents who have come through terrible hardship to get to this country – they don't really understand the change.
"And, what's more, our secondary colleagues don't even look at the scores! Why do they want to know how a kid was doing in May? They want to know what the kid was doing at the end of July. So they retest all the children anyway.
"I've been pilloried by Daily Mail readers, mainly. They tell me 'poor diddums, were your children upset because they had to do a test?' Well, actually, yes they were. And so were thousands of children across the country. We shouldn't be proud as a country that we have the number of children we have with mental health issues. That's why we don't put children up chimneys anymore!"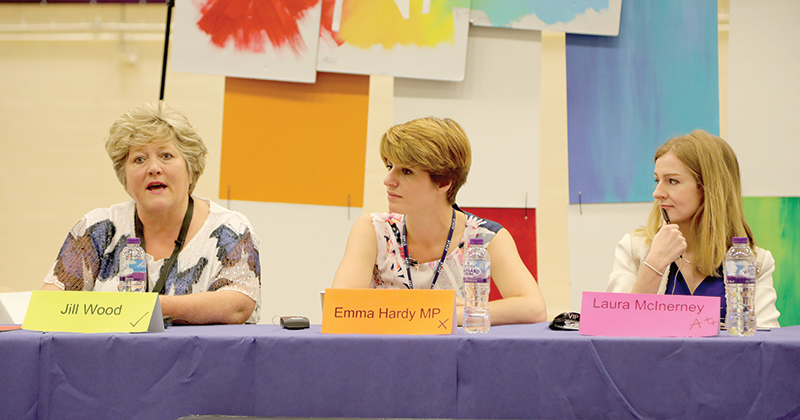 She falters from her tirade, and leans in. During the Northern Rocks event, panellists were asked for the naughtiest thing they ever did. She blushes.
"What I should have said, but was too ashamed, was that the worst thing I ever did was that I went and fetched in a child who was ill to do a maths paper because I knew he was a level five. I went and physically brought him into school in my car. I felt dreadful after, I felt dreadful at the time.
"He had a sick bucket next to him in the hall," she mutters, sorrowfully.
So why do it? "Fear," she says. "I had made predictions that he was going to get that level five."
And that's when she started asking herself if it was really worthwhile, and what the consequences would be if her staff made like Ghandi and politely disobeyed.
So, in September, when the local authority asked her for her predictions for this year's SATs, she refused to take part on the grounds she wasn't doing them. Over the year she was told by various parties she would be failed by Ofsted, the school would be turned into an academy, that she'd lose her job.
Still she said no.
Not, she is keen to point out, because she's an anarchist or because she wants anyone else to follow in her wake. "My decision is my decision. This isn't Jill of Arc. I'm not trying to sweep into power and get rid of the SATs. What I am saying is let's make these tests fit for purpose."
"So when they said 'you've just got to play the game', I said, 'I'm not going to play the game because it's morally not right. You know it's not right. We all know it's not right. So why are we doing it?'"
I'm not going to play the game, because it's not morally right
Threatened with external monitors to enforce the test, Wood arranged for the pupils to be off-site. Pupils still sat the teacher-assessed, externally-moderated tests, which she favours.
On SATs day, the school was inspected by local officials who were shown the locked cupboards in which the papers lay. Soon after the Standards and Teaching Agency called to remind Wood she could be removed for her actions. Now, a letter has been sent to her chair of governors ordering an investigation of maladministration and a decision on referring her for disciplinary action.
Her governors – first informed of the decision last September – remain behind her. As a headteacher in a foundation school – an unusual status, meaning the school is neither maintained by the council nor under a funding contract with central government – the next move is anyone's guess.
Neither the council, nor the education department, are in an easy position to remove her.
For Wood, however, it would not be the first time she faced barriers to employment. As a trainee bank manager, she was told she could not continue when, at 19, she was married, because they thought she would get pregnant. In her mid-20s, after rising to become a branch manager for the Yorkshire Post, she was again told she could rise no further as "we can't be putting a woman in regional management". She later became a teacher, age 30, after starting a honeybee museum – but that's another story.
Each injustice burns; her dad once told her: "if you see something wrong, don't walk past it, because then you're part of it."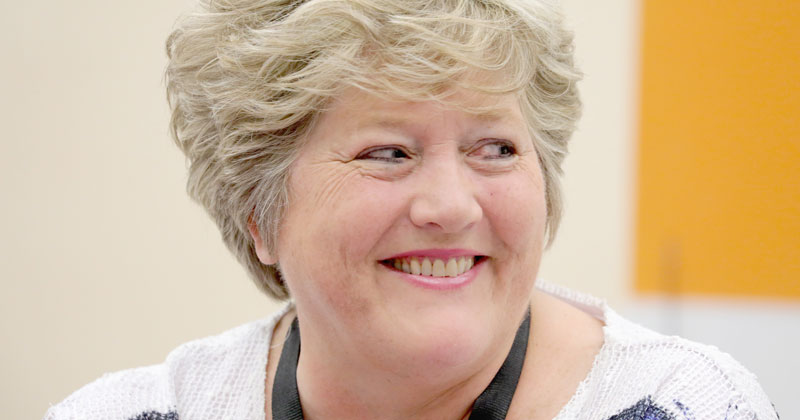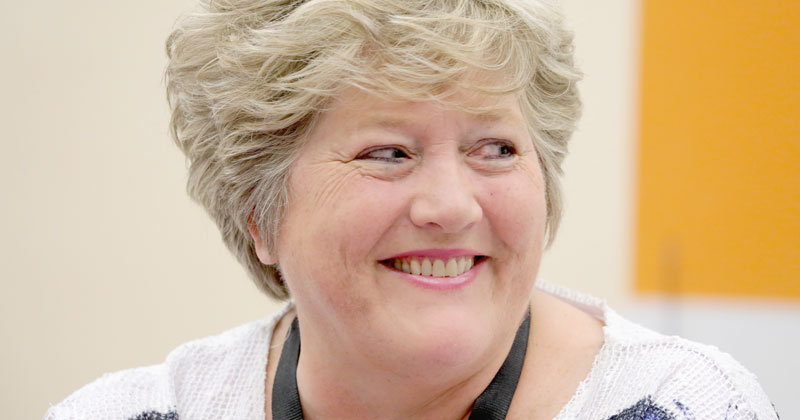 During her own schooling, at Soubry Grammar School in Halifax, this culminated in her intervening to stop another girl being bullied, only to find the bullies turn on her. After months of intimidation, including being pushed into a road and almost knocked down, she finally confided in her father who told her what to say – and gave her permission to swear.
The next day, after her satchel was emptied and she was slammed against a wall, she shouted, with all her might, that if she or anyone else was ever bullied by them again her dad would report the traffic incident to the police. Heeding her father's words, she dug deep and finally erupted: "So why don't you just…. BOG OFF".
"They left me alone after that," she says, looking puzzled. "Isn't that funny?"
She sighs. "And that's the thing. We don't know what our pupils have seen that morning before breakfast. We have had 98 children join us during this year. They speak over 77 languages.
"Being a headteacher is all I ever wanted to do. I'm not interested in being an executive head over 53 schools. I'm just supposed to do something that improves outcomes for children. And I can't imagine retiring."
But, Wood is clear – she will not have pupils do the SAT exams until they are fit for purpose. And if the government fight her on it they must expect to be told, as politely as possible, to "bog off" too.