The collapse of Carillion left Rachel Hornsey's primary pupils bewildered amid the rubble of a building site. She explains how the experience prepared her for Covid
Rachel Hornsey, headteacher at Sutton Courtenay Church of England primary school, knows all too well what it's like to wait until the eleventh hour to find out if she can open her school – long before the pandemic left leaders accustomed to that constant suspense. She must be one of the only heads in the country who has found the coronavirus "much easier" to manage than another well-publicised collapse that threatened to derail infrastructure projects across England: the liquidation of building company Carillion. Now long forgotten amid bigger global challenges, it gave a handful of schools, including Hornsey's, an unwelcome early taste of what it's like to have little control over getting children back in the classroom.
It was straight into headship, and all I knew was there was this building project planned
Hornsey was an English lead and advanced skills teacher when she got a call from the outgoing head at Sutton Courtenay, telling her to put in an application for headship in 2016. The school, then overseen by the council and with an old 'good' Ofsted grade from 2012, was struggling for candidates. As Hornsey puts it, "The data was looking dodgy and it was due an inspection." One interviewee left halfway through. While she had a clear vision, Hornsey, who is a powerhouse of persuasive speaking style, landed the job without deputy headship experience. "I was massively incompetent for the job, frankly," she laughs. "It was straight into headship, and all I knew was there was this building project planned."
As she sought to improve SATs results, delays soon emerged to Carillion's promised deadline of September 2017 for two badly needed classrooms and a car park. "They'd say they'd start on the car park and then nothing would happen and they'd say, 'Sorry, it's been pushed back'." Hornsey requested temporary classrooms instead. But the problems had only just begun.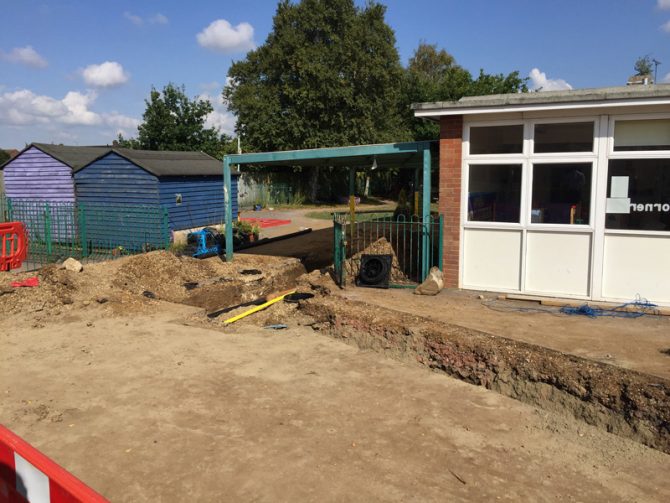 First off, the toilets in the temporary classrooms didn't work. Then the company made a road to them that "carved the playground in half", leaving holes where pipes had been laid. "The Sunday before the children were due back in September, there were trenches in the playground. I can't describe how awful it was," says Hornsey. She shakes her head as she recalls parents arriving on the first day with builders "still hosing the playground down". The company accidentally cut the gas pipe so there was no hot water and no heating. "The cook was trying her best, but she was working off a tea urn. For the entire first term, the whole school was eating sandwiches for lunch."
To cap it all, the builders then cut through the electricity cables. "Every alarm in the place went off. We got a generator which stayed on the playground for two weeks." The worst thing was the disruption for pupils, many of whom already have disrupted home lives, says Hornsey. Because only half the playground was available, staff had to stagger groups of pupils allowed outside, much in the manner of the bubbles schools have had to get to grips with recently. "Everything going on made it a very unsettled school environment for them."
Then Ofsted arrived. The school was immediately downgraded to 'requires improvement' following the November visit in 2017. Inspectors did note that the "headteacher's determined leadership is underpinned by a strong moral purpose" and said efforts to improve reading and maths were "beginning to bear fruit".
The RI grade feels like a badge of shame
"The RI grade massively impacted the school. I can't describe how horrible it feels to have your back against the wall like that, it just feels like you're fighting on all fronts. It's like a badge of shame."
Then one evening in January 2018, Hornsey saw on the telly that Carillion had collapsed. "No one contacted us," she says. "It was deathly quiet." The first official communication she received was from the company to whom Carillion had subcontracted the school's fencing. "They rang to say, 'We're coming to get the fence'. And I said, 'No, you can't do that, because it will be an unsafe school!'" The local authority suggested she actually lock the school gates and not let anyone in. From January to June 2018 the school was an abandoned building site.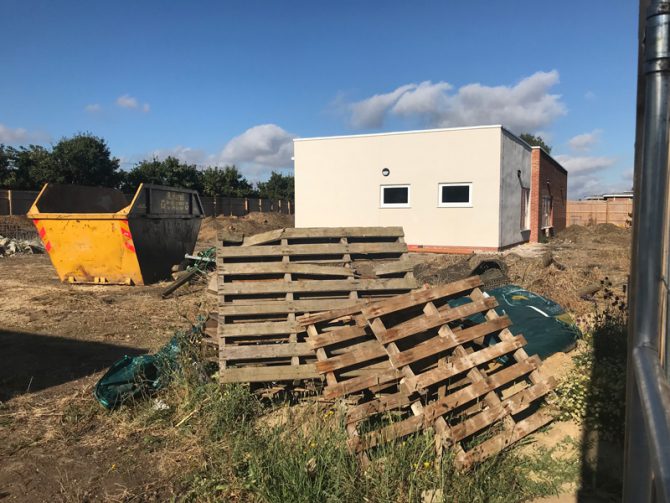 Around that time, then-education secretary Damian Hinds said a "small number" of councils and academy trusts had building projects with Carillion but that the department did "not consider there will be significant issues with completing the work required". Some comfort. Eventually, the work was completed after the local authority contracted another building company, Inside Out, to come in – but even then Hornsey was on tenterhooks, with the health and safety documentation signed off only hours before the school was due to open in September 2018.
It seems Hornsey's background has played no small part in prompting her to feel angered, rather than defeated. A kick against authority has always been part of her character, since she "didn't really like school" because she "doesn't like being told what to do". Both her parents were teachers who encouraged her and her sister in dinner table debate, and her father was also a local councillor with working-class roots. "I think one of the most powerful things was watching him canvassing on foot, actually talking to people about their concerns. People used to ring him up when there were problems." Meanwhile her sister has gone on to be a leading figure in the patenting industry. "It was a family of strong women. All the women in my family had professional careers, in teaching or in nursing. To be fair, everyone in my family was opinionated."
The result is that Hornsey "had this understanding of structures of power from quite young." She was involved in student politics at Leeds University while studying politics itself, and a sense of giving agency to people has always mattered to her. Furious with the imposition on her families, she called the BBC in to film the abandoned building site. It was then that she noticed a curious side effect. "The more the children kept appearing on film, the higher everyone's self-esteem seemed to rise," explains Hornsey. "They were finding their voice. They felt listened to and important."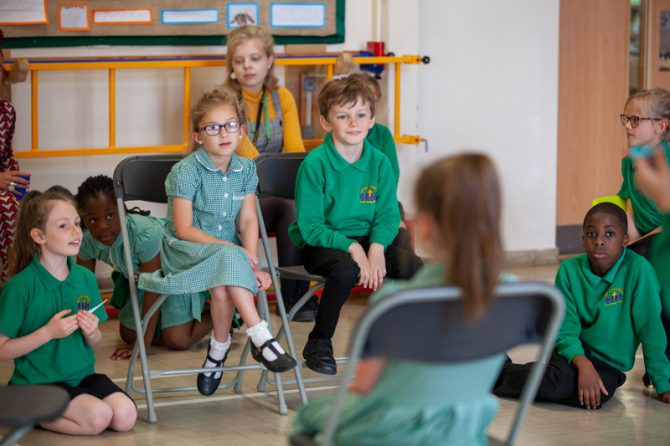 It was a "short step from there" to start filming the children as a technique. Once more preempting pandemic teaching methods, Hornsey and her team began recording pupils as they explained complex answers to maths problems or ethical issues. Pupils watch the videos back and consider their answer, before re-recording them until they have developed their response and can publish them on the school's own YouTube channel. "Children today are so comfy around a smartphone – their parents have been recording them since they were little," says Hornsey. "They watch YouTubers and they're confident about talking into a camera." The school even included a video of the children in a Condition Improvement Fund bid.
"This is about education, but it's also about getting children involved in democracy," Hornsey continues. "Families from communities like ours often think they're not participators in that, they think it's for other people. It's about understanding how to use the structures of power and to get things changed."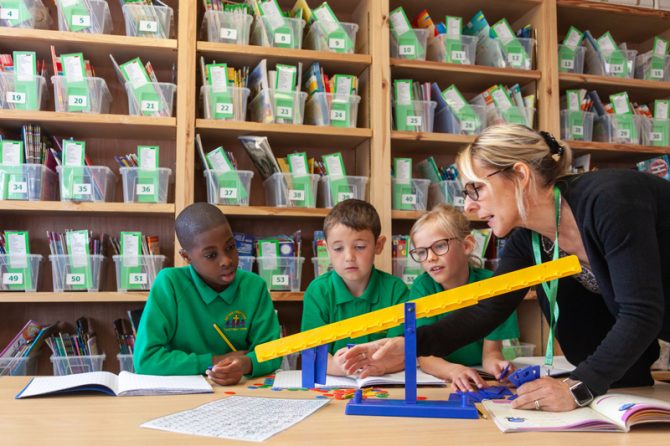 Hornsey's thinking explains why pupils are encouraged to answer a specific question in the history curriculum: who is in charge? When studying Guy Fawkes or the Romans, the children work out who is pulling the decision strings. Understanding that someone was responsible for the very visible mess in the playground, and they could be challenged through the media, helped the school community to resolve the issue, it seems. Soon after, Hornsey converted the school to an academy and joined the Ridgeway Education Trust "to feel supported and part of a wider ethos".
Yet Hornsey still says she'd take the coronavirus over repeating those 14 Carillion months. "The idea of the school as a centre of the community has finally been put to the fore again through the pandemic. I had long dark nights of the soul before. But this is about a communal effort. That's what it's about."