Grammar schools are wasting thousands of pounds because pushy parents from other areas are using their entry exams as mock tests for their children.
Selective school heads are describing a growing problem with "test tourism", which involves pupils sitting the 11-plus at schools outside their area as a practice, so they have an advantage for exams at their preferred school.
At one grammar school, the proportion of pupils from outside the catchment area taking their test doubled in one year, but almost none of them could be offered a place, resulting in extra administration costs of over £15,000.
Families are using our entrance tests as the opportunity to have free practice tests under exam conditions
The revelation came as Damian Hinds, the education secretary, renewed his call asking existing grammar schools across England to expand and take more pupils.
At the prestigious Latymer Grammar School in west London, 295, or 15 per cent of the 2,003 pupils who sat the 2017 entry exam were from outside the catchment area, but none were eligible for a place at the school.
This figure more than doubled to 31 per cent – 812 of the 2,630 pupils who took the test – this year. Of those, only four children have indicated they will move closer to be eligible for a place.
Headteacher Maureen Cobbett believes families who have "no intention" of moving are "using our entrance tests as the opportunity to have free practice tests under exam conditions".
She blamed "examination tourists" for costing the school £15,770, or 30 per cent of the total amount spent on exams in that period.
Parents are encouraged by websites such as Mumsnet, said Cobbett, or 11plus.eu, which asks parents in Warwickshire: "Why pay £60 for a mock when you can use the … 11+ as a free mock exam?"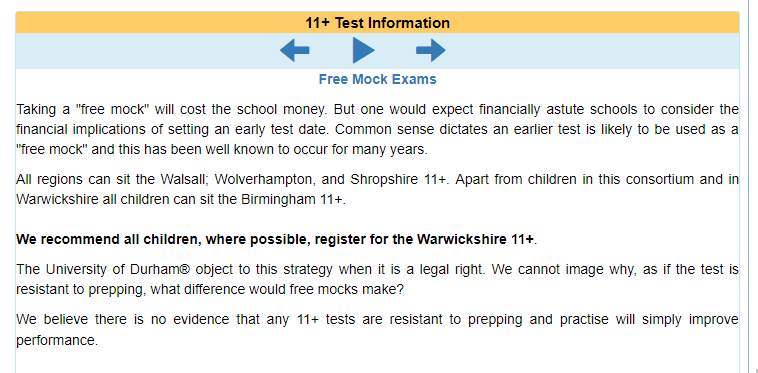 Justine Roberts, chief executive of Mumsnet, said while "there might be some parents  who advocate this", there was little evidence the issue was "endemic" on the site. She also pointed out parents were not to blame for helping their children within a system "not of their making."
Meanwhile the 11plus.eu website, which helps pupils pass the 11-plus, lists four grammar schools whose test dates mean they can be used as "mocks": the Dame Alice Owen's school in Hertfordshire, the Henrietta Barnett School in north London, the Kent Grammar School and Heckmondwike Grammar School in Yorkshire. It also recommends area-wide tests, such as the Bexley 11+ and Buckinghamshire 11+.
A spokesperson for the Birmingham consortium of grammar schools said the practice had "historically" been an issue, while a spokesperson for the Kendrick School in Reading said 73 pupils sat the test from outside the catchment area this year, seemingly only to get their results, but the numbers had remained stable.
Jim Skinner, the head of the Grammar Schools Heads Association, said he was concerned about reports that the problem is getting worse.
"We're concerned, and have had discussions with the Department for Education. Their admissions working group share the concern."
However, grammar schools may find it difficult to clamp down on the problem, because admissions rules mean they cannot refuse testing simply because a pupil lives outside their area.
Because pupils outside the catchment area are eligible for a place if school is undersubscribed, they must be able to sit the test, Skinner explained.
Rob McDonough, a headteacher who sits on the DfE's admissions working group, has two solutions: coordinate tests for the same day, or delay results so parents can't find them out ahead of other tests.
"If grammar schools feel they are the victim of admissions tourism, then they need to do some joined-up thinking and actually coordinate it," he suggested.
Melissa Benn, who chairs Comprehensive Future, which campaigns against selective schools, added the public money spent on the entry tests was an "utter waste of the education budget".
The DfE was approached for comment.