The government has failed to meet its secondary school teacher recruitment target for the seventh year running – with many EBacc subjects falling short.
Initial teacher training census data released today shows the government met just 85 per cent of its secondary school teacher target.
This included recruiting just 43 per cent of the required physics teachers, 62 per cent of modern foreign languages and 64 per cent for maths.
This is even worse than last year – when 71 per cent of maths teachers were recruited and 47 per cent for physics.
The target for primary teachers was also missed – with 96 per cent of the target reached.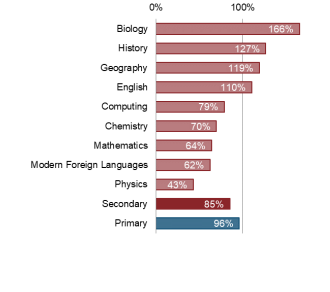 However the DfE massively over recruited in biology (meeting 166 per cent of the target), 127 per cent for history, 119 per cent for geography and 110 percent of English teachers required.
In total there were 34,543 new entrants to initial teacher training in 2019/20, compared to 34,244 in 2018/19 – just 299 extra teachers. That's a slump on last year – when the DfE recruited over 2,600 more teachers than in 2017.
The figures reveal it is Modern Foreign Languages which have taken the biggest single hit in comparison with last year – plummeting 26 percentage points from 88 to 62 per cent.
The DfE attributes the dramatic drop to a "large increase in the target" which jumped from 1,600 in 2018/19 to 2,241 this year.
And with the exception of biology, which came out top for the second year in a row, the new data also shows the government is still struggling to recruit teachers in key STEM subjects.
While computing did increase from 73 per cent to 79 per cent it still failed to meet its target and chemistry dropped form 79 per cent to 70 per cent.
In 2015 former prime minister David Cameron launched a £67 million scheme to upskill 15,000 teachers in STEM subjects – with courses later rolled out in MFL.
Cameron said the money would "pull our country up in the world" and "lift our children's horizons".
However a Schools Week investigation uncovered the DfE has also failed to fill a third of these teacher subject specialism courses (TSST) in the past three years.
With uptake of STEM courses slumping to just 55 per cent of its target to upskill 3,000 teachers last year.
Elsewhere the report admits while number of trainees recruited for geography did in fact increase, the large increase against the target was "mostly driven by the reduction in target".
Kevin Courtney, joint general secretary of the National Education Union, labelled the findings as "continuing a worrying year-on-year trend. These targets in any case underestimate how many teachers are actually needed in the coming years."
According to DfE forecasts, released last year, there will be more than 400,000 more pupils in state-funded secondary schools by 2027 (a 14.7 per cent rise) due to a baby boom in the early 2000s.
Courtney added: "Unmanageable workload, excessive accountability and restraint on pay has created a teacher recruitment and retention crisis entirely of the Governments own making."
The DfE said its recruitment and retention strategy, published this year, will help address recruitment and retention issues.
More to follow