The government should pay compensation of up to £700 to key workers in education to recognise the "personal risks" they've had to take due to the coronavirus pandemic, a new report urges.
Analysis of Office for National Statistics data by the Centre for Progressive Policy found that the death rate among education and childcare staff was 20 per cent higher than the average worker between March and December last year.
The think tank said these staff should be allowed to apply to HMRC for a tax-free coronavirus compensation payment of between £200 and £700.
Overall, the CPP said the death rate for all key workers was 40 per cent higher than the average worker, with the greatest risk to health and social care staff, who it said should be eligible for a payment of up to £1,200.
ONS analysis in January showed rates of Covid-related deaths among secondary school teachers were above-average, but the differences were not "statistically significant".
It comes after the government set March 8 as the return date for all schools, despite concerns about high infection rates. The latest REACT randomised testing study found that primary school aged children have the second highest levels of Covid-19 infection.
The CPP's recommended payments, which come ahead of the budget next week and would cost the government between £1.5 billion and £4 billion, would seek to address the "gap between the 'market' and social value of key worker roles".
Rosie Stock Jones, senior research analyst at the CPP, said key workers have been "invaluable to society over the past year, with many taking huge personal risk whilst the rest of us stay home" yet many are underpaid or on insecure contracts.
Government bodies must work together to ensure "pay and working conditions reflect the contribution key workers make to society, starting with compensation for the risks taken during the pandemic", she said.
Table 1: Death rate involving Covid-19 by keyworker occupation

Table 2: Suggested social compensation for keyworker occupations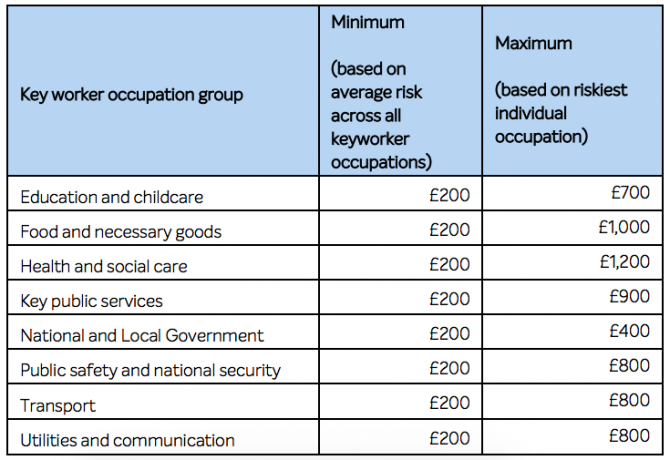 The report adds that "respecting and properly renumerating key workers remains essential beyond the pandemic".
To achieve this, the government should consult on developing sector specific, minimum pay and employment conditions that better reflect the social value and risk associated with key worker roles.
The estimated cost of the Centre for Progressive Policy's suggestion assumes the take-up rates to be the same as the Self Employed Income Support Scheme at about 67 per cent, and doesn't include the costs of administering the scheme.