Secondary school teachers have higher rates of Covid-related deaths than the general working age population, but the differences are not "statistically significant", the Office for National Statistics has said.
The ONS has today published its analysis of Covid-related deaths by occupation. It found that 139 teachers, senior education professionals, education advisers and school inspectors died between March 9 and December 29. Over the same period, 46 teaching assistants and educational support assistants died.
Fifty-two of those who died were secondary school teachers, equating to a death rate of 39.2 deaths per 100,000 men and 21.2 deaths per 100,000 women.
These rates were higher than those seen nationally – 31.4 and 16.8 deaths per 100,000 among men and women respectively.
However, the ONS said the differences "were not statistically significantly different than those of the same age and sex in the wider population".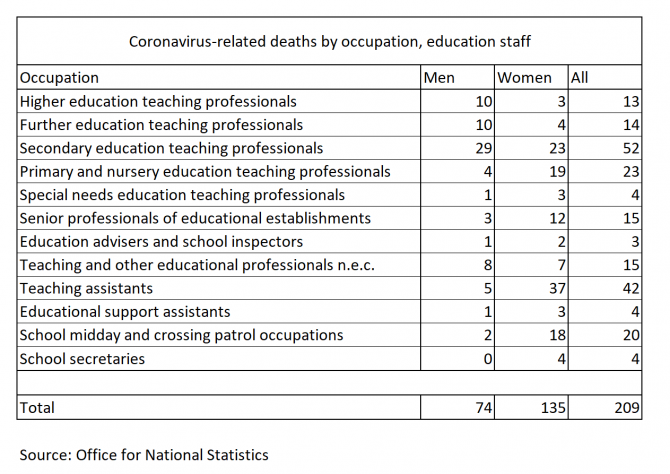 When looking at the death rate overall among teaching staff – 18.4 deaths per 100,000 men and 9.8 deaths per 100,000 women – the ONS said they were "statistically significantly lower than the rate of death involving Covid-19 among those of the same age and sex".
The ONS also compared teaching occupations with all other professional occupations to see "how the deaths compare with professions with similar broad economic and educational backgrounds".
Again, it found Covid-related death rates were "not statistically significantly different to the rates seen in professional occupations".
ONS data shows 20 school midday and crossing patrol supervisors also died during the period, as did four school secretaries.
In contrast, death rates among social care workers "were statistically significantly higher" than those of the same age and sex.
In total, 469 care workers died between March and December – a rate of 79 deaths per 100,000 men and 35.9 deaths per 100,000 women.
The data comes amid a growing debate over whether or not school staff are more likely to catch Covid-19 than other professions.