Three in ten GCSE results handed out this year were top grades, with the number of pupils scoring a flush of 9 grades having quadrupled since 2019.
But Ofqual found there was a "slight widening" of the "longstanding" results gap between students on free school meals and their better-off peers.
Today's increase in top grades at GCSE is smaller than was seen in A-level results earlier this week. The proportion of grades at a 'strong' and 'standard' pass and above also increased, but less so than the highest grades.
Headline figures also mask variations in results between types of institutions, with private and free schools seeing the largest percentage point increases in top grades.
Following the cancellation of exams this year, grades were issued based on teacher assessments, which have then been quality-assured by exam boards. Fewer than one per cent of grades were changed, however.
Rise in top grades, and 4 times more pupils get all 9s
Today's GCSE results data shows the proportion of grade 7s and above issued to 16-year-olds in England rose to 30 per cent this year, up from 27.5 per cent in 2020 and 21.8 per cent in 2019.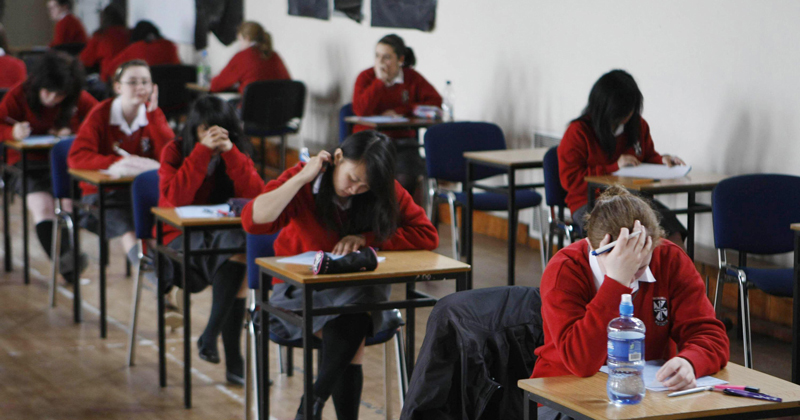 The proportion of 9 grades issued also rose to 7.7 per cent this year, up from 6.6 per cent in 2020 and 4.7 per cent in 2019, the last exam year.
This year, 3,606 pupils received straight 9s in seven or more subjects, compared to 2,645 in 2020 and 837 in 2019, a 330 per cent rise in two years.
The proportion of results at grade 5 (a 'strong' pass according to the government) and above also rose to 62.8 per cent this year, up from 61.5 per cent in 2020 and 53.3 per cent in 2019.
At the same time, the proportion of results at grade 4 (a 'standard' pass) and above rose to 79.1 per cent, up from 78.8 per cent in 2020 and 69.9 per cent in 2019.
Disadvantage gap widens
Ofqual's equalities analysis warns of a worsening of the disadvantage gap for some groups of pupils.
Looking at the probability of achieving a grade 7 or above, Ofqual found the gap between free school meals pupils and non-FSM pupils increased by 2.27 percentage points between 2019 and 2021.
Over the same period, the gap between pupils with special educational needs and disabilities and those without widened by 2 percentage points, and the gap between boys and girls widened by 2.13 percentage points in favour of girls.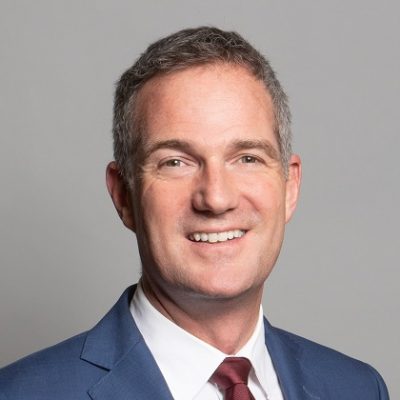 Shadow schools minister Peter Kyle criticised the increase in the attainment gap, which he dubbed the "Williamson effect. This was not inevitable: Gavin Williamson should have supported schools better."
But Geoff Barton, general secretary of the ASCL school leaders' union, said it was "important to emphasise that the system of teacher assessment under which these pupils have been assessed is different from public exams and is therefore not directly comparable".
"The GCSE grades awarded to these young people are a fair and accurate reflection of their performance under the robust system used this year which will allow them to progress to post-16 courses and apprenticeships in the normal way," he added.
Ofqual said the changes to gaps noted could be "understood as the impact of the pandemic on students' education and the impact of the change in assessment arrangements", but said the two sources of impact were "impossible to disentangle".
Private and free schools see biggest boost
Across all ages in England, the biggest absolute increases in top grades for independent schools and free schools.
GCSE grades awarded to these young people are a fair and accurate reflection of their performance.
Looking at just relative increases, sixth form colleges and further education establishments saw the largest increases.
As with A-levels earlier this week, there were also differences in the increases in top grades depending on region.
At grade 7 and above, the greatest increase was in London, while the smallest was in the East Midlands and Yorkshire and the Humber.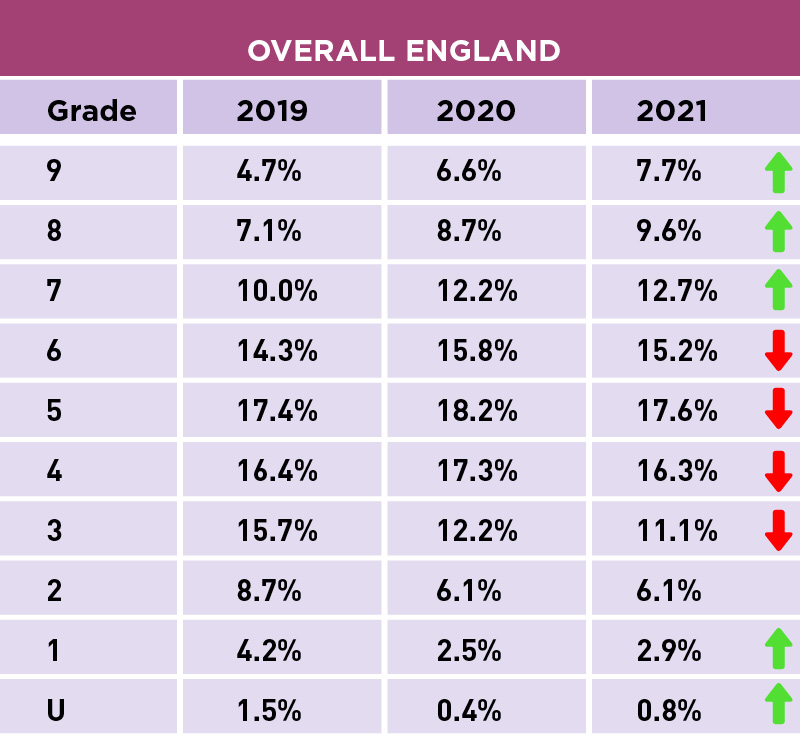 Ofqual's analysis also found that girls continue to outperform boys, with top grades among girls increasing by 3.2 percentage points and 2.2 percentage points among boys.
Education secretary Gavin Williamson said students should "feel proud of their achievements and will now be looking forward to taking their next steps".
"I am also hugely grateful to teachers and school leaders for their hard work to ensure students get the grades they deserve and need to progress to the next stage of their lives."