Longstanding gaps between poorer pupils and their wealthier peers likely to achieve the top grades in GCSEs has widened, Ofqual has found.
The gap between pupils in private schools and their academy counterparts has grown by more than 6 percentage points, while Gypsy and Roma student have also fallen behind.
But the exams regulator warned it is "impossible" to work out whether this is because of Covid lost learning, or the use of teacher assessed grades over the last two years.
There were similar gaps exposed at A-level, too (read more on this here).
Ofqual researchers compared the performance of pupils with different characteristics – from ethnicity to free school meals eligibility – between 2018 and 2021.
We round up the "notable" changes from Ofqual's equality analysis.
1. The poor v rich attainment gap has widened …
The gap between free school meal pupils and their peers has widened by 0.12 of a grade since 2019.
While looking solely at grades 7 and above, the gap widened by 2.27 percentage points over the last two years.
The increase in the gap was less severe at grade 4, at 1.31 percentage points.
2. … and private school pupils pull further ahead
Independent pupils have also pulled further ahead. The gap between private school pupils and those in academies who scored a grade 7 or above has widened by 6.79 percentage points since 2019. The difference is now 29 per cent, up from 22 per cent two years ago (see table below).
However the gap between these pupils achieving a grade 4 or above did narrow by 2.35 percentage points.
Interestingly, the top grades gap between pupils in academies and selective secondary schools narrowed – by 3.14 percentage points.
However Education Datalab has pointed out the Ofqual analysis seems to classify selective academies as academies (rather than selective schools) so this may skew things.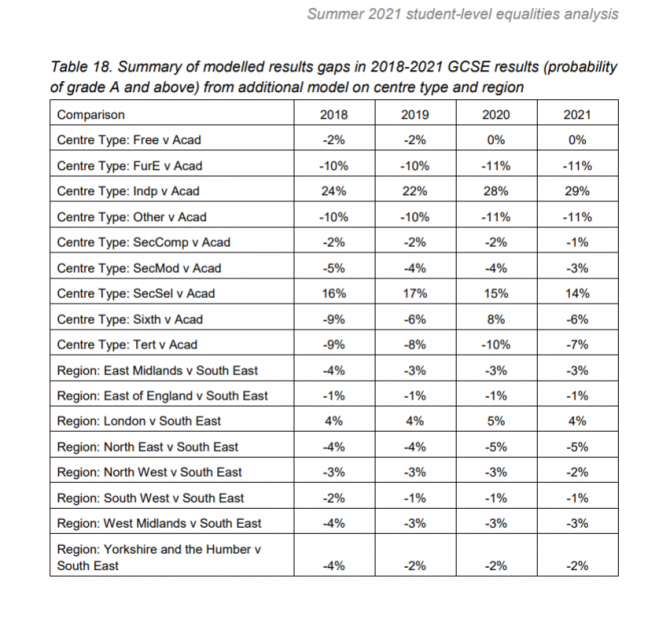 3. Gypsy and Roma students fall behind
Ofqual also analysed the impact on different ethnicities, finding Gypsy and Roma youngsters had fallen particularly behind.
The gap between these pupils and white British students widened by 0.17 of a grade from 2019.
When looking at just the top grades, the gap grew by 2.29 percentage points. While at grade 4 and above, the gap between Gypsy and Roma students and Travellers of Irish Heritage when compared with white British pupils widened by 6.25 and 9.29 percentage points, respectively.
At grade 7 and up, the gap between white British pupils and their mixed white and black Caribbean  peers has widened by 2.13 percentage points.
4. Plus the SEND and gender gaps grow
At grade 7 and above, the gap between SEND pupils and their peers has grown by 2 percentage points since 2019.
Meanwhile, the gender gap between boys and girls achieving the top grades has widened by 2.13 percentage points. At grade 4, the gap has actually narrowed by 2.6 percentage points.
5. But why?
Ofqual has not provided a definite answer as to why these gaps have grown.
They say the changes could be "understood as the impact of the pandemic on students' education and the impact of the change in assessment arrangements", but the "two sources of impact are impossible of disentangle".