Collapsed ceilings, "flying debris" from damaged roofs and overflowing sewage are some of the reasons behind thousands of emergency school closures since 2018.
A Schools Week investigation found nearly two schools on average close each day because of issues that include faulty buildings, utility failures and floods.
James Bowen, the assistant general secretary at the school leaders' union NAHT, said: "This enormous figure shows that RAAC is just one symptom of the far wider, and systemic issue of a disintegrating school estate."
Forty-eight of the 103 councils that responded to a freedom of information request said they kept details of emergency school closures.
Since 2018, headteachers in those areas decided to fully or partially shut almost 1,250 times because of storm damage, utility issues, structural problems, floods, gas leaks, boiler faults, pests or ceiling collapses.
It means 1.9 closures every day if the data is extrapolated nationally.
The figures are also likely to underplay the issue as it appears there is no statutory duty for schools to report such closures to councils.
Ceiling collapses and boiler faults
Hazlehurst Primary School in Bury shut in June 2023 after "two classroom ceilings collapsed due to [a] rainwater leak".
In September 2020, Ermysted's Grammar in Skipton sealed off a staircase "for a few days" following a ceiling collapse.
A spokesman for the school stressed "a small area of ceiling boards and plasterwork came down as a result of historic water damage and inadequate fixings" before the start of that year's autumn term. It was nothing to do with RAAC.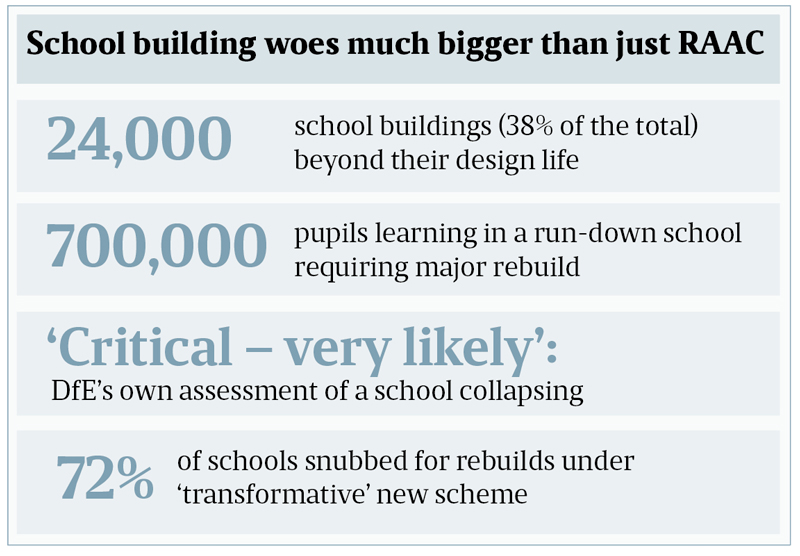 The councils also recorded three other "ceiling collapses" – two at primaries in Kirklees and one in North Yorkshire.
Meanwhile, a school in Leicestershire partially closed following a "central heating boiler fault" that emitted "carbon monoxide fumes" into a key stage 2 area.
Another in Norfolk reported in October 2019 a "persistent rain… caused sewage water to flood in the school building and on the school site".
And in a log released by Bradford Council, a primary detailed how its site was "too dangerous to open due to flying debris" from a damaged roof.
'Critical' risk of death or injury
A damning National Audit Office report published in June noted about 24,000 school buildings – representing 38 per cent of the Department for Education estate – are thought to be "beyond their estimated initial design life".
Among them are 13,800 "system-built" blocks – which are made from concrete, steel and timber, rather than brick and stone. These were built at speed between 1940 and 1980 with an initial design life of just 30 to 40 years.
It said ministers have for the past two years "recognised the significant safety risk across the school estate". The department's corporate risk register shows as "critical and very likely" the risk that building collapse or failure could cause death or injury.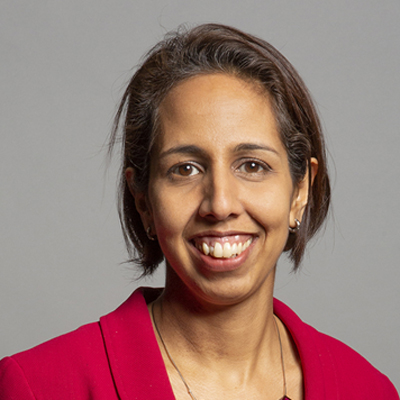 NAO auditor-general Gareth Davies, who penned the report, said the estate's "overall condition is declining" following "years of underinvestment".
This resulted in "about 700,000 pupils" having to learn in "a school that the responsible body or DfE believes needs major rebuilding or refurbishment".
Munira Wilson, the Lib Dem's education spokesperson, said it was "no wonder so many schools shut at short notice, when headteachers have to put off repairs to balance the books".
"The crumbling concrete crisis is just the tip of the iceberg. The government's penny-pinching tactics are coming back to bite."
One in three councils holds no data
The figures show utility issues accounted for more than 68 per cent of the emergency closures, while collapses and pest infestations were responsible for 0.5 per cent.
In responses to our FOI request, 55 councils said they did not have data on emergency school closures, with Medway saying there was "no requirement for non-maintained schools to report emergency closures to the local authority".
Government advice published in the good estate management for schools says leaders should "communicate with parents, carers and other stakeholders" in the event of a premises-related emergency.
They should also "contact the necessary statutory bodies" – such as fire services and the health and safety executive – "to ensure the measures being taken are appropriate", as well as their "organisations", including trustees and diocese.
Bowen added each closure would "inevitably have an impact upon children and families, despite the best efforts of school leaders and staff.
"It reinforces our calls for the government to commit to an ambitious, long-term, school rebuilding strategy to ensure every pupil is taught in a building that is safe."
The DfE has been approached for comment.