The number of teachers facing penalties for exam malpractice fell this year, but the number of pupils rapped for bringing banned items like mobile phones into exams rose by more than a fifth.
Figures from Ofqual show the number of penalties issued to staff for helping pupils cheat or for maladministration of exams has fallen by 40 per cent after the figures skyrocketed last year. However, they are yet to return to pre-2017 levels.
The number of penalties issued to schools or colleges also fell from 165 in 2017 to 93 this year.
Just over 40 per cent of staff malpractice cases were to do with maladministration, a slight fall on last year. Approximately one third of cases were to do with improper assistance to candidates.
At the same time, the number of cases of school staff suspended from involvement in exams as a result of malpractice fell by 82 per cent. There were 30 cases this year, down from 155 in 2017.
Overall, 620 penalties were issued to 475 members of staff in the summer 2018 exam series, compared to 1,030 penalties in 2017 and 388 penalties in 2016. This  is still the first fall in numbers since 2014.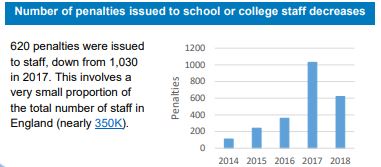 Meanwhile, the number of pupils penalised for bringing unauthorised materials into the exam room rose by 22 per cent. Mobile phones alone made up 47 per cent of all student penalties, rising 18 per cent from 1,060 last year to 1,295 in 2018.
There was a 90 per cent decline in the number of penalties for plagiarism, which has been put down to a decrease in the amount of coursework involved in GCSE subjects compared with last year, particularly computer science.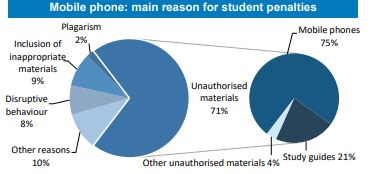 The computer science GCSE has been in the spotlight recently after tasks from a 20-hour non-examined assessment were leaked online last year.
As a result, Ofqual is now proposing that the subject become permanently exam-only.
Despite the sharp drop in plagiarism penalties, the total number of penalties issued to pupils has only fallen very slightly, from 2,610 to 2,570.
In July, the Joint Council for Qualifications – which represents exam boards AQA, Edexcel, OCR and WJEC – launched an independent review into exam malpractice to try and crack down on rule-breakers.