The number of security breaches relating to GCSE and A-level exams fell by 40 per cent this year, despite a number of high-profile leaks on social media.
In its 2018 summer exam series report, exams regulator Ofqual reported that there were 68 security breaches in 2018, down from 114 in 2017.
Breaches can include instances where schools fail to keep exam papers sealed until immediately before exams, or distribute the wrong papers to pupils.
It follows a number of high-profile cases this year where questions or other details were shared on social media.
In June, Ofqual confirmed it was investigating "allegations of malpractice or wrongdoing" in an Edexcel A-level maths exam after reports that questions had been widely shared online.
And in August, AQA confirmed that questions from a combined science chemistry foundation tier paper were shared by a pupil on social media before the exam in May.
Of the breaches reported this year, 59 per cent were as a result of schools or colleges opening, and sometimes handing out, the wrong exam paper.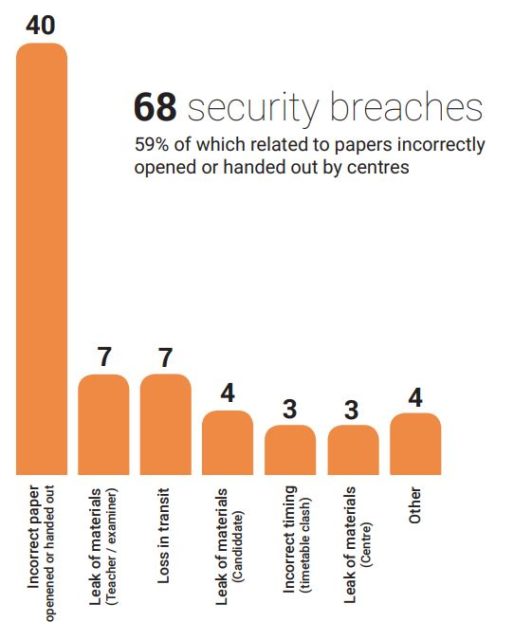 Ofqual also reported a decrease in the number of errors in exams this year.
According to the document, there were 90 errors identified in question papers and materials in 2018, a slight drop from the 101 errors reported in 2017.
At the same time, GCSE entries rose by about 1 per cent and A level entries dropped by about 3 per cent.
The errors are given one of three categories. A category one error means it could be "impossible" for pupils to give a meaningful response, category two means it could cause "unintentional difficulties" and category three means the error will not affect a pupil's ability to answer.
In one high-profile case this year, AQA admitted that the wrong questions were included in a GCSE physics paper.
It comes after OCR was fined £175,000 for a mix-up in last year's GCSE English literature paper, which confusingly referred to the Romeo and Juliet character Tybalt's hatred of the Capulets, his own family, rather than the Montagues, their rivals.
Out of the 90 errors identified this year, 15 were in category one, 55 were in category two and 20 were in category three. In 24 cases, exam boards were forced to mitigate the effect of an error, either replacing the papers or issuing a correction before pupils sit the paper or changing mark schemes to take the error into account