The former recovery commissioner has branded the government's catch-up plans as "a bit feeble", saying "we need significant greater investment than provided so far".
Questioned on the government's response at the education committee this morning, Sir Kevan Collins said: "We know our country's responded in a way compared to some others which, quite frankly, is a bit feeble."
An analysis by the Education Policy Institute found the total amount of catch-up funding equates to £310 per pupil in England, compared to £1,800 in the United states and £2,100 in the Netherlands.
"The amount of money we've responded with at the moment, these are significant sums. But this scale of shock – losing on average 115 days of face to face learning – requires a massive national effort to recover," Collins added.
"I worry it's not a bit of tutoring in the corner – it's actually a fundamental approach the school needs to work. Recovery now becomes the work, it's not an activity it's an outcome of everything we do. That's why I was keen to see a whole school effort around time around teaching around tutoring and not a narrow auxiliary attention to one particular activity that, if we're not careful, gets put to a teaching assistant."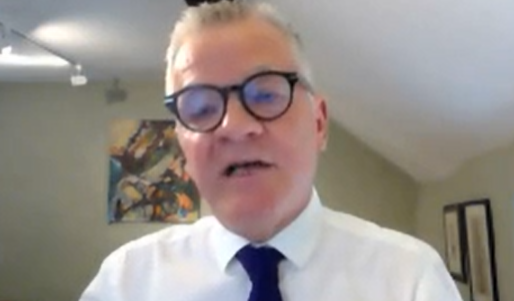 'If we lost another year – that's unacceptable'
Collins resigned in wake of the government's £1 billion recovery announcement. Collins had called for measures that totalled £15 billion.
The former commissioner said today he wanted 10,000 schools to increase their school day to the average of six and a half hours, while also having a significant number of schools trialling an extra half an hour.
The government instead said it would review time spent in school, which will report later this year. Ministers have also suggested more money could be announced at the spending review later this year.
But Collins said: "The money must get into schools as soon as possible. If we lose an academic year, I think that's unacceptable.
"We know what the issue is, and we know the implications for our children. I couldn't stand by and say there's some kind of process you just have to wait for and hope you get the money in that process."
He added he wanted to "hit the ground running" in September, adding: "The children can't wait. I wanted to break out of the spending review cycle and actually do what we need to do in education in education time, rather than someone else's time."
'It was impossible for me not to step back'
Collins was repeatedly pressed on why he resigned, with committee chair Robert Halfon asking if he "threw in the towel".
The recovery commissioner rejected the accusation, saying: "I don't throw in the towel, it's not how I work. I fight as long as I can. But in the end when the quantum comes back as too small, too narrow and too slow – I can't stand by it. I have to be clear and honest".
He said resigning was a "very, very difficult decision". "I did consider all the options… The quantum was so different from the amount I thought we needed… it was impossible for me not to step back at that point.
"We need significant greater investment than the government has agreed to provide so far."
Collins also criticised the lack of mental health support in the recovery package, saying there "wasn't anything" for the non-academic outcomes – "the social and emotional learning for our children".
"And that really matters, not only to the children, but it matters for me. It sent the signal this was about the child, it was a recovery for childhood and not some narrow stuff we were working on".
Collins reveals DfE's lack of data
He also revealed the Department for Education had no data on the length of the school day. "I was shocked when I asked the question about time – what is the length of day in the average school – we don't actually collect that data," Collins added.
He added he was "keen" for DfE to "get sharper at scraping and sampling data" and not "relying on these annual bits of data or the Ofsted inspection every six years".
Collins is going to write to the committee with the data he thinks DfE is not good enough at collecting.