A third of schools have been left short by the government's teacher pay rise plan, which has disproportionately hit schools with the poorest intakes, new research has found.
Schools will split £508 million in funding over the next two years to cover the teacher pay deal announced in the summer. Allocations are based on pupil numbers, with uplifts for geographic location and school type.
However, an Education Policy Institute report has found that the allocation method used by the government leaves schools with more disadvantaged intakes and lower pupil numbers more likely to fall short of funding.
Researchers have warned that the policy "flies in the face of the last 20 years" of efforts to direct more funding to deprived schools.
The new analysis found that one third of schools are receiving between five and 25 per cent less than the cost of the pay rise after funding has been allocated to them.
Furthermore, six per cent of schools will get more than 25 per cent less than the cost of the pay rise, the report found.
Schools with poorer intakes are also more likely to be negatively affected because they're more likely to employ less-experienced teachers on the main pay scale and have smaller classes.
This would appear to contradict recent warnings from school business managers that schools staffed with more expensive teachers at the top end of the pay scale could end up short of funding while schools staffed with newly-qualified teachers could have a surplus.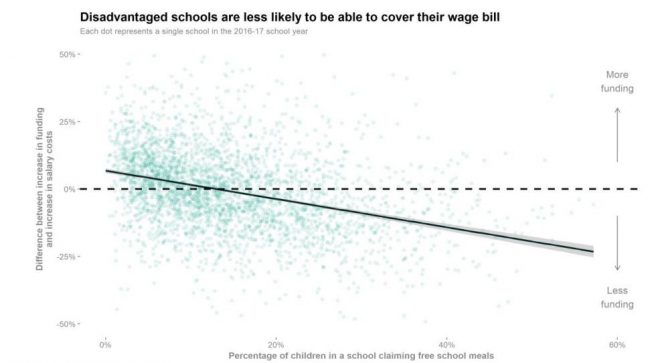 At the other end of the scale, 29 per cent of schools will actually receive between five and 25 per cent more than the cost of pay rises, with six per cent of schools receiving over 25 per cent more.
In some cases, this will be because the government chose to fund each school for a minimum of 100 pupils, so smaller schools will pocket a surplus, researchers found.
Out of 19,000 schools in the EPI's research, 11 per cent had fewer than 100 pupils in 2016-17.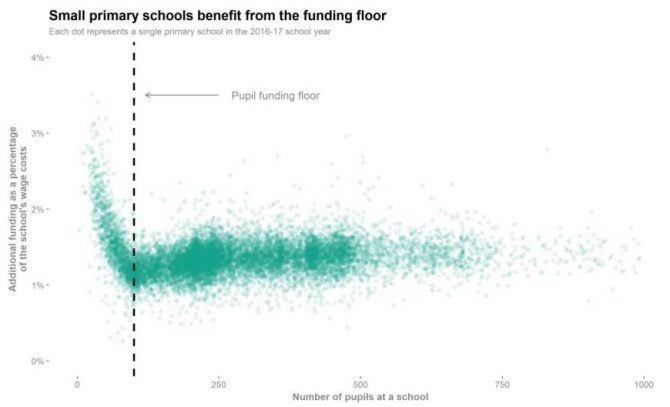 Ministers announced in July that teachers on the main pay range will receive a 3.5 per cent uplift. They also allocated two per cent for the upper pay range and a 1.5 per cent rise for the leadership pay range.
Although schools must meet the first 1 per cent of each rise, the government claims to be "fully funding" the rest.
Funding is also only confirmed for two years – £187 million available in 2018-19 and £321 million in 2019-20. Future funding will be determined at next year's spending review.
A DfE spokesperson said the teachers' pay grant was allocated to schools and local authorities "so that they can provide a pay uplift for thousands of hard-working teachers".
Pupil numbers were used to allocate funding as the "quickest and most effective way to get this money out to schools", the spokesperson said.