Almost one in ten schools in England was partially closed as of last week, new government data shows.
Attendance statistics published by the Department for Education show the proportion of state schools that were fully open fell to 90.8 per cent as of last Thursday, down from 92.4 per cent the week before. Eight per cent of schools were not fully open due to suspected or confirmed coronavirus cases, up from 7 per cent on October 1.
The proportion of fully-open secondary schools continued to fall – it slumped from 82 per cent to 79 per cent – while the proportion of primary schools that were open to all pupils fell from 95 per cent to 93 per cent.
According to the DfE, this means that around 1,900 schools were not fully open as of October 8.
However, the latest data shows an improving picture of overall attendance, which rose to 92.2 per cent on October 8, up from 91.8 per cent the previous week. The DfE said: "This suggests that, where groups of pupils are being asked to self-isolate, they are becoming smaller."
Attendance at secondary level rose from 86 per cent to 87 per cent, while attendance in primary schools decreased from around 93 per cent to 92 per cent. However, the DfE believes the inclusion of nursery pupils, for whom attendance is not mandatory, is depressing primary attendance figures. Among primary schools without nurseries, attendance was at 95 per cent.
The proportion of pupils with an education, health and care plan attending schools rose slightly from 84.4 per cent on October 1 to 84.5 per cent last Thursday, while the proportion of pupils with a social worker attending school remained the same.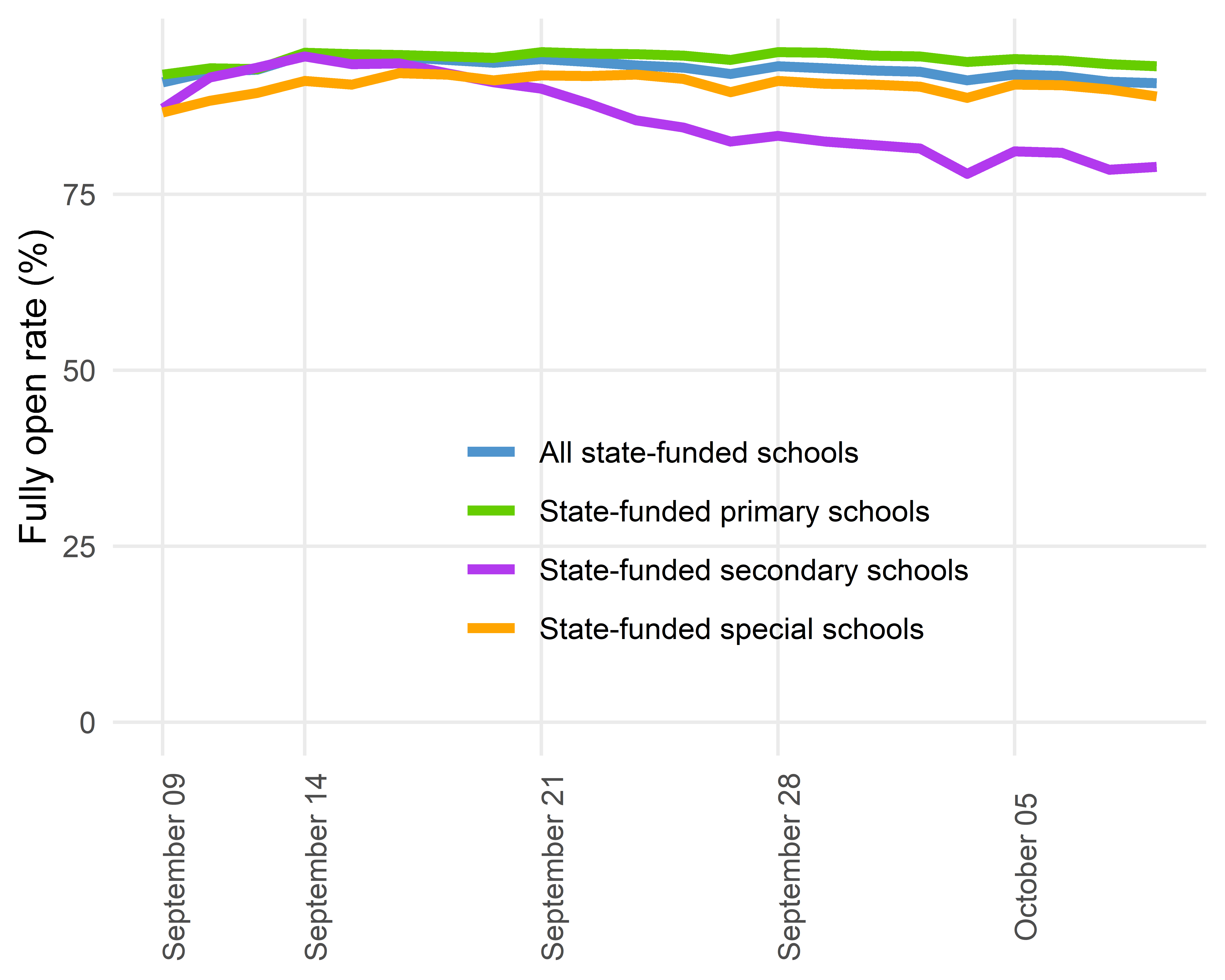 It comes as it emerged scientists told the government in mid-September that the effect of reopening schools and colleges had "only just begun to affect" the increase in case numbers seen nationwide.
In a report by the SAGE group of scientists, issued on September 21 but only published yesterday, they said the rate of increase in infections was "expected to accelerate in the near future as the impact of school, college and university openings, and policy changes with respect to return to workplaces, and entertainment and leisure venues, filter through".
The document also states that outbreaks in schools had caused "widespread disruption", and recommended that a "circuit breaker" national lockdown would be most effective if it coincided with half term.
However, the report also states that it is "still not clear to what extent (if any) schools magnify transmission in communities rather than reflect the prevalence within the community".