Almost £1 billion will have been spent on bursaries for new teachers by next year, but their effectiveness has not been properly evaluated, the National Audit Office has warned.
Mark Parrett, audit manager at the government spending watchdog, told the House of Commons education committee this morning that his organisation's request for better evaluation of incentives for new teachers had not been met by the Department for Education.
The government currently offers bursaries of between £3,000 and £30,000 to teachers trainees in subjects such as physics, maths and languages in a bid to fill vacancies.
But Parrett, who appeared alongside former Institute of Education director Chris Husbands, Gatsby Foundation programme manager Jenni French and Ofsted deputy director Joanna Hall at the second evidence session of the committee's inquiry into teacher supply, said the department had not done enough to evaluate how well the scheme worked.
"What we said to the department is that you need to be evaluating the various initiatives that have been put in place to attract new teachers but also to set these against the relative cost effectiveness of measures to retain teachers as well and that hasn't been done," Parrett told MPs.
"On bursaries, the department did some qualitative analysis in 2012/13 and some quantitative analysis in 2013/14, which showed some link between bursaries and people wanting to apply to train as teachers, and that did show some positive relationship.
"However, they haven't extended that to look at whether people then actually went on to apply, completed the training and went on into teaching and how well they did."
He said the lack of analysis meant the department had only a "general understanding" of the impact of bursaries, and needed to "do a lot more".
In February, the NAO's training new teachers report warned the department was not doing enough to train new teachers after vacancy numbers almost increased ten-fold between 2010 and 2014.
The department was also criticised for failing to hit teacher recruitment target for four years running, with 14 out of 17 secondary subjects left with unfilled training places last year.
And in March, Schools Week revealed that maths had the largest drop-out rates among trainee teachers despite offering some of the the biggest bursaries – up to £25,000 tax-free in many cases.
Chemistry  and modern foreign languages also had some of the highest drop-out rates, despite also offering some of the largest bursaries.
During this morning's hearing, the difficulties in providing regional data on teacher vacancies were explored, and it was accepted some headteachers would not necessarily report all vacancies at their schools for fear it might put parents off sending their children to them.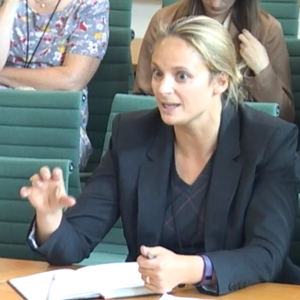 Husbands, who now serves as vice-chancellor of Sheffield Hallam University, said: "It is in the interests, for all sorts of reasons, of headteachers to be able to say all their vacancies are covered and all classes are being taught. Schools are in highly competitive local environments.
"The consequence of that, I think, is that it's probably unlikely that you could devise a sufficiently granular local reporting system that picks this up. The local variables are too great."
MPs were also told that information on where teachers were being trained, which could help external organisations like Gatsby to match vacancies with trainees, was being kept under wraps.
French said: "I think in the first instance it would be helpful to know where people have been doing their teacher training. Although the government does collect data on the locations of teacher training it doesn't release that publicly.
"We could do some work as external organisations matching up vacancies with that data, it's just not been released."