Government officials are running a "call centre" to chase schools who have not responded to a survey on reinforced autoclaved aerated concrete (RAAC), with the lack of response "baffling" ministers.
Baroness Barran told Schools Week the Department for Education was "here to help" with the potentially dangerous concrete building materials.
The Office for Government Property (OGP) fears the "crumbly" material, used widely in flat-roofed school buildings, is "liable to collapse".
According to a Local Government Association report, seen by Schools Week, more than 150 schools "have been identified as potentially having RAAC".
Last March, the Department for Education asked responsible bodies – trusts and councils – to complete a survey about RAAC on their school sites.
Barran described this as a "superhuman task", and although a "vast majority" had responded, "a handful" had not.
"I find that really baffling, because we are here to help them. We've lined up a lot of capacity in terms of structural surveys and so forth. But if they don't reply to us…
"We're running a call centre now in the department where we're ringing people repeatedly, which is probably not the best use of time."
DfE will help with 'urgent capital issues'
Most capital funding is allocated through wider schemes such as the condition improvement fund and school rebuilding programme.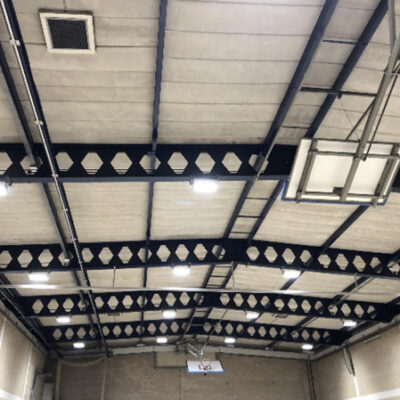 But where schools identify an "urgent capital issue", the department will work with them to address it, Barran pledged. "We don't leave schools without the funding."
The collapse of a primary school's flat roof in 2018 – at a weekend and with no casualties – is believed to have brought the potential danger of RAAC's fragility into sharp focus.
In September, the OGP issued a safety briefing notice to all property leaders warning RAAC was "life-expired and liable to collapse".
But Barran said RAAC was "not necessarily in and of itself a huge risk, if it's been properly maintained".
While some schools had identified it in a store cupboard, which could be taken out of use and was a "non-issue", others "had a number of classrooms closed, where we've had to do propping before children can go back in. So we've had a really wide range."
Minister non-committal on potential rebuilding delay
The rebuilding of five hospitals with "significant" amounts of RAAC is to be prioritised "given the risks they pose to patients and staff".
Two affected hospitals have been named, with the reprioritisation delaying completion of "up to" eight other projects until after 2030.
Sources in schools expecting rebuilds reported slow progress, but said that wasn't unusual for big government projects.
Barran was non-committal on whether remediation work would delay other capital projects, such as through the government's flagship 10-year school rebuilding programme.
"Until we have completed and know what the full scope of the issue is, I can't give you an accurate answer to how many schools we're talking about, and also what the appropriate response is," she said.
The programme, launched in 2021, aims to fully or partially rebuild 500 schools over a decade.
Estates framework should give schools 'confidence'
Officials used the DfE's most recent school condition data collection alone to select the first schools, but ministers changed tack last year and allowed responsible bodies to nominate the schools they felt were in direst need of repair.
Barran said this had avoided spending money on small fixes at schools that would soon be rebuilt.
A "catalyst" was a school she visited that had spent millions to replace all its windows just two years before it got a rebuild.
"We were putting on a scrap heap the £3 million worth of windows that we put in five minutes earlier."
The government has also launched a new estate management competency framework, designed to "set the standard skills and knowledge required by those conducting estate management functions, roles and responsibilities at different levels".
Barran said the guidance was requested by trusts and councils. "Any one of us who's done work, even on your own house, getting it a bit wrong is a a very expensive mistake … even at a domestic level, let alone a school level.
"Giving schools and responsible bodies the confidence about what they should be doing, and to be able to work most effectively, was the kind of requests that were responding to."
Schools can access the RAAC survey here.