The government-backed company tasked with buying sites for new schools is looking at providing housing for teachers in new developments, its chief executive has revealed.
Lara Newman (pictured below) has told an event in London that LocatED is "in the very early stages" of developing onsite housing for teachers at schools in some areas, though there are "challenges".
LocatED was established last year to find locations for new free schools. It has bought 50 sites in the last year and has 70 live commissions in the pipeline, equating to 21,000 new school places.
"We're looking at how we can deliver housing on school sites, including teacher housing where there's a recruitment problem, which I fully appreciate is not everywhere," she said.
LocatED will be exploring the idea of offering staff accommodation on-site as part of mixed use developments as the year progresses, though this is not a straightforward process.
"It doesn't work everywhere, it is big thing in London," Newman said. "Some MATs want teachers to be able to get onto the housing ladder but then you've got challenges around what happens when those guys then move schools and you've got them living on your site?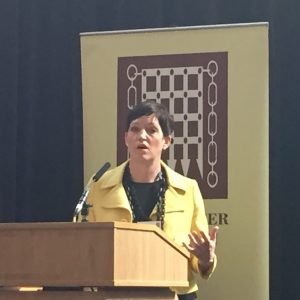 "There are a load of challenges that we're working through at the moment with some housing associations and some people like Homes England [the government agency responsible for building more homes] to figure out how we can make that work for everyone."
In October last year Schools Week reported that the Harris Federation, one of the largest multi-academy trusts, was planning to build up to 100 homes in partnership with a housing association, in a bid to stop teachers being priced out of London.
The chain, which is based in the capital, presented a proposal to the Department for Education in March 2016 about using surplus land it owns that is not required as playing fields for housing projects.
Since then, Harris has engaged in talks with LocatED about partnering with a housing association to build 100 units or houses, among other options.
Once discussions have taken place with LocatED and local authorities about the best model for the project, Harris said the building work should "hopefully" begin in early 2019.
"We've got to do something about it. Teachers are so important," said Dan Moynihan, the trust's chief executive, at the time. "Just because we haven't seen an academy trust partner with a housing association before doesn't mean it can't be done."