This week, our guest reviewers look back on 2017 and share their top picks from the education blogging world.
Jill Berry's top blogs
This year the decision was taken to close the free blogging platform @staffrm, and I want to pay tribute to Peps and Emma McCrea and those who made it possible, launching many fledgling bloggers on their writing journeys.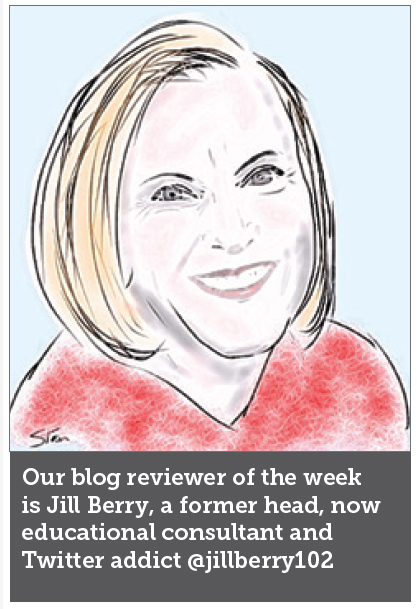 The #WomenEd initiative, committed to supporting serving and aspiring women leaders in education, began with early @staffrm posts and developed into a powerful movement, drawing in significant numbers of supporters, men and women, across the world. Thank you, @staffrm.
#WomenEd then launched their own blog, transferring some @staffrm posts and adding to them, and this is my top choice of blogs to follow this year. The WomenEd blog features a range of contributors who explore leadership, gender, professional fulfilment, and how we can effectively support and challenge others across the broad world of education.
Many women share their stories, strong #HeForShe advocates add their voices, and the combined effect is a compelling, inspiring blog which is well worth visiting.
My second choice also features multiple writers: the blog Talking Heads, where school leaders share their professional and personal journeys in such a way as to lift, encourage and motivate other aspiring leaders. The stories cover leadership of different phases and structures from writers of all genders and a variety of backgrounds. I know headship is not a pathway everyone might wish to take, but positive role models can help us to formulate our thoughts about whether, at some stage, it might be part of our future.
Finally my honourable mention goes to Emma Bone, who, at emmaboneblog.wordpress.com, examines the role of the executive principal, reflecting in an honest and forthright way on the challenges and rewards of leadership at this level.
Harry Fletcher-Wood's top blogs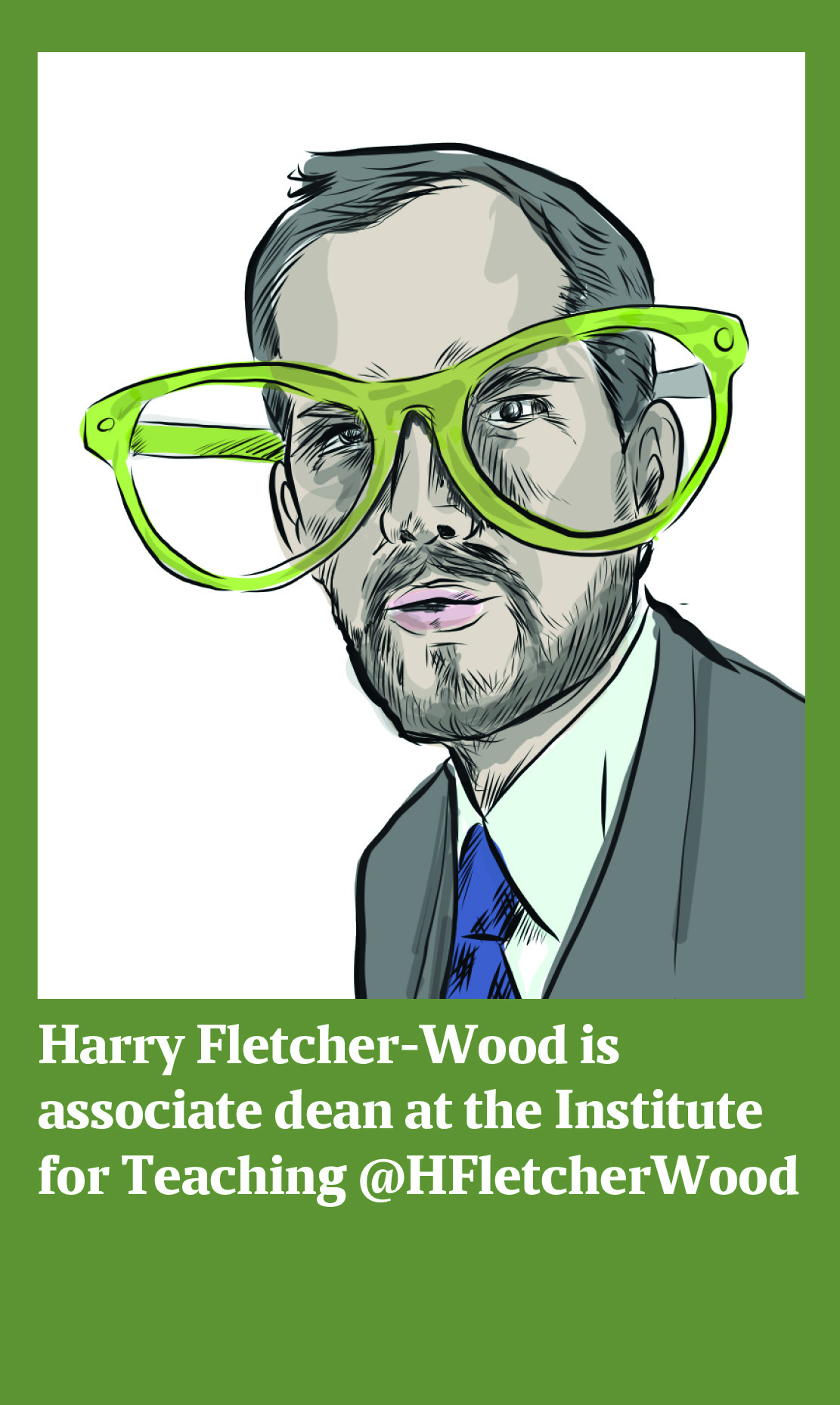 Clare Sealy takes the evidence on how students think and learn, and shows how it applies in her school, offering a welcome primary perspective on key questions.
She tackles key challenges bluntly and pithily. "Transferring learning is, quite simply, a bitch," she notes, describing her sons listening enthralled to the amusing anecdotes of her day. "Yes, I'm lying," she adds. "The sons are sticking pins in their eyes in a vain effort to MAKE IT STOP."
Other highlights include her review of the use of knowledge organisers and curriculum design. My blogger of the year can be found at primarytimery.com.
This Autumn, Paula Lobo wrote a series of fascinating posts, in which she took a piece of research as a stimulus and showed how she had adapted it to her classroom. Each post identified a problem: "But look Miss – here – I wrote down loads of facts", and an underlying issue, "helping year 12 to think about the quality of their knowledge", followed by how she has responded.
Her posts reflect several years' thinking and experimentation and share the resources she has developed and used, such as a really useful collection of multiple-choice questions. You can find her at lobworth.com
James Theobald continues his quest to educate, inform and entertain, at othmarstrombone.wordpress.com.
Highlights have included his guidance on 'tycche', "a Finnish word that is used when one has achieved the perfect work/life balance", with specific prescriptions about the consumption of cake, wine and email; an art history of back-to-school, including "the end of the first week back" in which "the clothed teacher is bathed in early morning light, showing that he has fallen asleep in his clothes, such was his fatigue"; and a tour of Stock Photos Academy in which students are streamed "depending on how photogenic they are".
Iesha Small's top blogs
I realized Ben Newmark was a blogger I found interesting when I read one of his posts and found myself reading several more in succession.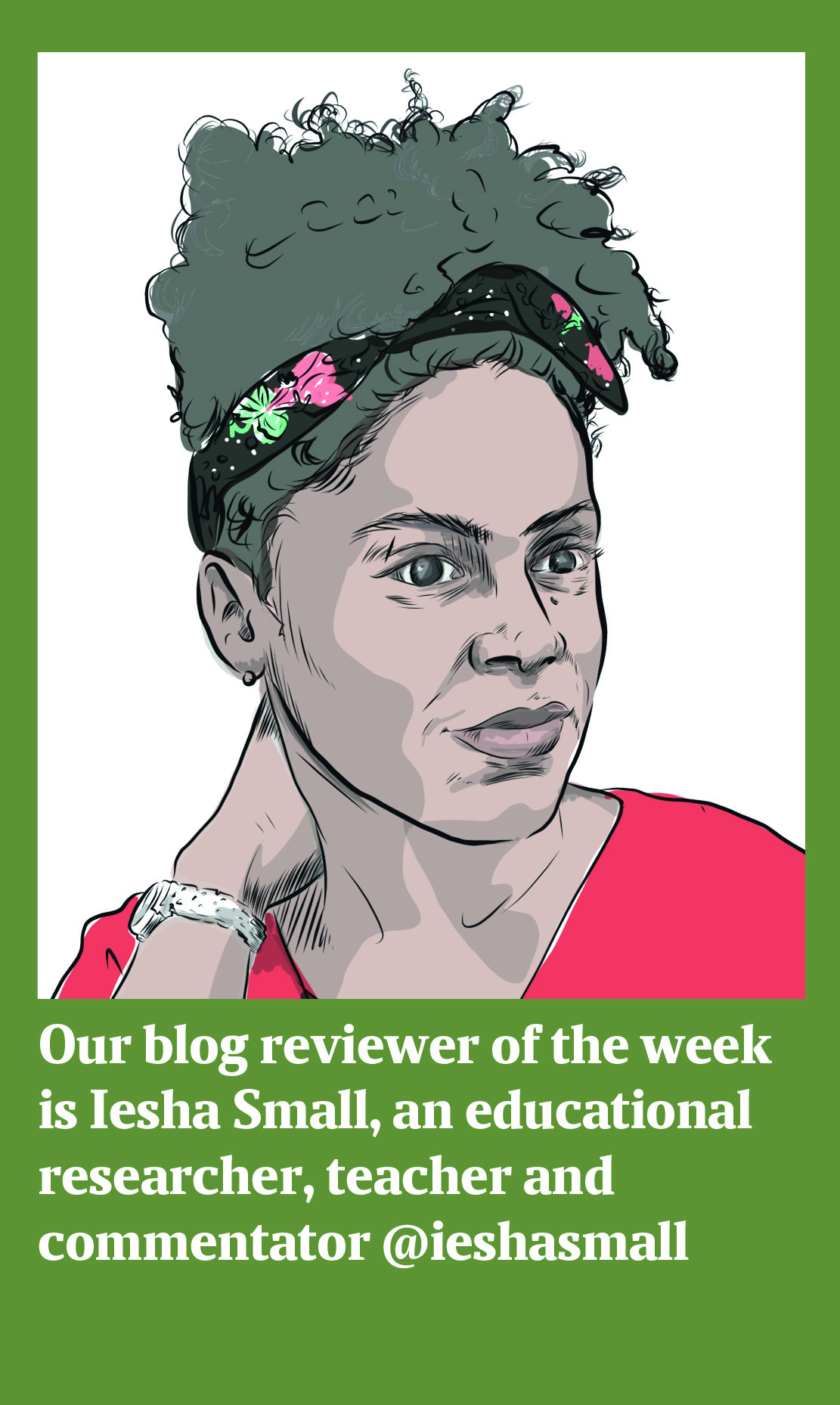 Ben has a background as a history teacher. He writes thoughtfully about his own subject as well as teaching and education in general; a recent example is "where did text books go?".
I've come to the belief that you can tell a lot about a person by the way they treat those they disagree with. Ben's Twitter bio says "we're not enemies, we just disagree" and I've noticed that Ben, who describes himself as politically left-leaning but pedagogically conservative, always treats his online detractors with respect and consideration.
Blogging at bennewmark.wordpress.com, he receives my top blogger award for 2017.
Sue Cowley is a veteran blogger and writer, and many NQTs have turned to her book Getting the buggers to behave in frustration.
I've included her as my runner-up because of the sheer variety of her blogging, at suecowley.wordpress.com. Her last four posts include a poem about boycotting baseline tests, a reminder that not all feedback is good and her thoughts about creativity. Sue is also a vocal champion of the Early Years Foundation Stage which can get overlooked in educational debates.
My honourable mention goes to Amjad Ali, who is passionate about teaching and learning and inclusion.
He has a toolkit of ideas for teachers but it's his reflections about his day-to-day job as an assistant headteacher at newtothepost.wordpress.com that I find most interesting.
Lastly, since becoming a monthly blog reviewer, I've tried hard to amplify a range of voices. If you are reading this and don't see your views represented in the usual blogs, then start one – and more importantly write regularly. It's hard to be represented if you don't say anything.
Andrew Old's top blogs
My blogger of the year is veteran education blogger Greg Ashman who writes at gregashman.wordpress.com. He's been writing for years, and I'm sure I've recommended him before, but this year he's really had an impact.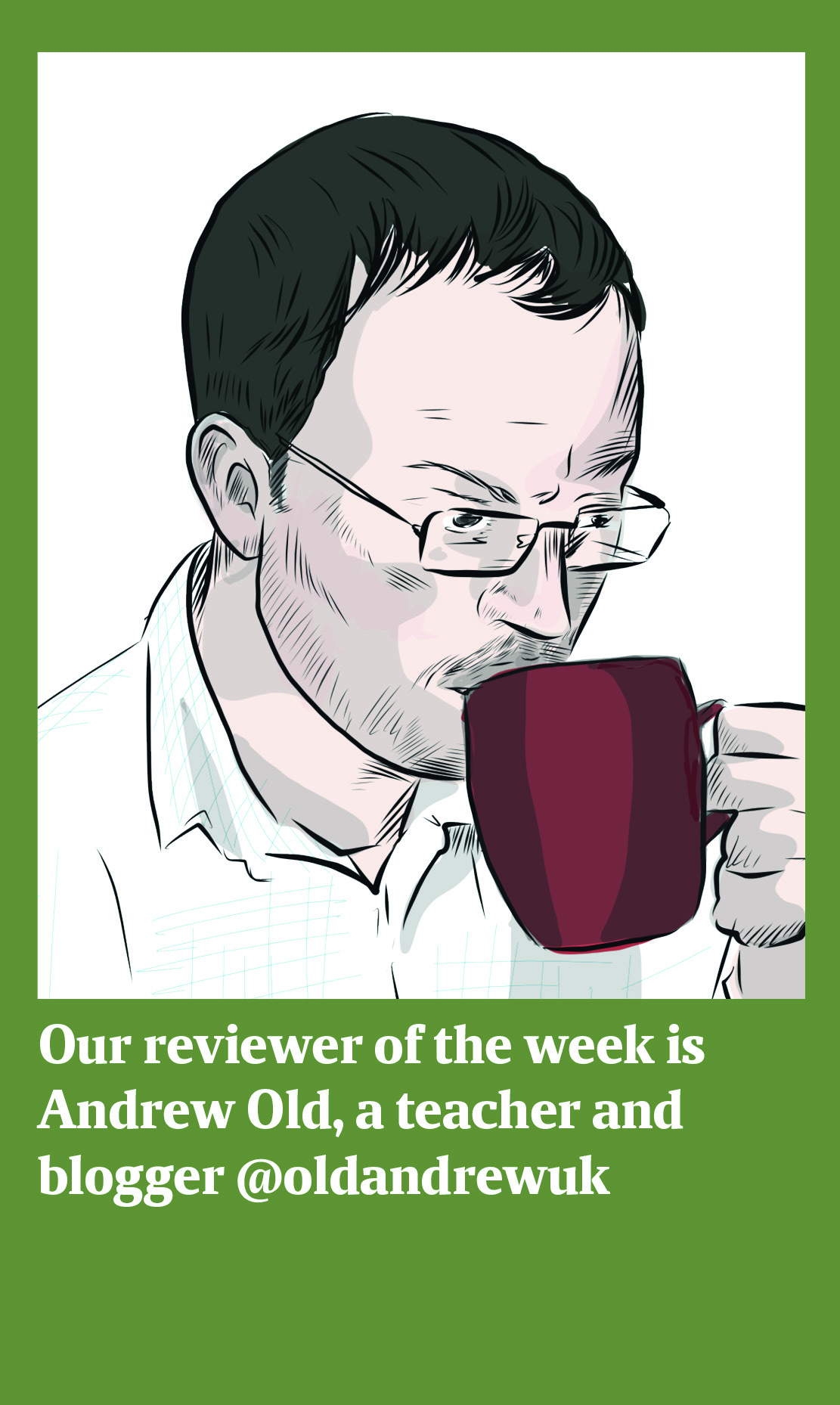 Some of the most prominent people in education, such as Dylan Wiliam and Nick Gibb, have been recommending his blog.
He is a teacher and researcher and constantly does his best to explore what education research can tell us about teaching and what teaching can tell us about education research. He finds evidence out there that is relevant to some of the most heated debates in teaching, and he also challenges those educationalists who think they are above justifying their claims about teaching to teachers.
My runner-up is another veteran education blogger: David Didau, who writes at www.learningspy.co.uk.
Another experienced, prolific and research-informed blogger, he is always thought-provoking and keen to find out about new ideas and new research relevant to education.
This year he has written about literacy, English teaching, British values, racism, behaviour and more.
Finally, my honourable mention is History Lover, who has been writing at historylover.uk since earlier this year.
This is a blog from a trainee teacher. I have to admit, she was going to be my first choice, but a lot of her more controversial posts have been removed, which perhaps tells us something about how difficult it is for new teachers to speak freely.
However, there are still enough of her posts available to get a flavour of her insight into the value of history and the nature of teaching.