A tenth of all schools and colleges in England have been named in testimonies on the Everyone's Invited website detailing rape, sexual assault and sexual harassment.
The campaign, which urges young sexual abuse survivors to share their stories on its website, last night published a list of about 2,700 English education institutions mentioned alongside anonymous allegations of rape culture.
The list includes primary and secondary schools, as well as private schools and colleges, of which there are about 24,000 in England. About 260 institutions in Northern Ireland, Ireland, Scotland and Wales are also named.
As Schools Week reported, the website stopped publishing the names of schools earlier this year over fears they were taking a "disproportionate amount of blame".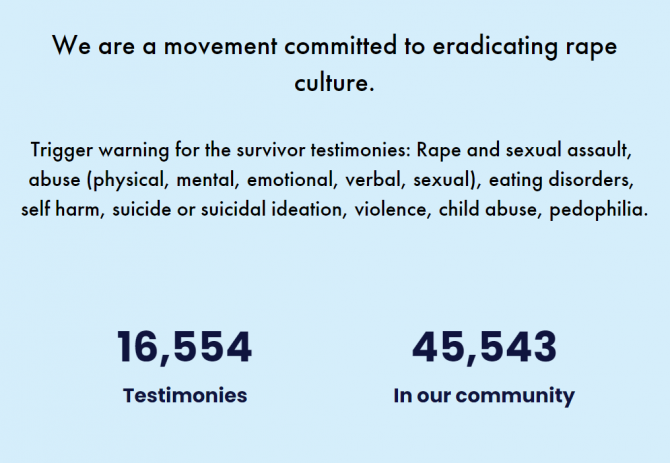 Analysis by Schools Week in March found that some posts refer to incidents that happened outside of school grounds, and it was not always clear if the victim or perpetrator attended the named school.
'List reinforces reality of rape culture'
But the campaign said today that the list "reinforces the shocking reality that rape culture is everywhere, including all schools".
A spokesperson added: "The schools we should be worrying about are the schools not mentioned on Everyone's Invited. Some school heads have told their pupils not to share their testimonies with Everyone's invited.
"Why are some head teachers silencing survivors? Why is the reputation of institutions being prioritised over victims of rape and sexual abuse?"
It comes as a rapid Ofsted review, published today, accused school leaders and teachers of "consistently underestimating" the scale of sexual abuse and harassment among pupils.
Inspectors will now interrogate schools that fail to provide a log of sex abuse cases and speak to pupils about issues. Ofsted admitted its inspections do not yet "sufficiently assess" the extent of sexual harassment in schools.
But Conservative MP Maria Miller said the "shocking" report "mirrors" recommendations made five years ago by the women's and equality select committee.
She added it also "doesn't explain why changes agreed 5 years ago including new guidance to tackle sexual harassment and changed Ofsted inspection framework to inspect schools on sexual harassment have had no impact."
Everyone's Invited wants an anonymous reporting system available in all schools. This would help reduce the massive gap between incidents and reporting emphasised in the Ofsted report, a spokesperson for the campaign added.
In April, Everyone's Invited released a list of 86 UK universities that were mentioned in anonymous rape culture allegations. To date, the website has collected more than 16,000 testimonies.
If you've been affected by any of the issues raised in this article, you can visit Everyone's Invited 'Find Help' page.