The Everyone's Invited campaign is "considering" whether to publish a tally of school sex abuse cases – including a list of how many times individual institutions have been mentioned.
It comes as the campaign today released a list of 86 UK universities that were mentioned in anonymous rape culture allegations.
Nearly 15,000 allegations of harassment and abuse have been submitted to the website. The number of testimonies soared following the death of Sarah Everard last month.
An investigation by Schools Week first revealed that state schools also featured in the allegations.
The government has since ordered Ofsted to undertake an "immediate review" of the safeguarding policies in state and independent schools. A new NSPCC helpline was also set up.
The website had stopped including school names in testimonies amid concerns they were taking a "disproportionate amount of blame" and fears that naming schools could also lead to victims being identified.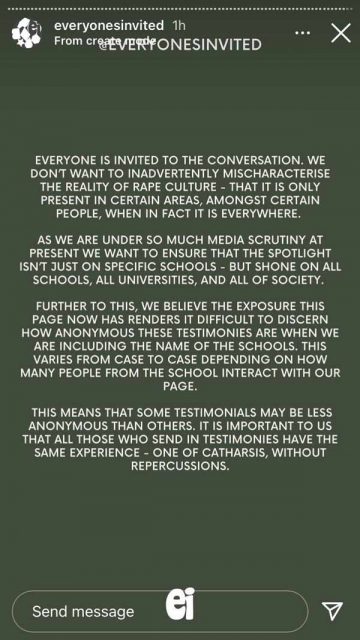 Everyone's Invited said last month it would still collect school names, for "data collection purposes", and testimonies sent in before March 23 won't have names taken off.
The campaign has now released the names of the universities referenced to "emphasise that rape culture exists in all universities".
Five of those on the list appear to be schools.
It has also named 17 universities with more than five mentions, with the University of Exeter receiving the most at 65 references.
'No final decision on releasing school names'
Asked by Schools Week whether the campaign was considering publishing the names of schools, founder Soma Sara said: "We are currently considering this for schools but we haven't made a final decision yet."
Ministers have been accused of ignoring repeated warnings over sex abuse in schools before being "shamed" into action this month.
For the past five years, MPs and campaigners have unsuccessfully lobbied for national data to be collated on serious sexual incidents in schools, which could be published annually.
Sara and Wendy Mair, who lead the campaign's strategy and communications, met with the Department for Education this week.
The campaign is currently asking for people to share their suggestions for positive change.
Today, Everyone's Invited said: "From the testimonies it is clear that rape culture is endemic on university campuses across the UK. This is not just a school issue, it's a cultural one.
"We encourage students to develop the courage to challenge this culture. If you see a person being mistreated – don't be a bystander, call it out, take action to stop it from happening. If you witness misogyny and sexism challenge it through conversation and do this with empathy and understanding not anger and rejection."
If you've been affected by any of the issues raised in this article please take a look at Everyone's Invited 'Find Help' page.
Dedicated NSPCC helpline: 0800 136 663