An academy trust for schools struggling to find sponsors is facing its own struggle to find a chief executive – despite offering an annual salary of £125,000.
Falcon Education Academies Trust was launched as part of a government pilot in 2019 to turn around "orphan" schools in the north of England.
But Gareth Mason, its former chief executive, left in unexplained circumstances last year, and Covid has delayed expansion plans.
A recent recruitment drive failed to secure a new permanent chief executive – a further setback for the fledgling trust and the Department for Education.
Minutes for January's board meeting show trustees said the salary could be to blame, even though the job advert offered "circa £125,000, negotiable for the right candidate" and flexible working.
Trustees also said the trust's pilot status and its small size might "inhibit applications," suggesting its government-backed mission to transform under-performing schools failed to tempt recruits. Applicant numbers were "disappointing", in spite of an executive search as well as public adverts.
Trust paid chair's chain for recruitment help
The trust also agreed to pay Outwood Grange Academies Trust, chaired by its own chair David Earnshaw, to help with recruitment. A Falcon spokesperson said selection was on a "best-value basis," with services at cost price.
One board member had questioned "why the trust needs to pay for [a] recruitment package at all", but was told the trust was "already facing capacity issues".
Minutes from October underlined the importance of the trust to the DfE and its involvement in decision-making. They note that the "DfE and minister expect a permanent CEO to be in place sooner rather than later", that the secretary of state "is keen for this to be a success" and a DfE representative planned to observe interviews.
The job was advertised in December, but five months later a spokesperson confirmed that the post remained unfilled, although interviews were held.
Documents obtained under the Freedom of Information Act also throw up fresh questions over Mason's brief tenure.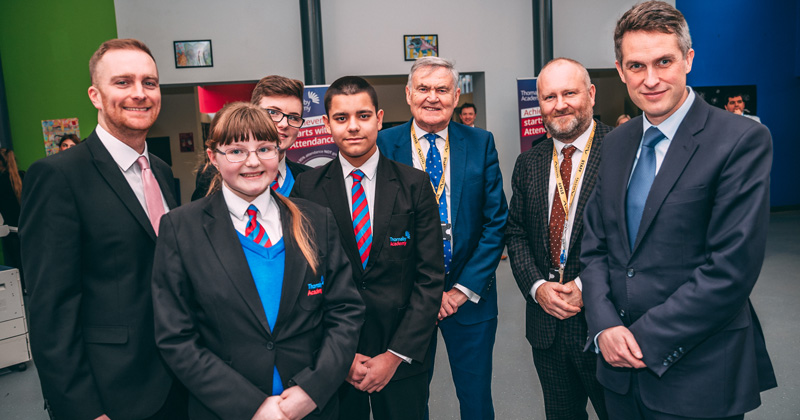 Minutes for earlier meetings last summer suggest the former chief executive, on secondment from Delta Academies Trust, had been on the brink of a permanent appointment.
They show Earnshaw planned to begin the process by meeting Mason to review performance and set targets for the new academic year, aiming to complete it by the end of September.
But by late October it emerged Mason had left, with Falcon, Delta and the DfE declining to explain why.
Challenges revealed in academy trust accounts
Accounts published earlier this month reveal further challenges at Falcon, which has a remit to improve schools enough to attract other MATs to take them on.
It had planned to have three schools by the end of last August before eyeing further expansion.
But its first school – Thornaby Academy in Stockton-on-Tees – only joined in September, and a second – Royds Academy in Leeds – joined last month.
The accounts blamed Covid, which they said posed a "major risk" of cashflow problems and a budget deficit.
But a Falcon spokesperson said Thornaby was making "excellent progress", while there were significant changes to support school improvement at Royds.
"Gareth Mason's secondment as CEO was for a year from September 2019, after which the trust agreed to make the role of CEO permanent," he added.
Anne-Marie Holdsworth, the interim chief executive, and Chris Mitchell, the director of education, made an "exceptionally good team" and recruitment had therefore been put on hold "for now".
But a new recruitment drive began last month for a principal at Royds, offering up to £97,273.
A DfE spokesperson said it was working closely with Falcon to "make sure they have the right leadership in place" and support schools to raise standards.