The education secretary repeated misleading claims while lauding the Conservatives' record on schools – a day after the statistics watchdog issued a pre-election warning against "misusing" figures.
Gavin Williamson, writing for The Times on Tuesday, claimed his party's "revolution in school standards" meant 1.9 million more children were taught in 'good' and 'outstanding' schools, a figure that the UK Statistics Authority (UKSA) says does not give the "full picture".
Statistical sources should be clear and accessible to all; any caveats or limitations in the statistics should be respected
Most of the increase is down to rising pupil numbers and government changes that mean 'outstanding' schools are not routinely inspected.
On Monday the UKSA asked the leaders of all political parties for their "support and leadership" to ensure statistics used during for December's election campaign "serves the public good".
Sir David Norgrove, the authority chair, said misuse "damages their integrity, causes confusion and undermines trust".
He said this was "particularly important during the intense public scrutiny of an election campaign where misinformation can spread quickly".
In Williamson's piece, headlined "Don't let Labour take charge of our children's schools", he also said the government was upping school funding by £14 billion.
That figure is a cumulative total over three years. The schools budget will actually be increased by an £7.1 billion extra a year – but not until 2022.
The Department for Education has been warned that use of the £14 billion "could mislead" without additional context.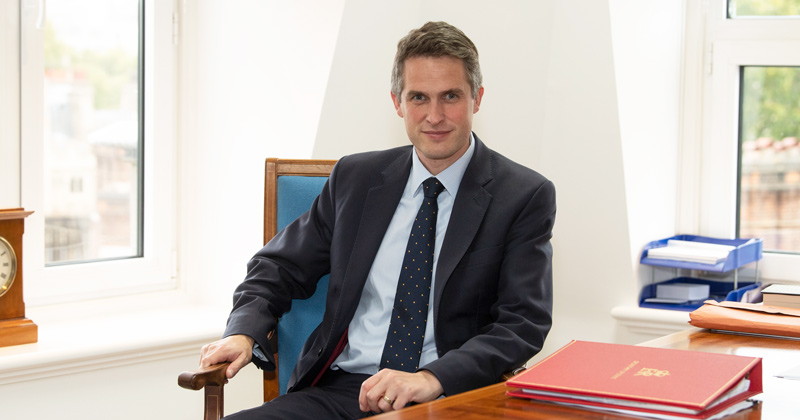 The UKSA has rapped the department five times in the past two years. In 2018-19 the watchdog dealt with 14 cases relating to the DfE, more than any other department.
Mike Jones, the department's head of data insight and statistics, told a statistics conference on Wednesday: "We have said some things that we shouldn't."
Norgrove told the political parties: "Statistical sources should be clear and accessible to all; any caveats or limitations in the statistics should be respected; and campaigns should not pick out single numbers that differ from the picture painted by the statistics as a whole."
It is not just the government that has fallen foul on statistics (see our six dodgy claims to look out for, right).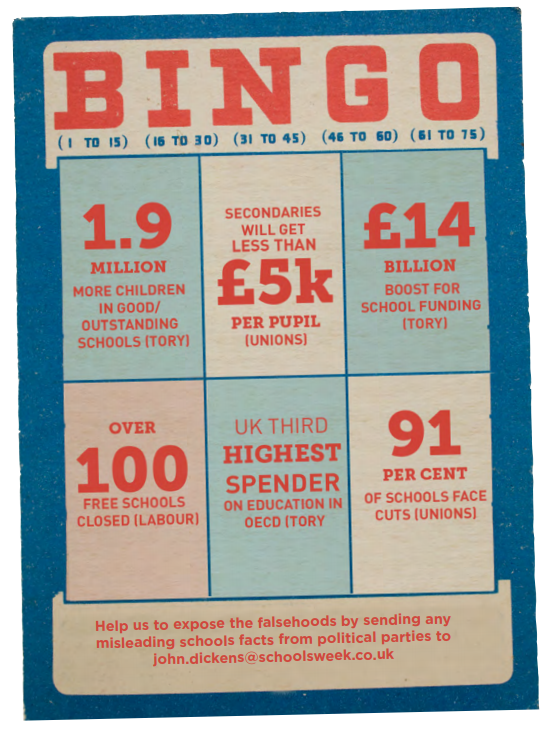 They include a claim by Labour that more than 100 free schools have closed. Schools Week's analysis puts the figure at 55 (Labour's 100 includes proposed free school projects that never opened).
Education unions have also been in hot water. The National Education Union was rapped for incorrectly claiming on its website that "many schools will receive less" than the promised minimum £5,000 funding level for each secondary pupil. The claim has since been deleted.
The School Cuts website, run by a coalition of unions, was rebuked for claiming that 91 per cent of schools faced funding cuts. This gave a "misleading impression" as some of the cuts had already been made.
Surely some mistake?
Gavin Williamson wrongly claimed in his piece for The Times that he was the first education secretary to have attended an FE college.
He used this to explain why he has a "real drive to transform vocational and technical education for 16 to 19-year-olds".
However David Blunkett, the education secretary from 1997 to 2001, studied for his O-levels at evening classes at Shrewsbury Technical College and Sheffield Richmond College of Further Education.
Furthermore, Williamson actually went to a sixth-form college (Scarborough Sixth Form College).
In 2016, Justine Greening became the first education secretary to have attended a sixth-form college (Thomas Rotherham College).