Singer Will Young has called for schools to adopt a "buddy system" to change the language used around homosexuality.
Young, a campaigner for lesbian, gay, bisexual and trans (LGBT) rights, urged teachers to create an environment within their schools that fostered inclusivity – including ending the use of "gay" as a pejorative term.
The former Wellington College pupil suggested the nationwide introduction of a buddy system, where an LGBT pupil was paired with a fellow pupil – normally someone older who could provide a mentor-like role.
"In America there is a nationwide system where someone who is LGBT will find a straight ally. I always wanted to have this.
"It's a great way [to change the language in a school], they [the mentor] will stand up and say 'I don't accept this'.
"It takes a brave person. But one person saying to a group of people 'I find that offensive', and people listen. Then it spreads.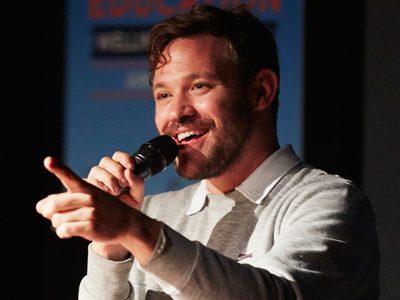 "There are systems over here, but I wish there was one nationwide. I'll bash the government over that."
In 2014, the government paid out more than £2 million to eight organisations to help prevent homophobic, biphobic and transphobic (HBT) bullying.
But Young said it was not enough. "When I look at the money being spent in other areas, it doesn't marry up.
"There needs to be more money. The £2 million from Nicky Morgan is not enough, by far."
Young said he didn't feel safe enough to be openly gay during his school years, but said we are "in a much better place now".
But he warned: "We've come so far with legal rights for adults that we think it's all done and dusted, but it isn't."
"For a young gay person, they have no sanctuary at school or home, there's nowhere to go. We must look at the language people are using in our schools. It starts with all of us."
He said that race was tackled through "reclaiming the language and empowerment", adding: "Why's that not being done for young LGBT people?"
He said teachers could change the school environment to cut out this language. "We need to tell pupils while this might happen there [use of homophobic words at home, for instance], in this school this is what the rules are and this is how we are going to educate you and communicate to you."