The executive headteacher brought in to turn around a Birmingham school at the centre of the "Trojan Horse" scandal has now been parachuted in to lead the scandal-hit Perry Beeches Academy Trust.
Schools Week can reveal Adrian Packer, chief executive of the Core Education Trust, based in Birmingham, has been appointed as chair of directors of the Perry Beeches Academy Trust (PBAT).
Packer will lead a new board of directors at PBAT, which has been embroiled in a finances scandal after a government investigation unveiled a string of rule breaches earlier this year.
Packer (pictured right) was appointed as interim principal in September 2014 of Park View, one of the schools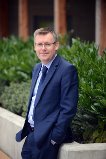 inspected by Ofsted over the "Trojan Horse" affair after allegations of a plot by hardline Muslims to "take over".
The school, since renamed Rockwood Academy, was rated as "good" by Ofsted in April this year.
Inspectors praised the "passion and determination" of CORE's leadership, adding they had "worked relentlessly and with great resilience".
Packer will lead a new board of directors at PBAT, which also includes Hazel Pulley, principal at Ofsted "outstanding" Parkfield Community School.
In a statement sent to Schools Week, Packer said: "The new board has volunteered its services, compelled by the moral purpose of moving PBAT and its schools forward to a better future.
"It is early days and there is much work to be done, but I think the experience that each member of the new board brings the table places PBAT in a very strong position to secure the best outcomes for its schools."
A government investigation earlier this year found that the had given £1.3 million to a private company without adequate contracts or procurement procedures.
That firm, Nexus Schools, then paid a second salary to superhead Liam Nolan. He has since stepped down from the trust – paving the way for the government to appoint a new interim executive board.
The Department for Education has been unable to secure new sponsors thus far, with some schools reportedly running a large budget deficit.
The trust's precarious financial position was also flagged up by accountants in its most recent annual report.
It is not clear if a new sponsor will now be appointed to takeover PBAT's schools.
In a letter to parents, Packer confirmed interim chief executive Paul Wheeler and executive headteacher Jackie Powell will continue to "lead a formidable executive team".
He said the board of directors has asked the trust to present an "options appraisal in order to assess the relative merits of possible strategic routes.
"The board of directors and the executive will continue the regular dialogue with the department for education in assessing the best way forward for the trust and its schools."
It adds: "We all remain dedicated and committed to ensuring transparency and openness as we navigate towards the most appropriate steps for PBAT."
Packer was formerly founding principal of Everton Free School, the first free school to be opened by a Premier League football club.
According to a profile on the website of his academy trust, he is also a director and governor of the Liverpool Institute for Performing Arts sixth form, due to open this September, and a governor of the City of Birmingham School.