Unauthorised absences are pushing an overall rise in the proportion of pupils taking time off school, despite government attempts to crack down on attendance.
Pupils taking days off school without an authorised reason rose from 0.9 per cent in 2015-16 to 1.1 per cent last year, according to government figures out today.
The rise is small, but that illness absences have fallen compared to previous years means the rise is a blow to the government.
Unauthorised family holidays are the main driver of the rise,  according to a report published today by the Department for Education.
In the most recent data, 86.6 per cent of pupils had a least one session of absence, compared to just 85.4 per cent the year before.
The percentage of sessions missed due to unauthorised family holidays rose from 0.2 per cent in 2015-16, to 0.3 per cent last year.
Meanwhile, absence rates due to family holidays agreed by the school, remained the same (0.1 per cent).
This rise comes despite the government winning a high-profile case against a parent, Jon Platt, at the Supreme Court in April.
Judges ruled against parents taking their children on holiday during term-time.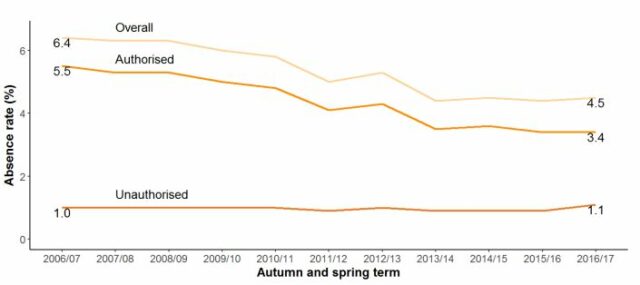 The rise is also not accounted for by illness – only 60 per cent of the absences are accounted for by illness, which is lower than in 2015-16 when sickness caused 62.2 per cent of absences.
Overall, sickness is almost five percentage points lower than in 2014-15, despite a rise in incidences of flu over that period.
Between October 2015 and April 2016, 668 "acute" flu outbreaks were reported in the UK, compared to 662 in 2014-2015, and 112 in 2013-2014, according to Public Health England statistics.
Many of these outbreaks will have affected pupils. Figures show 41 per cent of flu outbreaks were within schools in that period.
Given higher flu incidences, it will be a blow to the government that the rise in pupil absences is not down to more sickness. Attendance has become a key consideration for Ofsted when judging schools, for instance.
Overall, the number of days missed due to absences rose from 34.2 million in the autumn to spring of 2015-16, to 37.4 million last year. This equates to pupils taking about half a day more of school – the average number of days missed per enrollment rose from 5.2 days to 5.5 days.
Save