A swell of uprising is growing against the government's plan to turn all schools into academies with petitions reaching more than 100,000 signatures and demonstrators hitting the streets.
Two petitions challenging the all-out academisation as detailed in last week's White Paper will now be considered for debate in Parliament after hitting the 100,000 mark in less than seven days.
Chancellor George Osborne announced last week that every state primary and secondary school will be expected to have either become an academy by 2020, or to have an academy order in place to convert by 2022.
But one petition calls for a public referendum on Mr Osborne's proposals; the other calls for the decision to be reversed.
A series of rallies are also being held across the country. That includes a "Hands off our Schools" demonstration organised by the National Union of Teachers which is due to take place outside the Department for Education's London offices on Wednesday.
Shadow education secretary Lucy Powell is due to speak at the event.
It appears a lot of the rallies are either set up or being promoted by teaching unions. But they aren't the only unhappy parties.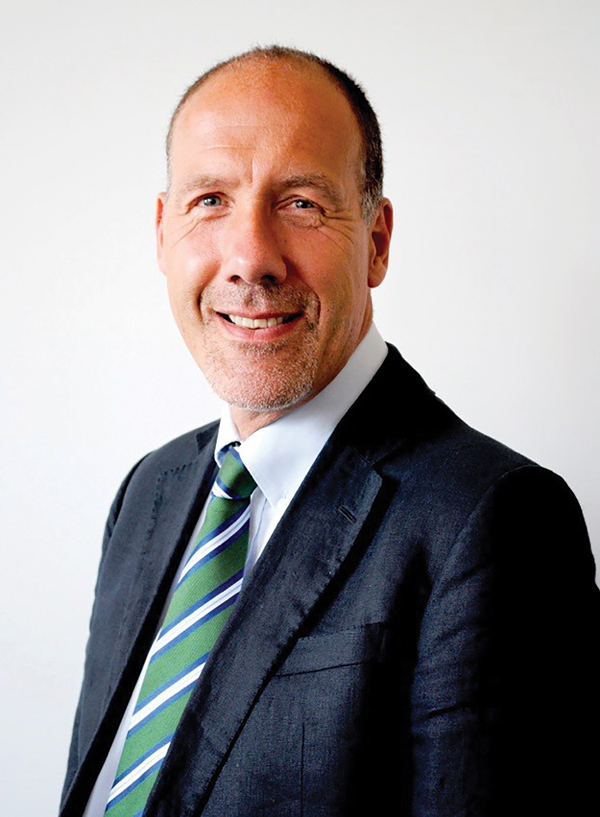 Teachers have also voiced their opposition. Geoff Barton (pictured right), headteacher of King Edward VI School, in Suffolk, and a regular columnist in education newspapers, has branded the move "dire for education".
But, in a blogpost on Sunday, he said the government's proposals have produced a "greater sense of solidarity across the teaching profession".
"It's the forced academisation issue that has energised so many people to express their outrage through not one but two online petitions.
"Both polls have galvanised hundreds of thousands of people in just a few days. If the secretary of state has any sense, she'll be alert to this strength of feeling."
That strength of feeling was also made clear by parents. Nicky Morgan's post to explain "why academisation is best for our schools" on parenting website Mumsnet attracted more than 600 comments.
She said the proposals will place trust into the hands of teachers and gives schools greater autonomy to make the decisions "that are right for their community and pupils".
But many parents used the post as a forum to share their discontent.
Former education secretary David Blunkett, writing for the Observer yesterday, said the government's plans to convert all schools were "doomed to fail".
He said it was "mystifying" why so many primary schools that are judged good or outstanding by Ofsted will now be converted "at huge cost".
He wrote: "In high-performing localities, we appear to be confronting problems that don't exist, rather than concentrating on using flexibility and autonomy as weapons to tackle underperformance where standards have to be raised – the original objective of academies."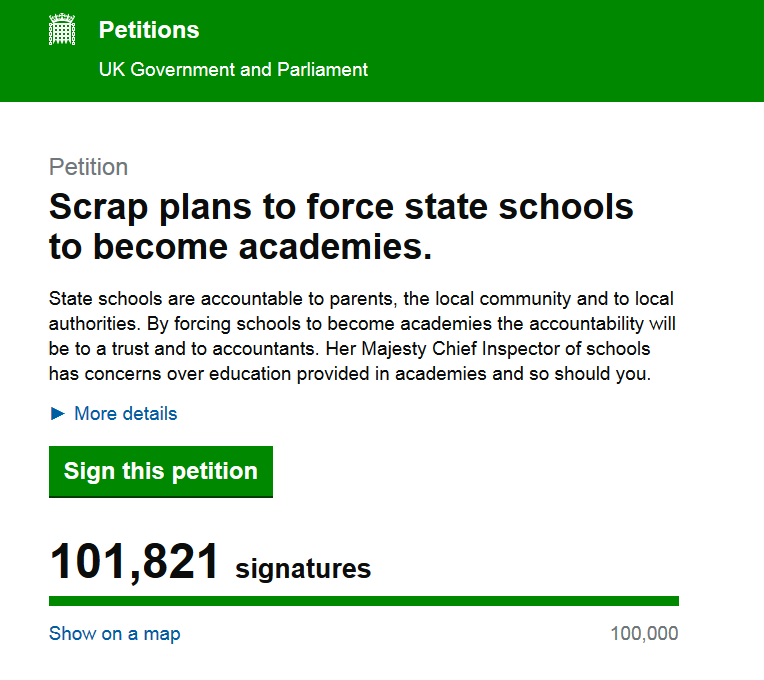 The government must now formally respond to both petitions. Now they have surpassed the 100,000 figure Parliament will also consider both petitions for debate.
All the policies included in the White Paper that require legislation will be debated by Parliament, and also in the House of Lords, as part of the formal process for passing new laws.
However those parts of the paper that don't require legislation – such as plans for a new Parent Portal to handles complaints from parents – will be created in due course by the government.
It is expected the new legislation will be proposed as part of another education bill. This could be announced at the next Queen's Speech in June.
Ms Morgan said last week: "This white paper is about ensuring that all of us can play the role that we do best, it's a blueprint for how we can work together, not just to improve standards, important though that is, but to create a fundamentally different education system – an education system fit for the 21st century, an education system which is truly focused on the future."
A DfE spokesperson said: "The changes we are making will put control back in the hands of teachers and school leaders – those who know their pupils best – making sure every single child has the opportunity to fulfil their potential."