New analysis of the test results of more than 1.5 million primary school pupils across England lays bare the disadvantage faced by summer-born pupils and those from deprived households.
The research, conducted by School Dash, used data from the Understanding Mathematics Assessment (PUMA) and Progress in Reading Assessment (PiRA) tests created by RS Assessment from Hodder Education, which are used in more than 6,000 schools nationwide.
"Such large-scale datasets of this quality are very rare, especially in primary education," said Dr Timo Hanney, founder of School Dash.
"This analysis of millions of results in order to characterise and quantify important trends will help to inform future educational priorities and policies."
Here are the key findings.
1. Summer-born pupils remain behind at age 11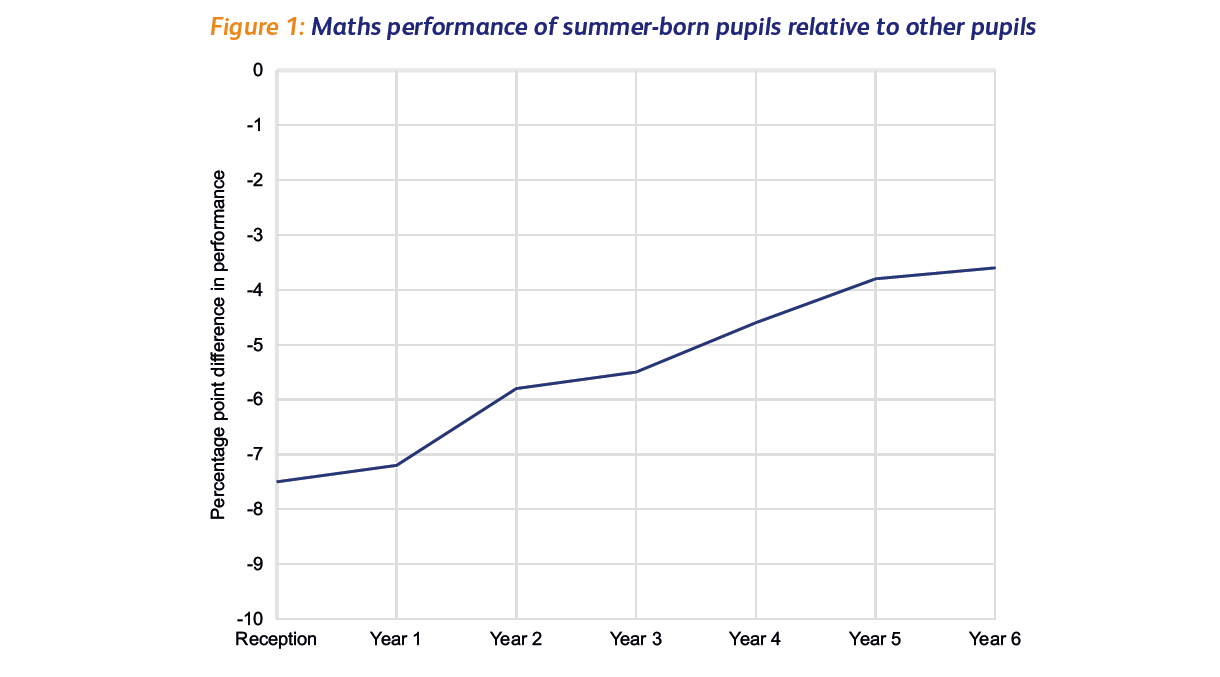 Analysis by School Dash shows that although the gap between summer-born children and their peers narrows throughout primary school, it still exists in year six.
The research found that pupils born between April and August performed on average 7.5 percentage points behind others in reception-year maths tests. By year six, summer-born pupils are on average 3.6 percentage points behind.
There was a similar trajectory in reading performance.
It comes as the government remains under pressure to change the rules to stop the "postcode lottery" of summer-born pupils. In May, research from the Department for Education found that summer-born pupils who start reception after turning five do not significantly outperform those pupils who start aged four
2. Boys overtake girls in maths by year 3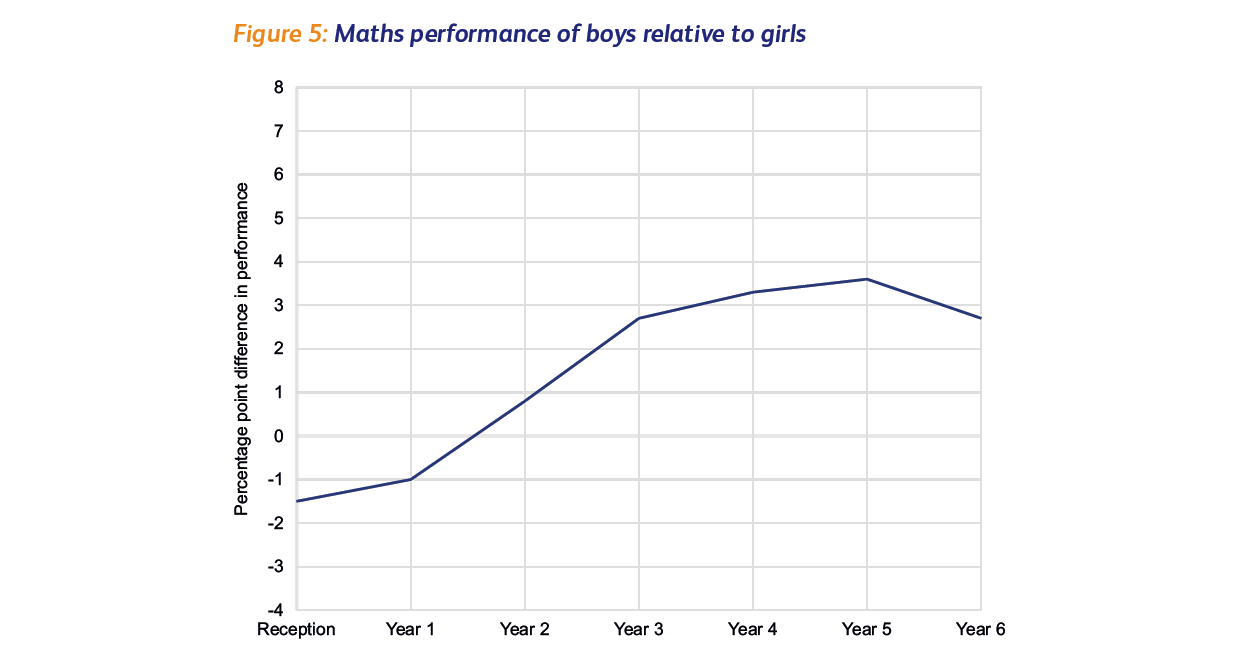 In maths, School Dash found that boys start primary school achieving slightly lower average scores than girls, but move ahead of them by years two or three. This advantage then continues until the end of primary school.
However, this higher performance of boys in later years of primary school is not the same across different topics. For example, boys outperform girls in number and measures, but in operations and geometry boys and girls show similar levels of performance.
In reading, girls start school with higher average achievement and maintain their advantage throughout.
3. The disadvantage gap widens throughout school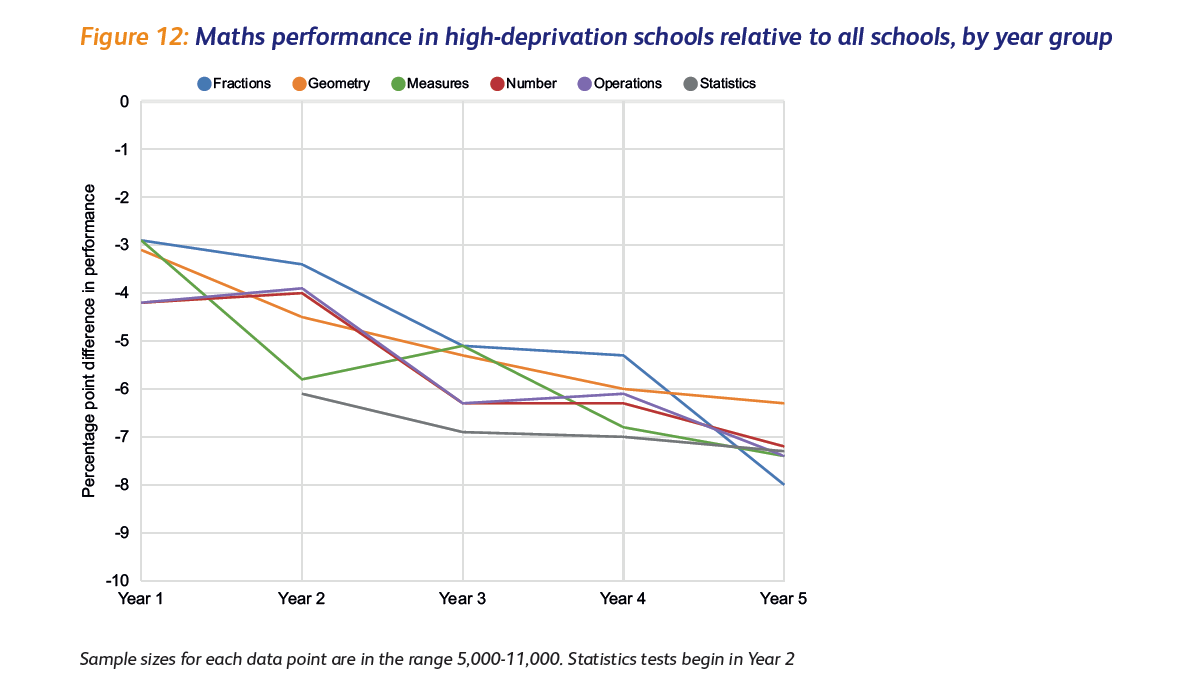 A stark graph produced by School Dash shows the problems faced by pupils at schools with high levels of deprivation.
Pupil performance in such schools is shown to decrease in every maths topic area between year 1 and year 5.
Broadly similar trends are seen in reading, the research found.
4. Pupils at top-rated schools perform better
Perhaps unsurprisingly, School Dash's research found that pupils in schools rated 'good' or 'outstanding' by Ofsted performed better than those in schools rated 'requires improvement' or 'inadequate'.
However, the report notes that, because Ofsted ratings are determined in part by test results, it is "not clear to what extent it is a consequence of academic performance rather than a predictor of it".