Inspectors will not be fooled by schools "talking a good game" on their curriculum but not turning their plans into reality, the chief inspector of Ofsted has said after research found many primaries failed to implement their ideas.
The inspectorate has published the findings of its third phase of curriculum research this morning, in which it visited 64 schools and scored them on the strength of their curriculum using 25 indicators, including on "intent" and "implementation".
Most of the schools scoring well for intent but not for implementation were primary schools, Ofsted boss Amanda Spielman said in commentary with the research.
However she acknowledged many primary schools face the challenge of recruiting the "right teachers" to implement their curriculum plans, and promised inspectors would consider these before any judgments were passed.
"It is not hard to see primaries, particularly small ones, being less able to put their plans into action. It is difficult in many areas to recruit the right teachers.
"In small primaries, it is asking a lot of teachers to think about and teach the curriculum right across the range of subjects and even across year groups."
She added "it is asking a lot of teachers" to teach the curriculum right across the range of subjects and across year groups, and promised that "inspectors will of course consider these challenges when making their judgements".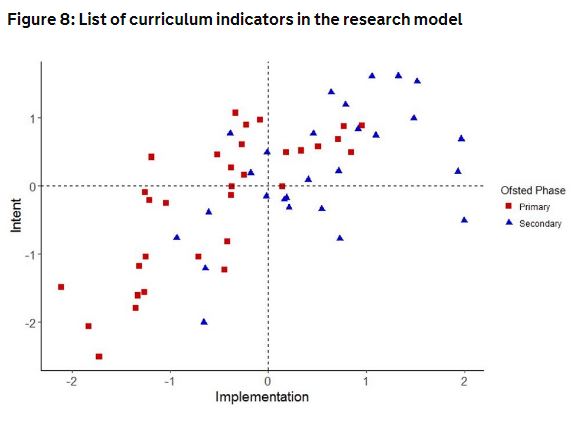 Ofsted's discovery that some schools can receive very different scores for their intent and implementation should also reassure the inspectorate's critics it will not be taken in by schools with grand visions, said Spielman.
Inspectors will not be "won over by schools that 'talk a good game' but do not put their intent into practice".
The new findings come as the inspectorate pulls together its new inspection framework, which will have the curriculum as its focus and be published in draft form for a consultation in the new year.
It also follows another finding in the new Ofsted research that nearly half of all primary schools scored poorly on their curriculum – with a focus on English and maths sidelining humanities subjects.
In the current model for curriculum scoring being trialed by Ofsted, a school's can receive an overall score from 1 to 5, with 5 the best score.
The score is reached on the basis of 25 indicators, such as how equitable the curriculum is for all pupils and that it has sufficient depth, but Ofsted found the overall score "really boiled down to two factors: intent and implementation."
Intent referred to the rationale, ambition and concepts behind the curriculum design. Implementation referred to six areas: subject leadership; subject knowledge; equitable delivery; planning the progression model; breadth and depth; and assessment.
However most schools have linked the two together well, said Spielman.
Ofsted first announced its curriculum research project in March last year, and in this phase has looked at 33 primary schools, 29 secondaries and two special schools.